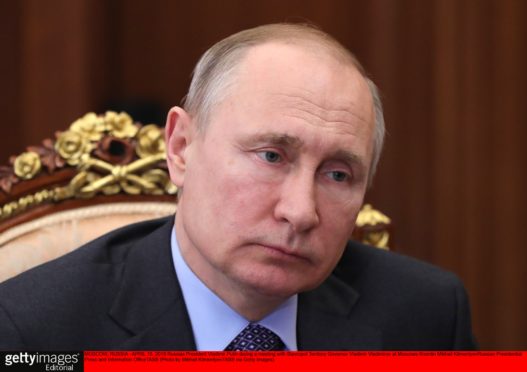 A university expert claims President Putin leadership stops dangerous elements taking control of Russia.
Professor Cameron Ross, research and scholarship co-ordinator in politics and international relations at Dundee University, made the claim this week.
The academic feels President Putin's leadership stops potentially dangerous elements from seizing control of Russia.
He also feels the president's authoritarian regime is not fully appreciated by western governments.
He is to examine the leadership of the Russian president in a speech at Dundee Arts Café at The McManus Dundee's Art Gallery & Museum, on Tuesday.
Professor Ross believes despite being an outcast in many western countries Valdimir Putin is better than the alternatives to be leading Russia.
He said: "The last thing that the West wants is a Russian ultra-nationalist in power, and while Putin uses nationalism in his promotion, he manages to keep ultra-nationalist elements within the country at bay.
"Putin remains popular in Russia because he adopts policies that are largely in tune with the population."
Vladimir Putin is a former KGB agent in the former Soviet Union and he was first elected president in 2000.
The premier went on to win his second term as president in 2005 before becoming prime minister between 2008 and 2012.
He then went on to become president for a third and fourth time between 2012 and 2018.
The Russian president is lauded at home for reasserting Russia on the world stage and for significantly improving living conditions at home.
He has, however, been widely criticised for his absolutist rule, restricting of civil liberties, clamping down on press freedom and the silencing of political opposition.
The talk Russian Politics under Putin will take place at the McManus museum today at 6pm with free entry and early arrival is recommended.