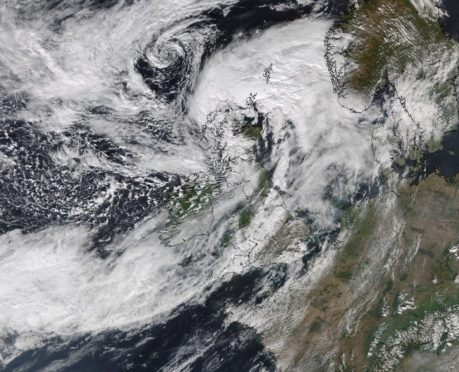 A founder of Dundee's satellite receiving station has criticised Dundee University over its decision to close the facility.
John Brush, who co-founded the facility in the late 1970s, said the six staff members had been "badly let down" by the move.
He also said stopping the service "makes no sense" and it is "a loss to Dundee and Scotland."
The centre has been recording and storing images of the planet taken from orbit since 1978 but its future was plunged into doubt last month.
A £338,000 budget cut by the Natural Environment Research Council (NERC) left a shortfall in running costs and the university decided to shut the service at the start of April.
Staff at the facility were reportedly left frustrated by discussions with the university over keeping the service open.
Dr Brush, who is no longer officially associated with the station, said many felt an action plan devised by them could have kept it open for another year or two while a longer term strategy was examined.
He said: "The station's team produced a plan which would charge users for data as some had already indicated their willingness to pay.
---
>> Keep up to date with the latest news with The Courier newsletter
---
"The plan would also see the station support small satellites in future, which is a rapidly growing part of the space industry.
"Scotland hopes to be a major player in this area with many satellites built and launched here, but it will also need ground station support for them.
"As, currently, the only established ground station in the country, Dundee would be ideally placed to play a part. This plan could at the very least have been given a trial period."
The facility is currently being decommissioned with the future of the building unclear.
It is understood no alternative permanent positions have been offered to staff, who have all been made redundant.
Dr Brush added: "The staff think they have been very unfairly treated.
"They have not been thanked for their many years of service and have been badly let down."
A university spokesperson said: "As previously stated, the university was disappointed by the Natural Environment Research Council's decision last year to terminate its funding for the Dundee Satellite Receiving Station (DSRS) and move a substantial part of its service from Scotland to Plymouth. DSRS closed as a result of this decision.
"The university was not in a position to match the £338,000 annual funding that NERC previously provided but over the past year we did, in conjunction with DSRS management, staff and unions, explore different ways of saving the Station.
"An internal consultation was carried out to try and identify an alternative business model but none was found that would have covered the shortfall resulting from the loss of NERC funding without further jeopardising the University's efforts to achieve financial sustainability.
"All staff affected were offered access to our redeployment portal and support in trying to find alternative positions within the university."