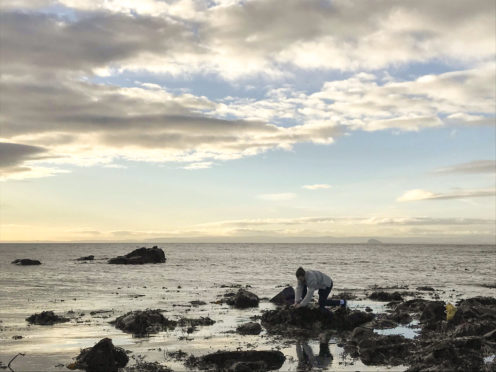 A student at Dundee University has created a sustainable material made from kelp that could replace plastic.
Michael Anderson, 21, hopes his creation could mean a reduction in the amount of plastic pollution in the world's oceans.
He harvested kelp in the Firth of Forth which he then transformed into a substance capable of producing everyday items.
After collecting the seaweed Michael treated it in a natural solution before drying and pressing it.
After several weeks the kelp took on a plastic-like quality that could be manipulated into several forms.
So far he has created a tote bag and a wallet but he thinks the material could be used to create other accessories and clothing and can be dyed in an environmentally-friendly manner.
Michael said: "The best local kelp is located in the East Neuk of Fife at low tide, so I had to get up at 4am and drive to Anstruther before stripping down and collecting this stuff in freezing cold water.
"When I brought it home I had to put it in preservative and the smell was really bad. It also produced a slime which, again, was not particularly pleasant.
"Once the material was ready it became fairly easy to work with, but getting to that stage took a lot of time."
He will be displaying the kelp material at the Duncan of Jordanstone School of Art & Design and Architecture Degree Show from Friday.