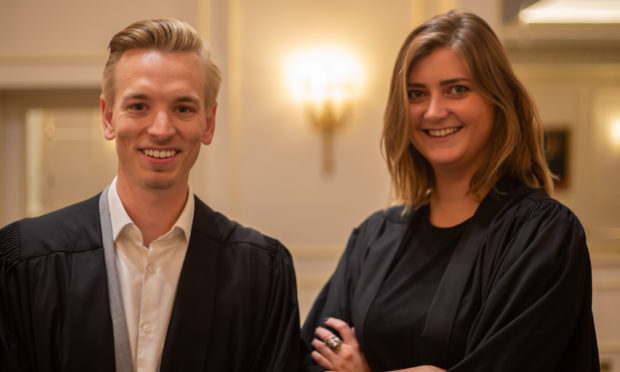 A graduation gown supplier in a court battle with St Andrews University is to brave television's Dragons' Den.
Churchill Gowns hopes to win investment from the Dragons of the BBC Two show, which airs on Sunday night.
Owners Oliver Adkins and Ruth Nicholls will pitch their fledgling company to the panel of business supremos including Peter Jones and Deborah Meaden.
Legal action against Churchill Gowns has been taken by the Fife university which accused the firm, whose robes are £70 cheaper than the university's, of falsely suggesting university endorsement.
St Andrews' famous red ceremonial gown is worn by undergraduates for the weekly pier walk and church service.
The outcome of a Court of Session hearing in June to decide whether the case will be heard in a Scottish or English court is awaited.
Cambridge University graduates Oliver and Ruth started the company as they were shocked at the prices charged by traditional graduation gown suppliers.
Ruth said: "When it came to our graduation day we were really surprised to find there was not a lot of choice when it came to hiring our gowns and the costs seemed really high given you're only wearing a gown for a couple of hours.
"[Some] students have already paid thousands of pounds in tuition fees, so being ripped off on graduation day leaves a really bitter taste in the mouth.
"We were confident that we could offer a simple online ordering and home delivery service which would be more convenient and save our customers money."
The pair admitted their business model had proved controversial with some universities.
Ruth said: "The universities have been benefiting from a gowning monopoly for several years, so we were always going to ruffle some feathers by taking a different approach and putting students' interests first.
"We're sure all the Dragons have faced challenges in business so we hope they won't be put off by this and can instead see the huge potential in shaking up this antiquated industry."
St Andrews University has accused Churchill Gowns of misselling its gowns to students but declined to comment on the TV appearance.
Churchill Gowns describes its product on its website as a red St Andrews undergraduate gown but states it is not affiliated with the university.