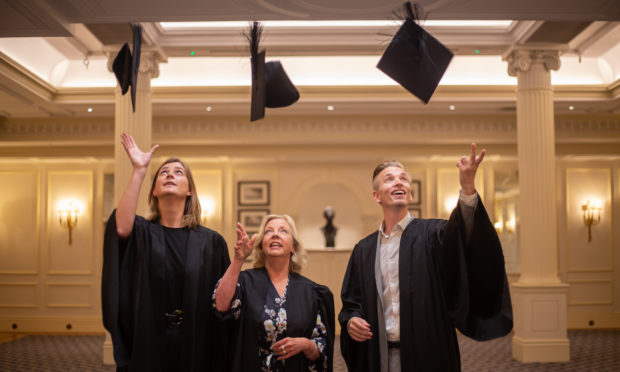 A graduation gown supplier in a legal dispute with St Andrews University has won backing from television's Dragons' Den.
Churchill Gowns secured investment from Deborah Meaden on the show BBC Two show on Sunday.
Young entrepreneurs Oliver Adkins, 28, and Ruth Nicholls, 27, accepted £60,000 in return for 22% of their business, following offers from Meaden and fellow Dragon Touker Suleyman.
Legal action against Churchill Gowns has been taken by the Fife university which accused the firm, whose robes are £70 cheaper than the university's, of falsely suggesting university endorsement.
St Andrews' famous red ceremonial gown is worn by undergraduates for the weekly pier walk and church service and costs £159 from the university shop.
The outcome of a hearing in June to decide whether the case will be heard in a Scottish or English court is awaited.
Cambridge University graduates Oliver and Ruth started the company last year as they were shocked at the prices charged by traditional graduation gown suppliers.
They admitted their business model had proved controversial with some universities.
But they were delighted to convince Dragons to back them despite a challenging business environment and are eager to bring their new investor on board.
Oliver said: "We were really just hoping to walk away from the Den with one offer, so to have a vote of confidence from not one but two Dragons was really overwhelming.
"Deborah's investment will enable us to expand to more universities around the UK, offering students a more sustainable and affordable choice when it comes to their graduation day.
"We could tell from her questioning and reaction to our pitch that Deborah will prove a strong advocate for free competition in the graduation market and the right for students to choose where they spend their money."
St Andrews University has accused Churchill Gowns of misselling its gowns to students but declined to comment on the TV appearance.
Churchill Gowns describes its product on its website as a red St Andrews undergraduate gown but states it is not affiliated with the university.