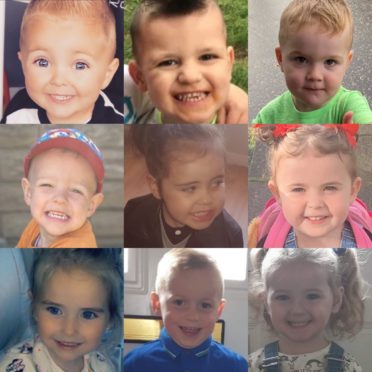 Parents have blasted Fife Council over allocation of nursery places as some children have been shifted to different schools and others put on waiting lists for a spot.
Families had to reapply for places as provision of early learning and childcare was remodelled for the increase to 1,140 hours from August, and learned of their offers last week.
Out of 5,885 applications, 5,500 children have been given places.
The council said it had faced "unprecedented challenges" in making allocations, which had to be revised amid the pandemic.
Construction and renovation of nursery buildings was halted by coronavirus restrictions meaning only some children will be offered the full 1,140 hours from August.
Siobhan Carson's four-year-old son Finn is one of several youngsters at St Kenneth's Primary School, in Ballingry, who have been offered a half-day slot at another nursery, while younger children have been given 9am-3pm slots there.
She said: "We were led to believe that the new class time of 9am-3pm was going to be allocated to pre-school children to help the transition from nursery to school, this has not happened.
"There are three children haven't been allocated a place at all."
Lauren Daly's son Jacob has been offered an afternoon space at Markinch instead of his current morning class.
She said: "Speaking to other parents there seems to be no criteria. They've literally taken the kids allocated to Markinch and sliced the list in half."
Conservative councillor for Cowdenbeath, Darren Watt, said he had been inundated with messages from angry and disappointed parents and believed there had been a  communication breakdown.
He said: "St Kenneth's in Ballingry seems to be affected the most, with one parent telling me most children will be uprooted and moved."
Fife Liberal Democrats' education spokesman James Calder said: "I strongly sympathise with parents whose children are unable to go to their local nursery or the nursery attached to the school of older children.
"It has been something that has partly been affected by the roll out of the 1,140 hours early learning and childcare."
Head of education and children's services Shelagh McLean said the pandemic had disrupted phasing in of the 1,140 hours provision.
She said: "Despite these challenges, 5,500 children have nursery places to start in August and almost 95% of those children have been given either their first or second choices.
"We have done our best to make sure there are at least three different options in each nursery area.
"However, we understand that some parents will not be happy with the allocation they have received.
"Unfortunately it's just not possible to give everyone exactly what was asked for, and there is no ideal solution which will be suitable for every family and their needs.
"We will work through any appeals as quickly as possible.
"Our staff are doing the best they can under difficult circumstances and we ask that parents bear with us while we deal with this work."