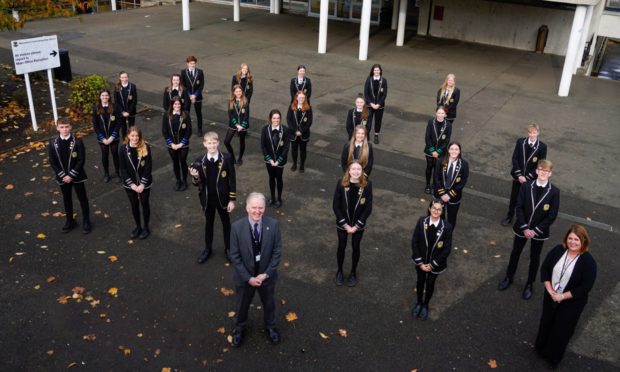 Pupils at a Fife secondary have created a film illustrating school life during the Covid pandemic.
The production by a group at Inverkeithing High School shows the reality of infection control measures, including face masks and one-way systems, for young people across Scotland.
Set to the song Superhero by Viki Gabor, the three-minute video gives parents a glimpse of school for their children while the coronavirus threat remains, and reinforces the importance to youngsters of following rules in place.
Proud depute head teacher Nicola Masterson said: "We, as teachers, can only put out so much information and there's something quite powerful about young people themselves communicating the message."
Around 20 of the school's S6 pupils were involved in making the video, which was filmed and edited by Zach Niven with voice-overs by George Doyle and Katie Lancaster.
Masks, wipes and one-way systems
It shows pupils entering and walking round the school wearing face masks, sanitising their hands and wiping down their tables as they enter classrooms.
One-way systems with arrows and no-entry signs are also shown, and the film explains that the school bell is rung less frequently to create a calmer environment.
The video shows pupils seated facing forwards in the dining hall during staggered lunch breaks and reminds youngsters to show consideration to those exempt from wearing face coverings.
Mrs Masterson said it was more important than ever that pupils were given opportunities for leadership and that the idea came about during a discussion between the S6 leadership team.
The video was intended to both demonstrate changes to parents, who are unable to visit the school due to restrictions, and reinforce the guidelines to pupils, she said.
They are a fantastic group of young people who wanted to do their bit and they have worked hard to produce a really polished finished product."

Nicola Masterson, depute head teacher
Mrs Masterson said: "For parents, it's quite hard to understand what these look like for our young people.
"We thought the best way to do that was to physically show them.
"What we do with our pupils when they come in to school each day, that's what we have shown."
As well as being shared on social media, the video will be shown to pupils in other year groups to underline the importance of the various measures in place.
Mrs Masterson said: "It's about keeping everyone safe. Everyone plays their part and we all have a responsibility.
"If the message is being communicated by pupils to other pupils they will grasp why these things are important."
The end result, she said, was a "real testament" to the pupils involved.
She said: "They are a fantastic group of young people who wanted to do their bit and they have worked hard to produce a really polished finished product."