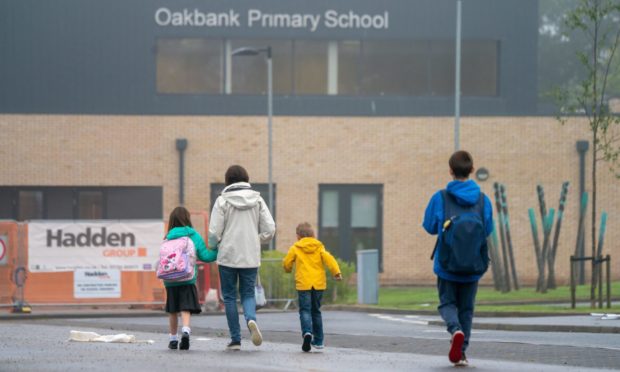 Nearly 500 children have been forced to self-isolate amid a surge in  coronavirus cases at Perth and Kinross schools, The Courier can reveal.
Health chiefs are dealing with outbreaks at secondaries and primaries throughout the county, with more than 30 children so far testing positive.
There is still no evidence to suggest the virus is spreading inside schools, with all positive cases stemming from the wider community.
NHS Tayside has, at least for now, stopped issuing public alerts when cases appear in local schools.
But it is understood there have been outbreaks in the last few days at Perth High School, Perth Grammar School and Goodlyburn Primary.
Parents at Robert Douglas Memorial Primary in Scone received an email from headteacher Lynne Lambert about a case involving a contract worker who tested positive.
She wrote: "Having received information from NHS Tayside's Public Health Team, I can confirm that there has been a confirmed case of Covid-19 in a contractor who works at the school."
Two pupils, who were identified as close contacts from outside the school, were told to isolate at home for 14 days, while parents were reminded to keep their distance while picking up and dropping off children at the school gates.
Meanwhile, parents have been told of three confirmed cases at Perth Grammar School, while a first year student at Perth High also tested positive.
So far, there have been 31 confirmed cases amongst children and young people in the area, along with 11 members of staff and two contract staff.
There has been infections in six secondary schools, 12 primary schools, two wraparound care facilities – such as after school clubs – and an early learning care service.
The majority of cases have been seen in the last few weeks, after a quiet period following a handful of contained outbreaks when schools returned in August.
In total, 482 pupils and 51 members of staff have been or are currently in self-isolation.
A council spokeswoman said: "We are aware that there are positive cases at a number of schools across the Perth and Kinross area, and that pupils and staff who have been in close contact have been contacted and asked to go into isolation.
"It remains the case that, to date, there is no evidence of transmission of the virus in any school, and that all positive cases have been transmitted within the community."
She said: "The safety and wellbeing of our pupils and staff is our top priority, and whenever a case is confirmed, Perth and Kinross Council works with public health to identify all close contacts so they can self-isolate for the required time.
"We urge everyone to follow FACTS in order to prevent the spread of the disease."
The area has a pupil population of around 20,500, with 2,911 members of staff.
Council leader Murray Lyle said there had been a "significant escalation" of school cases over the last two weeks.