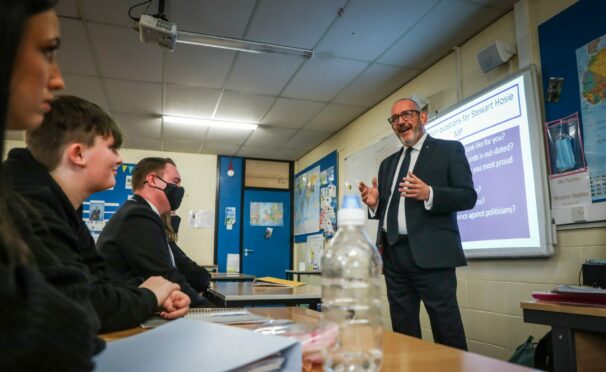 What does a class of S6 politics pupils ask their MP when they have them in the hot seat?
When Stewart Hosie visited Monifieth High School, he was quizzed on everything from the transgender toilet issue to his favourite meal.
The Higher politics pupils had the chance to question the Dundee East SNP MP when he visited during UK Parliament Week – which began on Monday – to tell them about his work in Westminster and his constituency.
And given the chance to grill him on his job and issues of the day, here are some of the posers they put to him.
What is a typical week like for you?
Do have any regrets in legislative terms?
Is the House of Lords outdated?
What is your advice for future politicians?
How concerned are you about violence against politicians?
What do you think about the transgender toilet issue?
What is your favourite dinner?
Modern studies and politics teacher Lesley Aitken said: "They asked him lots of questions and follow-up questions as well. They were really pinning him down sometimes, which was great!"
It brings the work of parliament to life for them. Westminster can seem geographically and ideologically very far away."

Teacher Lesley Aitken
Hearing directly from Mr Hosie put into context some of what they had learned in class, she said.
"It brings the work of parliament to life for them. Westminster can seem geographically and ideologically very far away."
Ms Aitken is a UK Parliament Teacher Ambassador, her role to educate pupils on the work of parliament and raise awareness of how young people can take part in democracy.
She said: "In class, to show them how easy it was, I phoned Stewart Hosie's office and asked if he could come to speak to the class.
"Five minutes later they phoned back and said 'no problem'.
"This was to show them how accessible our politicians should be."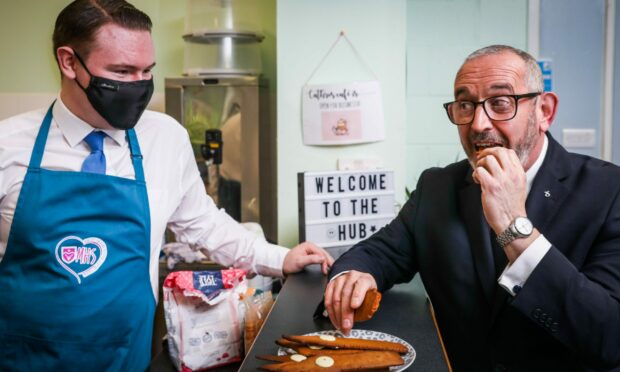 Mr Hosie said pupils were "fantastically engaged" during the Q&A session.
He said: "There was a real awareness of what's going on, a genuine interest in the democratic process.
"These democratic events, particularly with older school pupils, are very worthwhile.
"There was a huge range of questions about what MPs do and what they don't do, on specific issues such as women's rights, trans rights."
Among the students questioning Mr Hosie was Marcus Flucker, who is standing for election to the Scottish Youth Parliament.
He and fellow S6 pupil Jenny Waugh are senior facilitators for the school's UK Parliament Week activities.
For the record, Mr Hosie told pupils his favourite type of food was Indian – but he was also happy to tuck into some Big Ben cookies baked especially for the occasion!
Can Classics make a comeback? Monifieth High School teacher launches site promoting subject in state schools