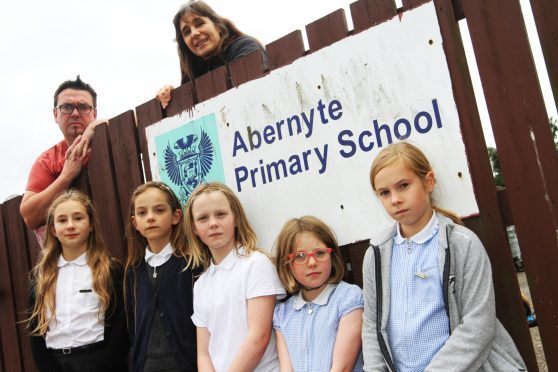 A council survey has revealed widespread opposition to school closures in Perth and Kinross.
Across the region, parents are overwhelmingly rejecting proposals to shut down their children's primaries.
Perth and Kinross Council launched a consultation on an education estates shake-up last year, in an effort to bring rising revenue costs under control.
Ageing schools running at well below capacity were targeted in the first phase of the review. Consultation sessions were held at each of the 10 schools, where parents, carers and community members were asked their views on a range of options.
Today, The Courier can reveal the results of the extensive, five-month study.
At St Ninian's Episcopal Primary, Dunkeld Road, the majority of parents (42%) supported the "do nothing" option, while 32% favoured removing the school's religious ties to increase roll numbers. There was just one vote for the closure option.
Amongst the feedback, there was high praise for the school while some questioned whether it was legal to change the denominational status.
One respondent said: "Don't you think it would be very damaging for the community and city of Perth if you were to take the school away from the cathedral and vice versa. Think of the uproar."
The parent council of Perth's Gaelic Medium Unit, based at Goodlyburn Primary, has suggested moving the unit to share a campus with St Ninian's.
Elsewhere, parents have shown strong support for retaining and possibly expanding North Muirton Primary, with improvements made to Balhousie school.
There were also calls to re-open Greenloaning Primary and split education with nearby Braco.
Responses to the online questionnaire show 59% back a catchment area review to increase numbers at Logiealmond and nearby Methven.
However, 33% of respondents from Methven have supported the option of mothballing Logiealmond and transferring pupils across.
At Forteviot, parents were split between closing the already mothballed school and a new option of review catchment zones to increase numbers.
The vast majority of people (72%) wanted a catchment area review at Blairingone, with just 6% opting for proposals to shut the school and move pupils to Fossoway.
And parents at Abernyte have also voted in favour of a catchment area review, although there was some support  (18%) who preferred closure.
All feedback from the consultation will be reported to councillors in the coming weeks, before a final action plan is drawn up – followed by more consultation.
Caroline Shiers, the council's lifelong learning convener, said: "I was really pleased with the level of participation from every community.
"The majority of people came to the drop-in sessions, rather than responding on-line, and I personally found speaking to people on a one-to-one basis hugely valuable."
She added: "This pre-consultation stage was so important in allowing people to express their views and have their voices heard."
The Tory councillor, who stood down as deputy council leader to concentrate on the review, stressed that no decisions have been taken.
Council urged to "pay attention" to parents' pleas
Perth and North Perthshire MP Pete Wishart has urged council bosses to take heed of parents' concerns when drawing up their final plan for the region's schools.
The SNP politician, who hosted a public meeting on the review in October, said: "Over the last few months I have been speaking to parents regarding the school estate review in Perth and Kinross and I have been struck by the close connection parents have with their local schools.
"There has been an overwhelming response to the consultation and I am glad that parents have had this chance to make Perth and Kinross Council aware of their thoughts."
He added: "It is now important that the local authority pay due attention to these responses and come forward with proposals which reflect parents' wishes for the future of the school estate in Perth and Kinross.
"Parents across Perthshire have been alarmed at the scope of the review and deserve to hear what the councils proposals are sooner rather than later."
The review began in 2016, when councillors were asked to approve a set of principals to determine which schools would be scrutinised.
The study looked at any building graded C or under, as well as any school which is likely to exceed 95% of capacity in the next seven years.
Schools classed as "very remote" – including Glenlyon, Kenmore and Kinloch Rannoch – are protected from closure.
Ideally, the council wants all of its schools to be rated A and B and have an occupancy of more than 80%.
The next phase of the review, likely to start at the end of the year or early 2019, will look at another set of schools expected to include Coupar Angus, Balbeggie, Kettins, Grandtully and Pitlochry High School.