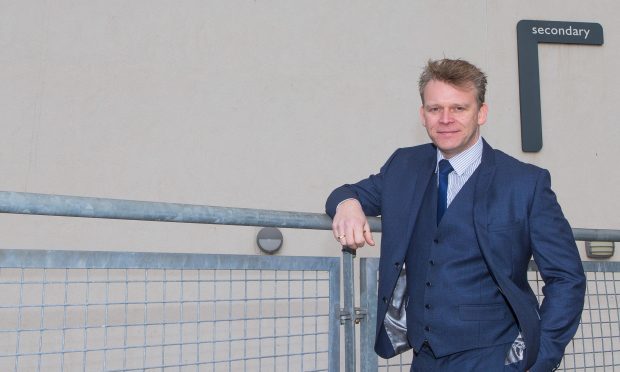 A head teacher has been picked to take the helm at Scotland's newest secondary school.
Work is under way on the £32.5 million Bertha Park academy on the edge of Perth.
The 1,100-capacity building, which will be the country's first brand new secondary in more than 20 years. is expected to open next summer.
Stuart Clyde will leave his post at the Community School of Auchterarder in April to prepare for his new role as head teacher.
"This is a unique and hugely exciting opportunity to build a whole new school community from the ground up," he said.
"Starting very soon, I will be working with the pupils, their parents, and the staff of local primaries to build a vision and identity for our new school and community.
"There are so many exciting things to do and we'll need everyone on board to contribute their thoughts and ideas."
Mr Clyde said: "I have hugely enjoyed the past five years working with the Community School of Auchterarder, but it's time for a new challenge and I can't think of anything more exciting than establishing the first brand new secondary school in Scotland for a generation.
"We are on track for opening in August next year and I am looking forward to working with everyone involved in Bertha Park, ensuring a great experience for the young people as they move into their new school."
In a letter to parents at Auchterarder, Mr Clyde said the council would start the recruitment process very soon, although a date for the new appointment may not be known for some time.
The first generation of around 100 pupils are due to move in by August 2019.
Bertha Park was awarded £23m of Scottish Government money and is part of a wider £145m shake-up of schools across the region.
It will be the first completely new secondary- not a replacement – to be build in Scotland since 1995.
The school is part of the £1 billion Bertha Park village. The 3,000 home development is being built by Springfield Properties over the next 30 years.