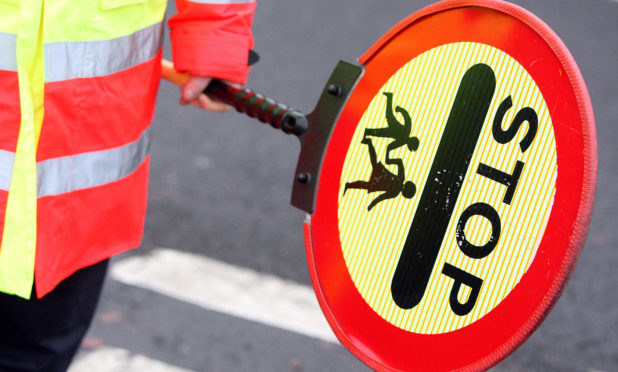 Council bosses are getting ready to ditch controversial plans to to scrap lollipop patrols from schools across Perth and Kinross, following stinging criticism from a road safety charity.
The recommendation was made by council officers as part of a severe new budget plan aimed at slashing about £40 million of spending over the next three years.
Removing lollipop men and women from schools would lead to savings of £179,000, according to officers.
But the Courier can reveal that the move already faces strong opposition from the Tory-led administration.
Council bosses instead want a full investigation into a shortfall of crossing patrollers, amid claims it is becoming "impossible" to recruit new ones.
A spokesman for charity Brake Scotland condemned the budget proposal.
He said: "School crossing patrols are an important service, highly valued by communities, ensuring children can cross roads near their schools safely, without fear from traffic.
"While we appreciate councils have faced significant financial challenges in recent years, the safety of children should not be compromised as a result."
The spokesman continued: "Brake urges councils to retain crossing patrols, and implement wider measures like 20mph limits, to enable children to get about on foot — which is important for their health and development — without being endangered."
The pros and cons of the proposal are set out in a report ahead of Thursday's budget meeting.
It states that crossing patrols are not a statutory function of the council:
"It is the parents' responsibility to get their children to and from school and council staff will continue to work with parents in respect of school travel planning," the report states.
The downside, according to the paper, is a "reputational risk to the council".
Conservative councillor Roz McCall, vice convener of the lifelong learning committee, said: "Children's safety when they make their way to and from school is of paramount importance and this administration is committed to ensuring that we do not do anything that would undermine this objective."
She added: "We need to look at this issue more widely as it is becoming almost impossible to recruit crossing patrollers to take up the job when people retire and there may be alternative options such as more automated crossings.
"Until these other options can be considered, however, this administration could not be clearer: we will not be proposing to reduce school crossing patrollers."
Independent councillor Xander McDade also confirmed he would not be supporting the plan.
He said: "Not all schools have crossing patrollers, but where we do have them they provide an essential link in ensuring children get to school safely."