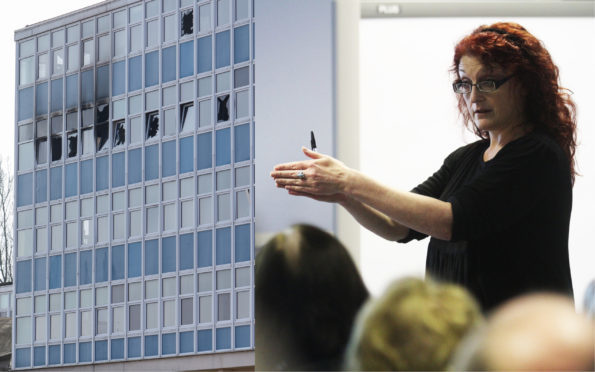 A community group raised fire safety concerns over the former Baldragon Academy just weeks before a blaze tore through the campus.
Police are looking to speak to a gang of youths, believed to be around 14-years-old, after more than 40 firefighters were called to tackle the flames on Saturday afternoon.
It has emerged local residents also called for assistance the night before after youngsters were spotted smashing windows from inside the boarded up buildings.
Kirkton Safety and Community Partnership vice chair Lynn Watson claimed fire safety issues had been raised with the city's executive director of Children and Families Services Paul Clancy a number of times.
She said: "We were prevented from removing anything else from the old Baldragon Academy, including flammable fixtures and fittings.
"Teenagers on the roof were reported to senior council officers a month ago.
"I know folk had raised concerns as our community sergeant had been notified, and that was about three weeks ago — so it'll be interesting to see what measures had actually been put in place."
One local resident said he had warned a friend just days earlier that "the place will go up in smoke" following a sustained campaign of disorder at the site.
Chief Inspector Nicky Russell said the force is keen to speak to a group of girls and boys seen in the area around the time the string of fires broke out.
"The former school has become an area for youths to congregate recently," she said.
"This has resulted in a number of vandalisms and anti-social behaviour and I would like to stress that this will not be tolerated."
Dundee City Council's Labour group leader Kevin Keenan, who represents the Strathmartine ward, insisted such behaviour must not be allowed to continue.
He said: "I understand there had been work to clean up the inside of the school but I am also aware the community safety partnership has raised concerns.
"This latest act of vandalism carries a real risk to life and takes up the valuable resources of the police and fire service.
"It they are getting to this level of vandalism then we may need to look at having some kind of security and whether its a patrol or having someone placed there permanently, we need to make sure this does not happen again."
A Dundee City Council spokeswoman said: "We are working with Police Scotland on this matter."
.