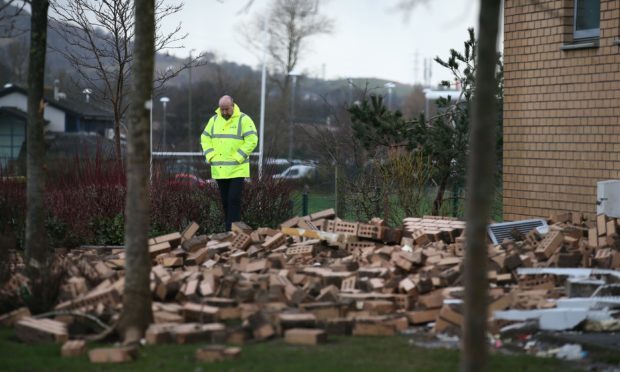 Schools across Perth and Kinross will be further assessed for structural shortcomings in the wake of a stonework scare in Edinburgh.
Buildings throughout the capital were shut suddenly in 2016 after a wall collapsed at Oxgangs Primary.
At the time, Perth and Kinross Council said it had carried out "visual" inspections of its public-private partnership (PPP) schools, and there did not immediately appear to be any defects.
The Courier can reveal the local authority has now struck a £100,000 agreement for a more thorough examination of its school estate.
Glasgow-based firm FLN Consulting Engineers has been commissioned to carry out a series of assessment at several, undisclosed school buildings.
In the brief for the £108,000 operation, a council spokesman said: "The consultant is requested to undertake a commission involving visual surveys and/or intrusive surveys/structural inspection work.
"The purpose of these structural assessments is to provide risk-based assurance to Perth and Kinross Council regarding the structural condition of its school estate following recent Edinburgh school masonry wall construction defects, and associated wall-tie deficiencies."
FLN was one of three firms which applied for the contract.
A council spokesman stressed that this was a precautionary step, rather than a reaction to any concerns.
"The programme of structural assessments for school buildings owned and run by Perth and Kinross Council is a precautionary measure which is considered good practice and will assist the Council in determining the overall condition of the school estate."
He said: "This programme is similar to that being managed by most, if not all, councils in Scotland and will include those buildings which were constructed under the PPP 'Investment in Learning' initiative."
Lifelong learning convener Caroline Shiers added: "It is important, especially in light of issues other councils have experienced, that we ensure all the necessary precautions and checks are carried out as regularly and thoroughly as possible and, as a parent of a Perth and Kinross pupil, I find that reassuring."
In a previous statement, the local authority said: "The PPP schools in Perth and Kinross were visually surveyed in May 2016, and the as-built drawings are in the process being analysed.
"There is no visible evidence of any structural defects, but after the drawing analysis has been completed, PKC may instruct intrusive investigations."
Problems at Oxgangs Primary prompted concerns that that there could be similar problems at other buildings constructed under PPP schemes, including hospitals and care homes.
Hundreds of bricks weighing a total of nine tonnes were blown from a wall at Oxgangs during Storm Gertrude in early 2016.
Ten primaries, five secondaries and two additional support needs schools – all built or refurbished as part of the same PPP scheme – were subsequently shut due to concerns over the standard of construction, affecting about 7,600 pupils.
A report into the Oxgangs collapse and wider Edinburgh issues identified problems with wall and header ties, which are used to hold exterior and interior walls together and attach them to the rest of the building.