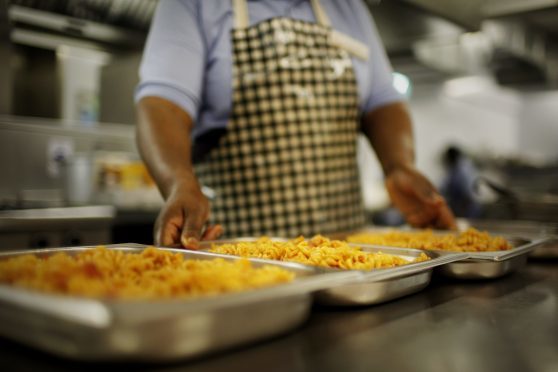 Further questions on Perth and Kinross Council's controversial plans to supply schools with frozen meals from a Dundee kitchen have gone unanswered.
The proposal, set to save a six figure fee as the local authority looks to make around £28 million of savings, was signed off at last week's lifelong learning committee meeting.
It was confirmed last week the plans would see school meals cooked in Tayside Contracts' newly renovated Tay Cuisine kitchen in Dundee before being blast-frozen, then distributed and reheated in schools.
School dinner staff cuts backlash as unions slam Perth and Kinross Council
The shake-up will see 50 catering jobs axed, with 41 of those members of staff to be provided with training and positions in early learning and childcare by the council, but not all operational and environmental questions were answered.
Under the education and children's services section of the report at the strategic policy and resource committee meeting on Wednesday, the review of catering services was again questioned by elected members.
The plan, part of a pre-approved savings target of £200,000 from catering services, was slammed by councillor Dave Doogan, who believes "while the detail is sketchy… the savings are very definite."
The opposition leader added: "SNP councillors identified that the costs of this change are entirely undefined yet the savings are very exact and that, therefore, the projected savings were totally unbelievable.
"Last week, we weren't assured in any way, shape or form about the carbon emissions either."
He and Strathtay councillor Grant Laing queried whether Tayside Contracts would need a new fleet of vans for delivering frozen food, and questioned drivers' salaries.
Council officers were unable to put a number on the cost of upgrading to, or purchasing, freezer vans, refrigeration running costs or how many drivers they would need to pay for the plan to be implemented.
Tayside councils to consider money-saving 'super kitchen' school meals scheme
An officer said: "The transport arrangements across Perth and Kinross have still to be worked out in detail but potentially, there could be a reduction.
"We are due to come back to the committee following consultancy work. At this point, we don't know what the vehicles will be."
Conservative councillors insisted the plan would make the desired savings with the net loss of only nine jobs.
Councillor Angus Forbes replied: "The large lorries driving to the far reaches of Perth and Kinross delivering ingredients to the schools will no longer have to do that.
"There may be a reduction in emissions from those vehicles, so there are two sides to it."
Mr Forbes also suggested the issue is likely to be raised at a future meeting of Tayside Contracts committee, on which he and Mr Doogan sit.
Lifelong learning convener councillor Caroline Shiers said: "Mr Doogan might like to speak to his SNP colleagues in Clackmannanshire and Glasgow who who have successfully rolled this out delivering quality food whilst making substantial savings."
The report was passed with the SNP group's dissent on the school meals element.