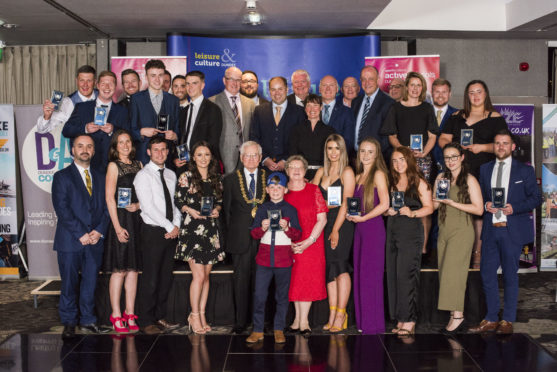 Volunteers who go above and beyond to provide sporting opportunities for local school pupils were celebrated at a glittering weekend awards bash in Dundee.
More than 160 people attended the Active Schools Volunteer Awards at the Apex Hotel on Saturday, which was opened by a display from St Paul's RC Academy and St John's RC High School dance groups.
The awards were presented by Active Schools modern apprentice Amy McKay and several of their young ambassadors.
Jamie Gibb and Niamh Johnston represented Baldragon Academy alongside Nicola Dempsey and Hannah Leslie from Grove Academy, Thomas Egan from St John's RC High School and Owen Kane of Morgan Academy.
The audience were also treated to an inspiring speech by Stefan Hoggan, para swimmer and triathlete, and a musical performance from St Paul's RC Academy pupil Robbie Lamond.
Dundee Active Schools manager James Fenna said: "This year's event was outstanding and Active Schools would like to thank all those involved.
"The work volunteers are doing in our schools is very important; it gives children and young people across Dundee the best start in life, creating a lifelong love of sport from an early age which will continue well into adulthood. "
He added: "In the last year, volunteers across the city have provided some 14,000 sports sessions and contributed to 219,000 pupil visits to sports clubs and we now have just under 51% of the school role taking part in school sport activity."
"This ceremony is a way of thanking all of our volunteers who willingly give their time to enable others to play the sport they love."
The bash saw prizes handed out across 11 categories, with sponsors on the night including Dundee School Sports Association, Dundee & Angus College, Abertay University, Idverde, Destination Judo, Leisure & Culture Dundee, Ryze Dundee, Functional Fitness Dundee, Foxlake Dundee and The Courier.
Winners included Laura Duncan and Samantha Thomson for Parent Volunteer of the Year, Grove Menzieshill Hockey Club for Community Club of the Year and Casey Malone for Dundee & Angus College Student Volunteer of the Year.
Elliot Smith and Lewis White took home the Abertay University Student Volunteer of the Year Award, while Elspeth Ballantine, from Claypotts Castle Primary won School Staff Volunteer of the Year.
Other winners included Baldragon Academy's Gregor Leslie for Secondary School Staff Volunteer of the Year, Mike McIlravey for Physical Education Teacher Volunteer of the Year, Claypotts Castle Primary for Primary School of the Year and Grove Academy for Secondary School of the Year.
Braeview Academy's Ellie Petrie and Ashlyn Simpson secured Young Leader of the Year, while Niamh Johnston and Jamie Gibb rounded off the evening as they were revealed as the winners of Young Ambassador of the Year.