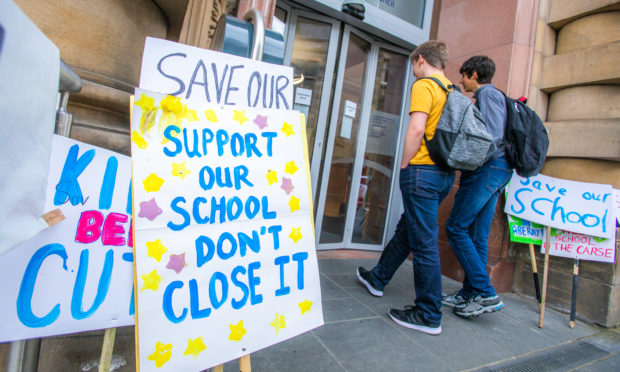 Parents hope a Carse school could be saved from the axe after Scottish Ministers decided to call in Perth and Kinross Council's decision to close it.
The local authority's lifelong learning committee decided to shut Abernyte Primary when it met in May, despite a lengthy campaign led by the school's parent council.
At the time the school's roll was eight and parents said they expected it to rise to 12 after the summer holidays. If the move goes ahead, the pupils will transfer to Inchture Primary in July 2020.
Parent chairman chairman Gerard McGoldrick insisted the fight wasn't over and asked Scottish Ministers to re-examine the move.
On Tuesday, the council learned his request had been successful.
The authority was told further investigation of the decision was required, in particular around the school's capital costs, efforts to address the reasons for closure and the impact on the local community.
The Scottish Government said the council "failed in a significant regard"to explain its thinking in each of those categories.
Mr McGoldrick said: "It's a really positive report and I'm confident Ministers will reverse the decision. Abernyte is an excellent school and we've demonstrated that it can have a future, and has the support of the community.
"Emotions can't describe how we're feeling. The amount of effort which has gone in has made it a rollercoaster ride.
"This sends out a message to other rural schools and I think the council will be feeling very underwhelmed today. We're still working with the Scottish Government to strengthen our case."
Education Minister John Swinney MSP welcomed the move.
Mr Swinney said: "I am pleased that the decision to close Abernyte Primary is being re-examined.
"Abernyte is a school with a record of strong educational achievement, and it enjoys broad support within the local community," he said.
SNP education spokesperson councillor John Rebbeck said: "The SNP group has been, and will continue to be, consistent in its approach to opposing rural school closures.
"The detrimental effects that rural school closures have on their communities can be catastrophic and these decisions cannot be taken on the basis of pounds and pence alone."
A council spokesperson said: "Perth and Kinross Council notes the decision and the grounds for that decision of the Scottish Ministers to issue a call-in notice regarding the proposed closure of Abernyte Primary School.
"The council welcomes the opportunity to provide further information to the School Closure Review Panel in due course, in whatever format is deemed appropriate by the panel's convener."