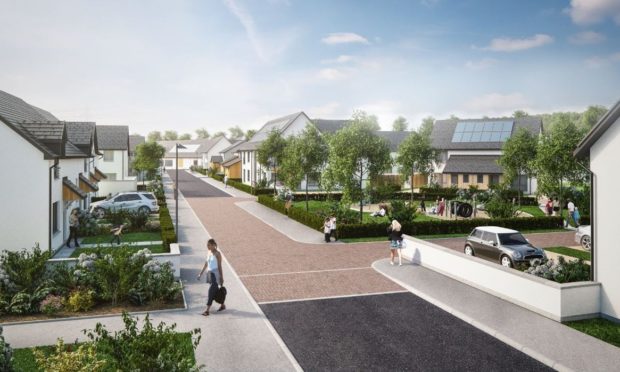 A new £14 million primary school could be built on the edge of Perth to help cope with a predicted population boom.
Education chiefs want a second school at Bertha Park, as a new study reveals more than 2,500 homes could be built around the city over the next 12 years.
A housing audit forecasts as more families move into the area, the number of primary-age pupils will soar by nearly 700.
Members of Perth and Kinross Council's lifelong learning committee will be asked next week to approve plans for a new Bertha Park primary, as part of an ongoing review of the school estate.
However, a report signed off by executive director of education and children's services Sheena Devlin states the future of existing Ruthvenfield Primary School will also be reviewed as part of the project.
The much-anticipated Bertha Park High School – the first brand new Scottish school, not a replacement, this century – opened its doors earlier this month.
Council service manager (resources) Carol Taylor states in her report because of ongoing construction at Bertha Park and at the city's old auction market, as well as further housing plans for Almond Valley and Perth West, a new primary school will be required by around 2024.
PICTURES: No bell, no phones and no staff room…take a look inside Perth's £32.5m new school
Bertha Park was found to be best site for a new school because it could share sports facilities with the high school.
Ms Taylor said: "A large number of the expected pupil population will initially come from the Bertha Park site, which has already begun to build out.
"Due to the availability of infrastructure and utilities available, there is limited risk in meeting the timescale of 2024."
Ruthvenfiled Primary, which is on the border of Almond Valley and Bertha Park, was reviewed last year.
Councillors will be told on Wednesday that it could cost about £2 million to improve the school with upgraded heating, lights and windows.
Ms Taylor said: "In the long term, this small rural school will be in a highly developed housing area.
"As Ruthvenfield Primary School catchment sits within the strategic sites and it is being reviewed due to the condition of the building, it is proposed – that to ensure best value and consider all options in relation to the pupils' learning environment – that the future of the school should also be considered.
The committee will be asked to approve Bertha Park as the location for a new school, and agreed to an appraisal of Ruthvenfield's future.