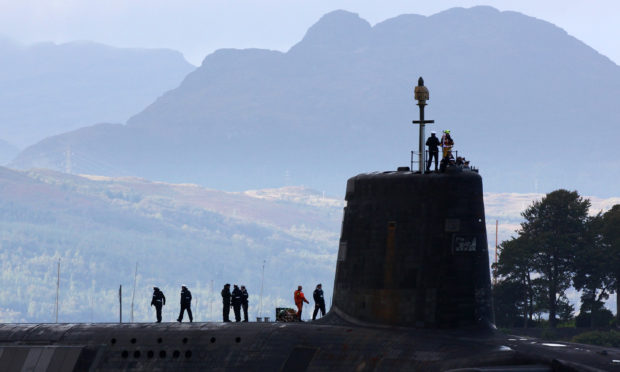 Madam, – I regret to have to tell arch critic of the SNP Alan Bell of Kirriemuir that his simplistic analysis of Scotland's economic problems is, to quote an oft used word by the Rev. John Cameron, risible to say the least (Misery over expenditure, Courier, August 26).
It seems his conclusions are drawn by reference to the Government Expenditure and Revenue Scotland (GERS) figures.
For example part of the latest apparent overspend attributed to Scotland is a defence outlay of around £3.2 billion, which puts little Scotland at the top of the arms race table alongside the mighty USA.
It is obviously untrue in actuality but allocated to Scotland as its share of the total UK annual spend on Trident.
Not the simple budgeting process based on McCawber's advice after all, Mr Bell.
Another very misleading estimate by GERS is the figure credited to Scotland for the value in cash terms of its exports of food and drink.
These figures are measured by statistics taken at the port of export wherever that may be in the UK.
According to the Foreign Office data Scotland contributes just over 25% of the total output of these two commodities.
But as the the port of export for Scotch whisky is in England, the export credit figure is actually allocated to income generated by England.
This artificially inflates the economic performance of our southern neighbours whilst degrading that of our own.
The real accuracy of the GERS figures for any part of the UK will never be known until each member state has full fiscal powers to run their economies independently.
The sooner that can be done the better.
Allan A. MacDougall.
37 Forth Park,
Bridge of Allan.
A subversion of democracy
Madam, – If media speculation is to be believed it would appear that Boris Johnson is seriously considering proroguing the Westminster Parliament in order to thwart the growing opposition to a no-deal Brexit.
Should he proceed with this it will represent a subversion of democracy.
Our new prime minister continually asserts that Brexit must go ahead because it is the will of the people.
However, it most definitely is not the will of the Scottish people and no-one voted for the No Deal Brexit which now seems certain to be foisted upon us and which, according to the Tories' own Operation Yellowhammer dossier, would be disastrous for the average man or woman in the street, but not, of course, for the coterie of millionaires who are at the heart of Boris Johnson's government.
Alan Woodcock.
23 Osborne Place,
Dundee.
Planning focus for Fife schools
Madam, – As a pupil with very happy memories of Woodmill High(1971-1977), I was horrified by Sunday's terrible fire.
To then find out that was allegedly a deliberate act of vandalism defies belief.
Why would anybody even consider doing this?
There is, however, also a bigger picture here,which has been exacerbated by the weekend's events.
As Fife Council continues to allow this area to expand they have failed miserably to build appropriate school buildings.
Whilst,to be fair,they couldn't possibly envisage the terrible events of Sunday evening, they now have to consider where the displaced pupils are going to go.
With all the other schools in the area filled to capacity, this is surely going to be a major issue.
It will, hopefully, give food for thought as regarding appropriate school building within the area.
Eric Travers.
38 Gellatly Road,
Dunfermline.
Radical way to save money
Madam, – Commentators saying the SNP plans to chop £7bn off Scotland's €12.6bn in three years is "austerity on steroids" made me think of a quicker, health-related, solution.
NHS Scotland costs £14bn to run.
So closing it for six months each year would save £7bn ,while still maintaining spending on baby boxes, Gaelic schools and signs, former first minister legal expenses and IT overspends.
Of course thousands would die, but as Nicola Sturgeon once said, independence transcends everything.
Allan Sutherland.
1 Willow Row,
Stonehaven.
Two-thirds majority is key
Madam, – Jenny Hjul (Scrutinising Sturgeon's plan, Courier, August 21) is spot on when she writes that the Electoral Commission should demand a two-thirds rather than a simple majority should there ever be a second independence referendum.
A two-thirds majority sets out the opinion of the nation in its proper context and one must always question the motives of those who oppose it.
I have posed this question to SNP politicians that I know but have yet to receive a sensible answer.
Tom Murray.
Bayview, Westhaven,
Carnoustie.
Stationmaster is a critical role
Madam, – I was sorry to read of Gareth Bell's experience at the Caledonian Railway (Train fan Gareth in costume drama, Courier, August 26).
His mother Laurie Alexander should realise that Gareth looks a very convincing official in the published photograph, hence he might be called upon by a passenger in an emergency.
Why did she not contact the railway ahead of the planned visit?
I am sure they would have explained that Thomas events can be very busy and all railway staff have to be approved and identified.
The stationmaster role is safety critical and can be part of the Company Safety Case.
Father Robert admitted the situation could have been handled in a totally different way.
Let's hope that Gareth is able to take up the offer of another visit and have an enjoyable experience better suited to his needs.
Eleanor J. Watson.
31 Countesswells Crescent,
Aberdeen.
Grandstanding over fracking
Madam, – Fracking at the Cuadrilla site near Blackpool was halted when a "micro seismic event" registered 1.55 in magnitude.
This was described by a Cuadrilla spokesman as similar to dropping a large bag of shopping.
Keen to make political capital, business secretary Rebecca Long Bailey called for fracking to be banned since it causes air and water pollution and contributes towards climate change.
Friends of the Earth (FoE) made allegations in a poster campaign that chemicals used in fracking contained a toxic cocktail of chemicals which could end up in drinking water and they could cause cancer and affect skin, eyes, respiratory systems, nervous, immune and cardiovascular systems.
On being asked by the Advertising Standard Authority (ASA) FoE were unable to substantiate any of these claims. ASA warned FoE never to repeat such claims or they would face court proceedings.
FoE have not done so.
So perhaps Rebecca Long Bailey should stop political grandstanding.
Clark Cross.
138 Springfield Road,
Linlithgow.