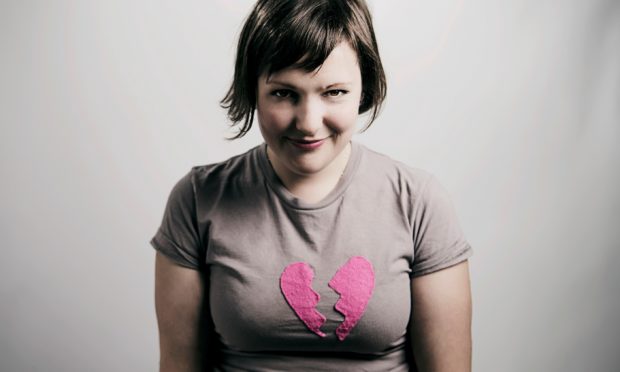 She is the cult comedy icon, activist, podcaster and 2019 Celebrity Masterchef contestant who first visited Fife around a decade ago when she attended the legendary Fence Home Game events in the East Neuk.
But when Josie Long returns to Fife on December 14 to join the latest Tae Sup Wi' A Fifer bill alongside Martin Carthy and his twice Mercury nominated daughter Eliza Carthy, and Rachel Newton, the 37-year-old stand-up comedian from Sidcup will likely include chat about another "primal" development in life – becoming a mum!
Josie's comedian partner Jonny Donahoe has taken their daughter to nursery when The Courier calls – a child care set-up that'll become more common when she goes on tour in January.
But while she's conscious of the contrast between becoming a mum and the "craziness" of the modern world, it's inspired her to feel more confident on stage and rebooted her perspective on life.
"Becoming a mum is really primal," she says.
"Physically and emotionally nothing like this has ever happened to me before.
"If you are giving birth you could be doing it anywhere on Earth at any time in the history of the world. There's only a few things like that: birth, sex, getting in the sea, eating, dying.
"The way I talk about it is to try to work out how you can bring someone into the world when everyone is telling you that it's the end of the world. It feels like such a frightening and chaotic time.
"Yet what I love about having a child is the smallness of it and the tenderness of it and how much it makes you feel so loving in such a clear way. It makes it so easy to think that people should be kind to each other and so easy to think the world is cruel and stuff like that.
"It makes you go 'well who knows what the future holds'. But I wanted to try (to make it better).
"Yes there's a lot of sh*t in the world but here's a daily reminder of all the beauty and joy."
Josie began her career aged 14 after realising she could "make people laugh".
After winning the BBC New Comedy Awards at 17, she studied English at Oxford University before continuing to pursue a career in comedy.
She has embarked on several successful comedy tours and has been nominated for the Edinburgh Comedy Award for Best Show three times.
She was also a long-term writer for Channel 4's hit show Skins, and has produced two short comedy films.
Having appeared on Never Mind the Buzzcocks in 2008, she's excited to learn that former host Phill Jupitus now lives in Pittenweem.
However, she reveals her connections with the area – and Tae Sup organiser James Yorkston – simply go back to being a fan.
"I know James because I am a fan of his music," she says.
"I went to a gig 10 years ago and supporting him was the musician the Pictish Trail, Johnny Lynch.
"Johnny and me just happened to bump into each other after the gig. We made friends after that. "He gave me one of his CDs and I really loved it. Then through meeting  Johnny I started coming up to Fife to do the Fence Records Home Game.
"There were a few different gigs and parties I went to up in Anstruther thenI  just go to know James a little bit more through that. Through being a fan really.
"I think we did a Halloween one where we did a bit of comedy and I did a Home Game.
"It was nice to come up and spend time walking around and spend a proper weekend."
Josie isn't familiar with the other Tae Sup artists but is looking forward to seeing them perform.
Martin Carthy and his twice Mercury nominated daughter Eliza Carthy, join forces to perform songs from their first duo album ever, a new CD of traditional material entitled THE ELEPHANT, released in May 2014 on Topic Records. Martin is a legendary ballad singer and guitarist who has influenced a generations of artists, including Bob Dylan and Paul Simon, while Eliza has been twice-nominated for the Mercury Music Prize and a multiple-award winner at the BBC Radio Two Folk awards.
Singer and harpist Rachel Newton was named the 2017 BBC Radio 2 Folk Musician of the Year and the Scots Trad Music Award Instrumentalist of the Year 2016.
Her third solo album Here's My Heart Come Take It was shortlisted for the Scottish Album of the Year Award as one of Scotland's top 10 outstanding albums.
*Tae Sup Wi' A Fifer featuring Josie Long/Ozgur Baba/Rachel Newton, Adam Smith Theatre, Kirkcaldy, December 14
www.onfife.com