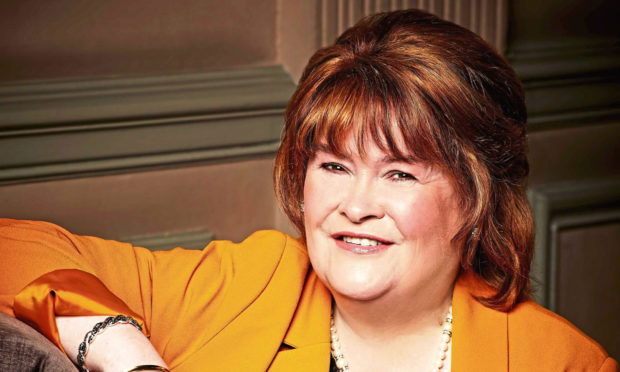 Ahead of a tour to mark more than a decade since her iconic Britain's Got Talent audition catapulted her to global fame, Susan Boyle catches up with Gayle Ritchie…
Wild, frizzy hair splayed out around her face, bushy eyebrows dancing up and down, it didn't take long for audience members to pigeonhole Susan Boyle as just another saddo; a fame-chasing frump, a silly wee wifie who lived alone with cats – a freak show.
Their cruel, judgmental faces said it all. Many giggled and smirked, others raised their (nicely manicured) eyebrows, and judges Simon Cowell and Pier Morgan exchanged scowls and rolls of the eyeballs. Heck, there was even an ironic wolf whistle.
Looking back at this particular episode of Britain's Got Talent, aired in April 2009, it's hard not to be embarrassed by the sheer ugliness of it all.
But it wasn't Susan Boyle, sporting a rather unflattering gold lace dress and wiggling her hips, who was ugly – it was the reaction to her.
Having been interviewed by BGT hosts Ant and Dec ahead of her performance, revealing she was unemployed, single, had never been kissed and indeed owned a cat, the audience lapped up the stereotype. They reckoned they had Susan nailed down into the weirdo box.
And then she sang. And everything changed. In just a matter of seconds.
"You didn't expect that, did you?!" beamed Ant from the wings, while the judges sat slack-jawed and speechless.
When Susan finished singing her song – Les Miserables' I Dreamed a Dream – nobody was laughing, although Morgan rather harshly reminded her that everyone had been.
Certainly, nobody had been expecting this strange wee woman from the "village" of Blackburn in West Lothian to boast such an angelic voice. That she was special, that she was exceptionally talented, was in no doubt.
Millions of viewers were captivated by her stunning performance, and more than a decade down the line, they still are.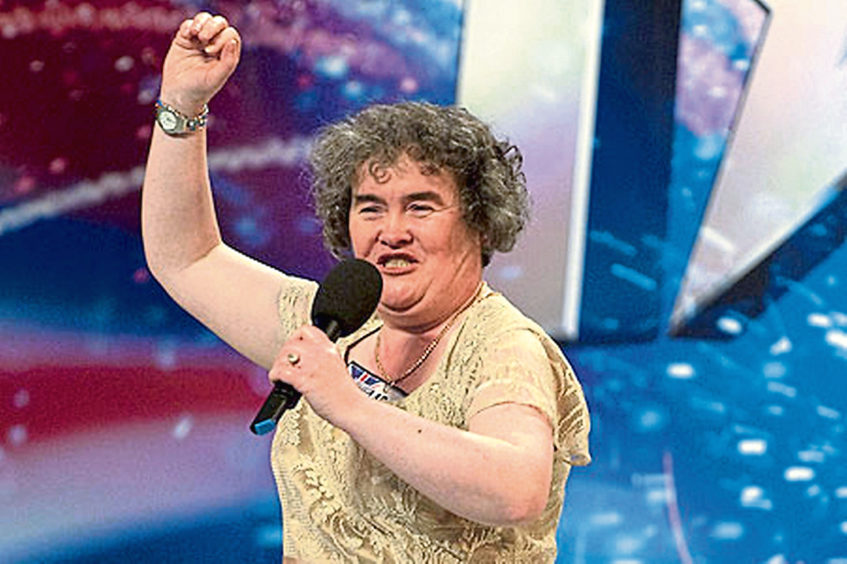 Next month, Susan, 58, kicks off her Ten Tour, a celebration of ten years since the BGT audition catapulted her to global fame and kickstarted her phenomenal recording career. It's also a chance for her to mark the launch of her new album, Ten.
The tour, which launches at Edinburgh's Usher Hall on March 1 and heads to Dundee's Caird Hall on March 3, will feature Susan's greatest hits plus new music. It promises to be an honest and intimate show that will inspire and delight.
"I've not toured for six years so I'm very excited," says Susan, when we catch up on the phone.
"I've been working on lots of new songs and material and I can't wait to let people hear it."
While she's in Dundee, Susan – who says she's a massive fan of the city – hopes to visit the V&A museum.
"The city is a beautiful place and I really love the Dundee crowd; people are really friendly. Last time I performed there, I got a great welcome.
"The Caird Hall is a really nice venue and I'm looking forward to playing there, but a trip to V&A Dundee is on my bucket list."
The audience will be able to enjoy "lots of dancing", she reveals.
"I like things to be as varied as possible. I want people to be dancing in their seats!" she giggles. "That's a bit new to me, the dancing, but I really love it!"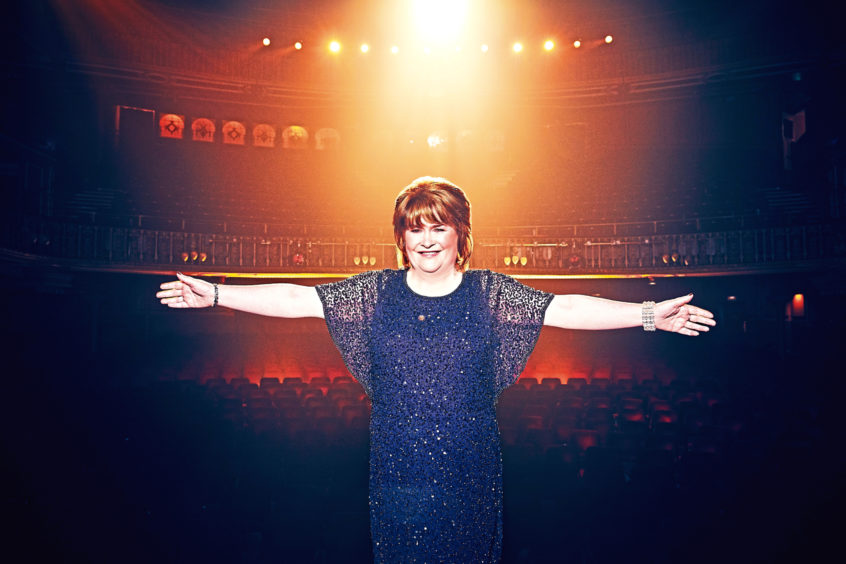 I ask if Susan gets nervous before she performs. "Yes, I do, but it's good nerves," she admits.
"You have to really concentrate and get everything right. You have to do your best for the people who come to see you!
"Performing live, you've got a relationship with the audience. You feel their energy and you might get a wee a laugh with them.
"Every song has a meaning. It can change according to circumstances and what's happening around you. If it's a sad song, it speaks for itself.
"When you sing, you tell a story. It can be emotional, yes."
During a particularly moving song, does Susan ever fear she might break down in tears?
"You never break down and cry on stage, but if you can make others cry, then you've done your job really well," she reasons. "It's about taking people on a journey."
Susan is hugely excited about her special guest on the Ten Tour – fellow BGT alumnus Jai MacDowell. The singer–songwriter from Irvine won the fifth series in 2011.
"He's got a terrific voice and he's a lovely person to work with," she says.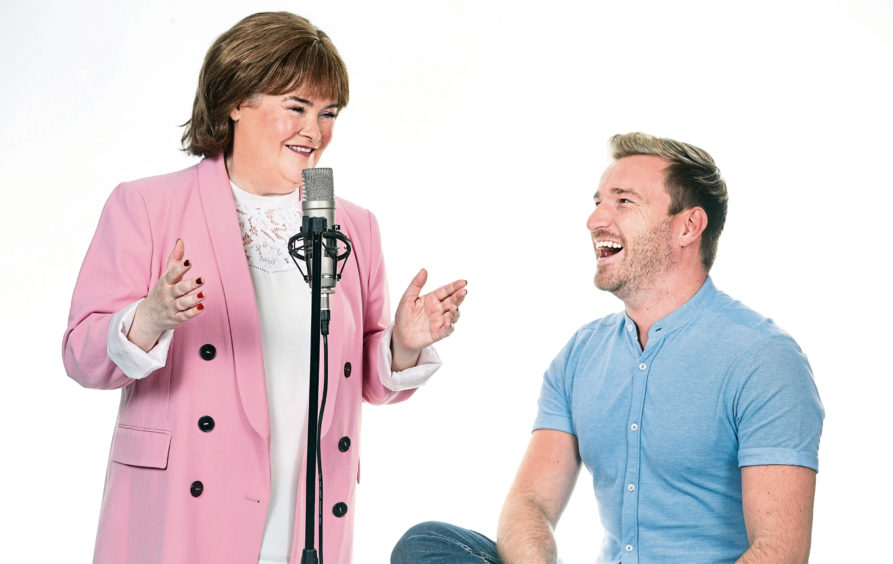 SOMETHING IN THE WATER
On the subject of fellow musicians, Susan admits to being a big fan of Dundee band The View and Lewis Capaldi, who she recently discovered attended the same school in West Lothian as she did.
Last year, she teased the Someone You Loved singer on social media about the possibility of forming a supergroup with her.
In a tongue-in-cheek video message, she wrote: "Right Mr Capaldi, less of your peely-wally. Let's discuss that supergroup. Come on over…There's something in the West Lothian water here, isn't there?"
Having not heard back from Capaldi, I wonder if Susan's still keen to work with him?
"If he's not doing anything, I'm his woman!" she giggles. "He's good – really good!"
The day after the Dundee gig, Susan will play Glasgow's SEC Armadillo – the venue where she auditioned for BGT in 2009.
Heading back to perform there is an experience she reckons will be "surreal".
"It's sure to bring back a few memories! OK, so I didn't win BGT in 2009, and that was a bit of a disappointment. But coming second in a national competition isn't so bad! I've actually managed to make a career of it.
"I pinch myself at how lucky I am. More than ten years on, I'm still having a wonderful time enjoying incredible opportunities.
"Life has been unbelievable – like a big, unpredictable rollercoaster."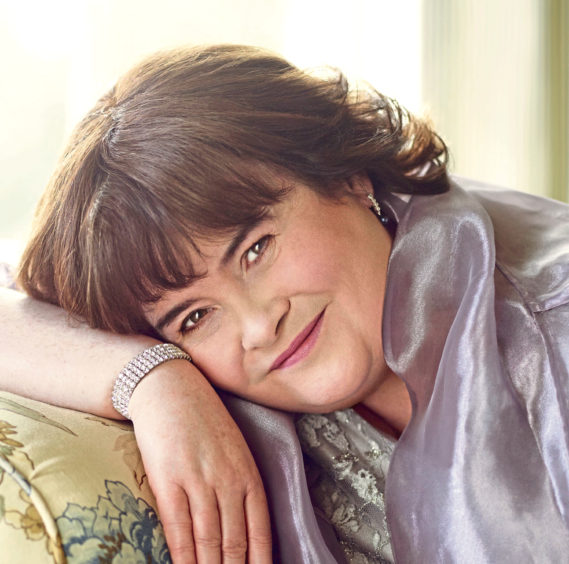 Certainly, it's been a whirlwind of a decade for Susan, who before becoming famous was an unemployed charity worker who lived alone with her cat Pebbles.
A member of her local church choir, she would sing in front of her parish, but had never performed in front of a large audience.
Despite attending Edinburgh Acting School, Susan's attempts to make it – including recording a charity CD of Cry Me a River in 1999 and appearing on ITV show My Kind of People – didn't come to much.
In the early 2000s, she took some time out to care for her mother Bridget, who sadly passed away in 2007.
But it was her mum who had encouraged her to enter BGT, inspired by Paul Potts, the winner of the talent show's first season.
Paul had been an unassuming mobile phone salesman before his audition but he stunned judges with his rendition of Nessun Dorma and went on to become a global opera star. If Paul could do it, why couldn't Susan? And of course, she did it.
Since 2009, she's had eight best-selling albums, won numerous music awards, has sung for three popes and met many musical idols.
Right now, she's working on her ninth album, plus there's soon to be a movie made about her life story with rumours abounding that Meryl Streep is taking on the lead role.
A film company picked up the rights to Susan's 2010 autobiography The Woman I Was Born To Be and is thought to be approaching the likes of Netflix and Amazon, with Susan getting the final say on the script.
However, while Susan says she's "in negotiation", she can't reveal any more details just yet…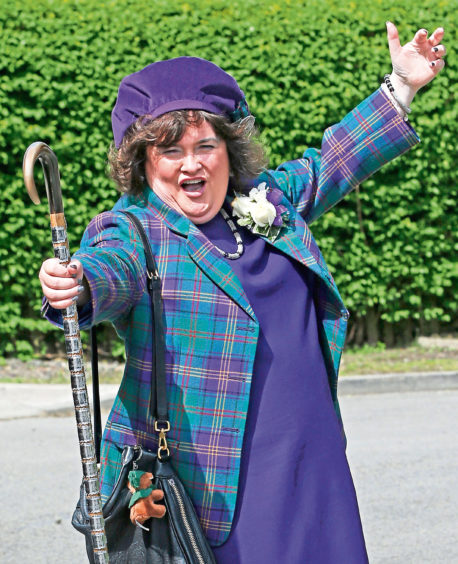 ROLE MODEL
While growing up, Susan was bullied and cruelly dubbed "Simple Susan".
In 2013, she was diagnosed with Asperger's syndrome – a form of autism that affects social interaction and communication skills – despite believing she had learning difficulties.
"As a kid, I was told I had brain damage. But I always knew that was an unfair label. Now I've got a better understanding of what's wrong and feel relieved and more relaxed about myself."
A series of tests showed her intelligence levels were not connected with her condition and in fact, her IQ is above average.
Throughout her life, Susan has had depression, anxiety, and mood swings, so it was extremely difficult, and indeed frightening, for her to be at the epicentre of such attention and excitement in the early days of her fame.
"You reach a stage where you can handle it," she muses. "Everything becomes less scary."
Indeed, she's regarded as a role model by others with Asperger's and in Susan's words, she likes to think she sets "an example".
"If I can do this, they can do it too," she says, matter-of-factly.
The way she dealt with local bullies in Blackburn – stories of her enduring years of harassment hit the headlines in 2017 – was another example of Susan's strength and resilience in the face of adversity.
The teenagers threw stones, bottles and burning paper and shouted abuse at the star.
However, Susan claims she's learned to take such "daft behaviour" in her stride and let it wash over her.
"That was just a silly thing," she says. "They're just young lads. They don't understand. Once you realise that, you don't take it too personally."
Luckily, Susan has a strong network of neighbours who are hugely supportive of her.
"They're very friendly people in Blackburn – they'd give you the shirt off their back! The support they give me is great. I suppose I've put the place on the map and they're really happy about that."
She'll never move out of her modest three-bedroom former council house, despite having bought a £300,000 new-build detached villa at the other end of the small town, which she calls The Posh House.
She couldn't settle there, and instead, one of her nieces lives in it.
"There's no way I'd move out of the house because it's where I've lived all my life. It's got a lot of memories. I'd never want to leave.
"I promised to look after my mum's house and I've got neighbours who look out for me, so it's great here. It's where I feel secure."
Susan is convinced her mum is with her in spirit, looking out for her. "Oh yes, she's still there," she says. "It feels good; it feels safe."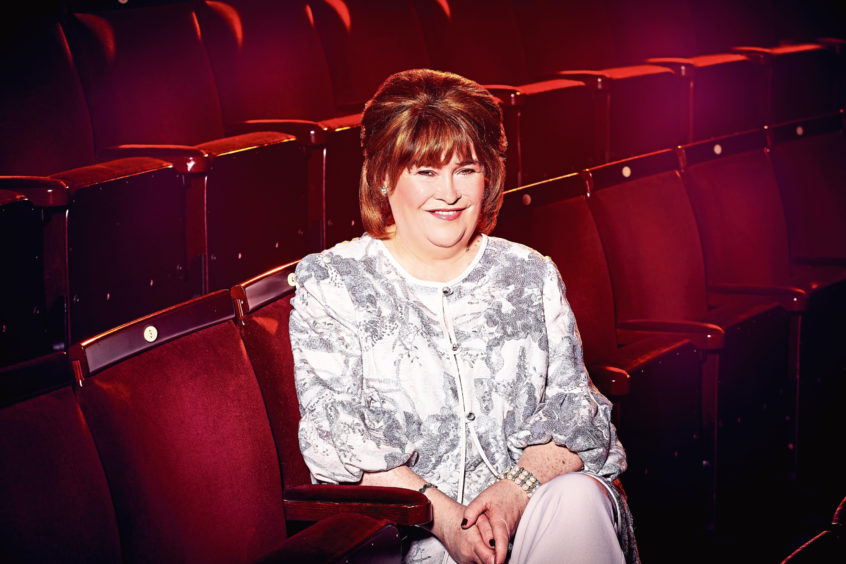 LOOKING FOR LOVE?
These days, it's a very different Susan Boyle in the public eye. The frizzy, bird's nest barnet, unruly eyebrows and lacklustre clothing have been consigned to history and she presents a polished and preened image to the world.
Her hair is sleek and shiny, her make-up done beautifully, and her style is bang on.
She's lost weight, thanks to cycling, and, after being diagnosed with type 2 diabetes, cutting down on sugary snacks.
It's an amazing transformation, and one that has made Susan feel more confident about herself.
Is she looking for love, I ask (while cringing internally, but I had to ask!).
"I don't need to look for love – I get it in abundance from other people!" she laughs.
She did reveal, however, that she went on a lunch date with a good-looking doctor about six years ago in America…that lasted 45 minutes.
It wasn't to be, though. "The guy was nice but he wasn't for me," she told OK magazine.
" I couldn't be dealing with keeping up with the correspondence."
Susan reiterates that she's not planning on scrolling through Tinder any time soon, preferring to take a more romantic approach to dating.
Collapsing into a shy fit of girlish giggles, Susan bats off my line of questioning, saying: "It's nice to wait to be asked! It's manners to wait until you're asked. But you never know! Watch this space!"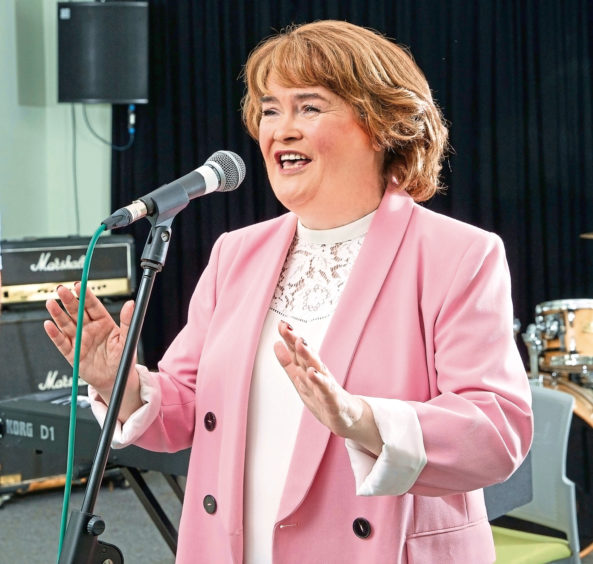 info
Susan Boyle – The Ten Tour – is at Dundee's Caird Hall on March 3. dundeebox.co.uk; susanboylemusic.com