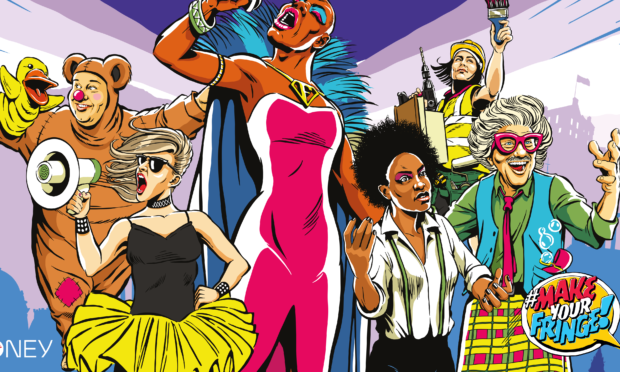 Dave Pollock has some highlights of this year's virtual Edinburgh Festival.
A number of the biggest players in the Edinburgh Festival have confirmed substitute programmes for August, mostly online-only as lockdown rules currently permit, although some are hoping that socially-distanced outdoor or even indoor live performances may be permitted later in the month. Although most are free, please note that most are also soliciting donations towards their and their artists' livelihoods.
Army at the Fringe
Three weeks of online readings, workshops, exhibitions and more, on themes of conflict and military life, split into film/photography in the first week, theatre in the second, and poetry, books and visual art in the third.
August 10-27, armyatthefringe.org
Edinburgh Art Festival
Both online and in poster, billboard and other display sites around the city, artists including Ellie Harrison, Peter Liversidge, Rosalind Nashashibi and Hanna Tuulikki present archive and new works which respond to the pandemic.
Until August 30, edinburghartfestival.com
Edinburgh International Book Festival
A truly mighty online programme from EIBF includes authors Hilary Mantel and David Mitchell, 2019 Booker Prize winner Bernadine Evaristo in conversation with Nicola Sturgeon, the European Commission's Frans Timmermans talking to former Prime Minister Gordon Brown, and much more.
August 15-31, edbookfest.co.uk
Edinburgh International Film Festival Drive-In Movies
Together with Unique Events, EIFF presents the first of six monthly weekends of drive-in films at Edinburgh Airport, featuring classics such as Airplane!, The Princess Bride and Up, and more recent hits Mary Poppins Returns and Get Out.
August 37-30 and then monthly, edinburghdrivein.co.uk
Free Festival
The Laughing Horse has moved online for an array of theatre, comedy and other performance, streamed through platforms like Zoom or Twitch. Now more than ever, their donation model is hugely important to the artists involved.
August 7-30, freefestival.co.uk
Gilded Balloon
A big player in the live and now the online Edinburgh Festival experience, the Gilded Balloon has put together an enviable online schedule of archive theatre and comedy, as well as new highlights from some of their regulars: Fred MacAulay's Zoom chat show, an online treasure hunt and much more.
August 5-30,
gildedballoon.co.uk/fringe2020
theSpaceUK
One of the Fringe's most prolific small venues takes its work online, with a selection of around 80 DIY scheduled performances of shows which would otherwise be playing in their Southside venues this month.
August 8-30, online.thespaceuk.com
The Stand
As geography isn't so important to an online festival, the Stand's ongoing Saturday Night At The Stand livestreams from their Glasgow venue will continue, with the request that Fringe audiences watch and donate to an art form which often misses out amid funding conversations.
thestand.co.uk
Zoo Venues
An online programme similar to other venues is promised, with full details yet to be confirmed at time of writing.
www.zoovenues.co.uk