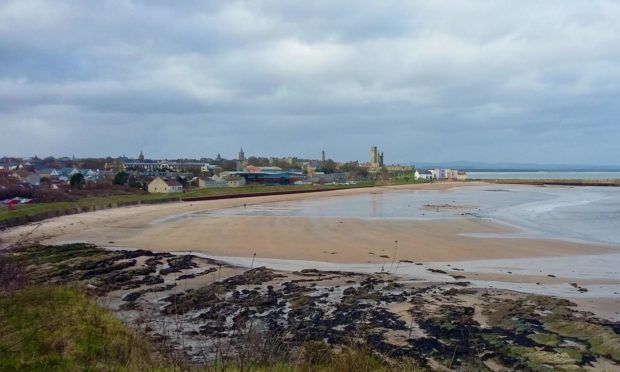 Sea Path, an innovative initiative born out of lockdown walks, is all set to inspire new music, dance and visual art, writes Nora McElhone
The brainchild of dance artist Dawn Hartley and musician husband Quee MacArthur, who are delivering the project in partnership with The Byre Theatre in St Andrews, Sea Path aims to inspire people to view their local surroundings in a new way and record their experiences.

Dawn, who grew up in Ayrshire, trained in dance at London Contemporary Dance School before moving back to Scotland to take up a role in community engagement. She is well known for her work teaching, performing and choreographing dance. She aims to work with people of all ages and levels of dance experience to create thought provoking dance theatre.
Chatting over a socially distance coffee, it is clear that Dawn and Quee are excited to be able to finally get Sea Path up and running. "The project should have launched earlier," explains Dawn, "and we had a performance scheduled for the first week in July. Obviously that wasn't possible but the idea behind Sea Path remains the same: to create movement, music and visual art inspired by walking routes around St Andrews."
During lockdown and beyond both Dawn and Quee found that daily walks with a focus helped to process their thoughts and inspire creativity. "From personal experience," says Quee, "having something to do was very helpful. I found it very hard to concentrate on any sort of work at all in the early days of lockdown." Dawn agrees, "I tend to take all my troubles with me on my walks. Focussing on what you are seeing, listening to the sounds of the sea, tuning into the environment can be an absorbing experience.
"I hope people will understand how sharing what we have made will help others feel inspired and motivated to take part."
Walking routes
Participants are invited to follow one of four suggested routes on the seafront or take a five minute walk in a location of their choice. All of the routes offer questions and ideas for tasks which will help to inspire creative projects with the idea that the audio and video recordings, photography, drawings can then become part of an online exhibition organised by the Byre Theatre.
For Dawn, Sea Path will offer the chance "to reveal a bit about the process of devising music and dance. There is a lot of mystique about dance and how it is created and people really enjoy finding out about how something is made." Where Quee and Dawn had originally planned to hold walks led by the artists involved, there will now be virtual sessions on Teams to help people get inspired. Dawn also hopes to reach out to community groups who would like to get involved.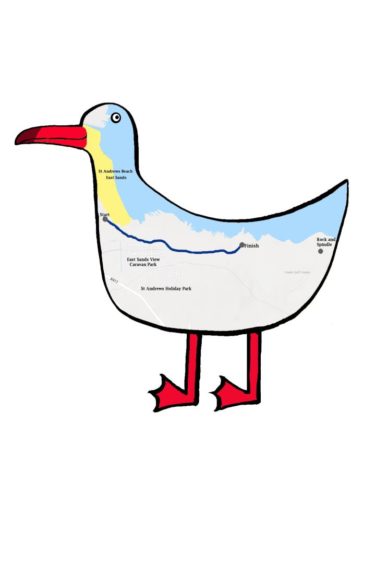 Other creatives involved in Sea Path include dance artist Niamh O'Loughlin, visual artist Hazel Terry, musicians Charlie Grey and James Ford and videographer Brian Hartley to name but a few. All of the artists share a love of the sea, which sees them drawn to coastal areas for inspiration which often stems from childhood experiences. For Niamh those memories include trips to the sea near her grandparents' home, "We visited the beach a lot," she says. Now, "I get overwhelmed by the sea. I have such a sense of how much of the world I have left to explore. I think of the millennia of people who bravely travelled across oceans. I basically get excited about adventures, past, present and future.
"I love to chase the shoreline in and out. I enjoy putting my feet in the sea, no matter how cold. I also like the wild blowing my face and hair and making it super messy and wild."
Dawn also has fond memories of time spent at the seaside: "I love being by the sea and enjoy the wide horizon and sense of perspective I gain," she explains. "I was lucky enough to be brought up near Barassie Beach and was free to explore. I created stories and wove imaginary environments out of the dunes. When I first went to Skara
Brae, I felt like I'd come home to my childhood."
Video introduction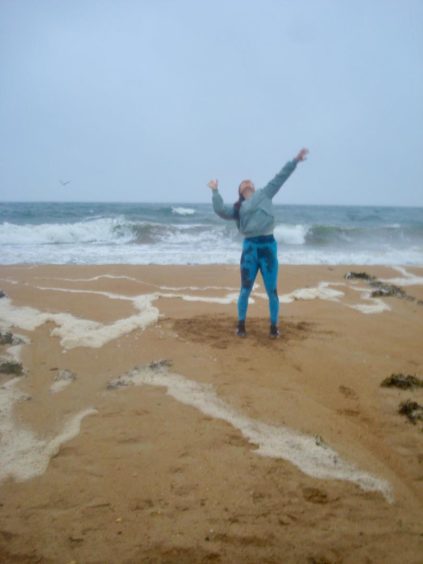 A short performance video is available to watch on the Sea Path section of the Byre Theatre website. "We filmed it when we were not long out of hard lockdown," explains Dawn, "and we really enjoyed that day. The film was made at Kingsbarns – it was quite bold of us to try to make a film but Brian has done a lot of work with dance and was very patient!" she laughs. "It was a drizzly day and a bit of water in the lens. We decided to use that footage as it felt real. The idea behind the film is that the dancer was feeling a lot inside her own head and finds her walk and movement on the beach a release."
Sea Path is happening online and outside until the end of October 2020.