Have you spotted groups of fully grown adults waving their phones around in public and pointing at cartoon creatures on their screen?
Then you've stumbled across Pokemon Go, one of the biggest video game sensations of all time.
It started as an April Fools joke before turning into a phenomenon that launched Nintendo's stock into the stratosphere.
Officially only available in the States and Australia, Britons have worked out how to get hold of the game that gets players off the sofa and out walking.
As well as getting gamers exercising, it has brought people together and, unfortunately, been implicated in armed robberies.
Players have to apprehend virtual "Pokémon " – little digital cartoon critters- which are dotted in public locations near them.
Using a player's smartphone camera and GPS signal, the game makes it seem as if wild Pokémon are cropping up on the streets of the real world.
Players catch them by using the camera on their phone. The Pokémon is superimposed onto the real world surroundings shown on the screen and players increase levels as they catch more of the cutesy characters, which have outlandish names like Squirtle, Bulbasaur and Evee.
The game is free to download and play but there are a number of "in game" purchases which is where developers make their money.
It started out as an April Fools' Day joke in 2014 when Pokemon were hidden throughout Google Maps.
Quickly developed into a game by Google-spinoff Niantic and Nintendo, it was released in America and Australia earlier this month.
To say it took those countries by storm would be something of an understatement. It topped America's app charts within 24 hours. It's already been downloaded to more phones than dating website Tinder – itself a phenomenon – and even looks set to eclipse Twitter.
All across America, quiet parks and streets have been overwhelmed by players wandering around looking for PokeStops and Poke Gyms.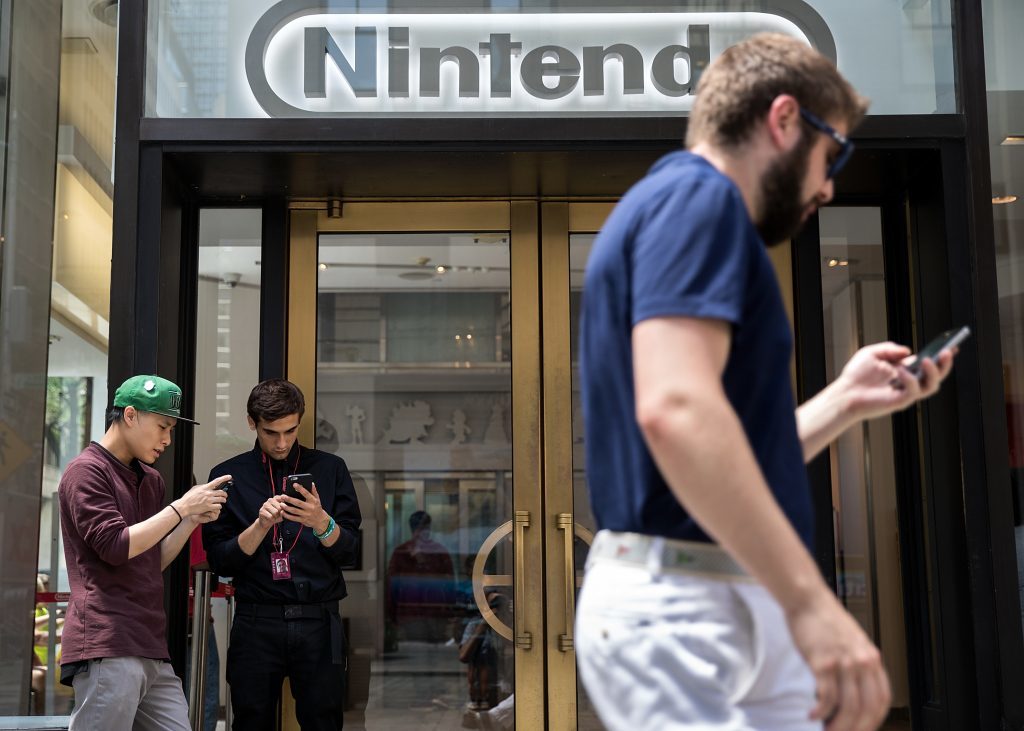 Nintendo's stock value jumped by an astonishing 53% on the game's success, increasing the company's worth by more than $7.5 billion.
It has been so popular, in fact, that it's a victim of its own success. Nintendo did not anticipate the overwhelming demand for the game.
Its servers are barely able to cope with the number of players it has now so plans to roll the game out across other countries – including the UK – have been postponed.
Savvy British Pokémon Go fans have already found a way of getting their mitts on the game, however. By registering a new account and checking United States rather than the UK as your location the game can be obtained.
Using that work-around Britain is already awash with Pokémon Go-ers. The Bank of Scotland in Dundee's Nethergate is a popular Pokémon Gym and players have been congregating there, waving their smartphones around in a most unearthly manner and peering for virtual creatures on their screens.
Darren Mitchell (23) from Edinburgh used a trip to visit his girlfriend in Dundee to "bag" a few Pokémon .
He said: "I downloaded the game because I was a fan of the games since I was a kid and wanted to see how it compared. It's different because rather than controlling the character through the usual buttons of a GameBoy, it's controlled through your movement, which can make it tough to get to certain gyms or Pokémon – particularly if they're in someone's house or a business."
"It's strange, in a way, that the characters appear in everyday situations, making it quite surreal. It was a bit strange watching TV one minute then finding a Charmander sitting on the coffee table!"
"It's also funny as you can tell when someone is playing the game in public as they randomly stop in the middle of the street and concentrate really hard on their phones."
Pokémon Go has made gamers do what they've never had to do before: go outside and get exercise.
Twitter is awash with players exclaiming how far they've walked in their pursuit of Pokémon and how sore their legs are.
Look, I'm not proud of this, but I did walk 10 kilometers today. #PokemonGO pic.twitter.com/Qt3ZwWrYGs

— Kyle Hill (@Sci_Phile) July 10, 2016
Not everyone is pleased with Pokémon-mania, however. Although players are not supposed to place Pokémon in residential buildings, an American man called Boon Sheridan found his home swarming with people after the old church he lives in was accidentally turned into a Pokemon gym.
The Holocaust Museum in Washington DC had to issue a plea for players to stay out after no less than three "PokeStops" – where players can get free in-game items – were set up in various parts of the building.
"Playing the game is not appropriate in the museum, which is a memorial to the victims of Nazism," Andrew Hollinger, the museum's communications director, said in an interview.
As is usual with these things, some people have to take them too far. One fellow is in trouble for catching Pokémon in the maternity suite as his wife is giving birth. Another player was pulled over by the police but insisted on "catching" a Pokémon he saw crouched beside the armed officer.
There's also a darker side to the Pokémon phenomenon. One woman found a man's corpse in a river when out looking for Pokémon.
Teens used #PokemonGo app to lure robbery victims, police say… https://t.co/Afoi04fpfq

— ArgusLeader911 (@Argus911) July 10, 2016
And a gang of teenagers were using Pokemon to lure unsuspecting players to remote locations where they were robbed at gunpoint.