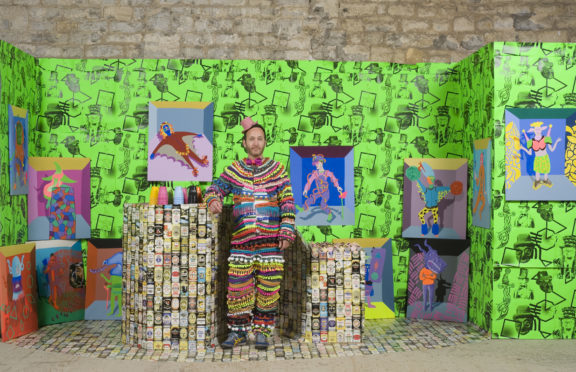 The nature of visual awkwardness will be explored through the work of artists and architects when the Hayward Gallery Touring's Curatorial Open arrives in Scotland for the first time with an exhibition at DCA.
Shonky: the Aesthetics of Awkwardness,is  a major group exhibition curated by artist John Walter.
It features the work of Arakawa and Gins; Cosima von Bonin; Niki de Saint Phalle; Benedict Drew; Justin Favela; Duggie Fields; Louise Fishman; Friedensreich Hundertwasser; Kate Lepper; Andrew Logan; Plastique Fantastique; Jacolby Satterwhite; Tim Spooner and John Walter.
Shonky is a slang term meaning corrupt or bent, shoddy or unreliable – standing here for a particular type of visual aesthetic that is hand-made, deliberately clumsy and lo-fi, against the slick production values of much contemporary art.
The exhibition proposes a more celebratory definition of 'shonkiness', showing how it can be used for critical purposes in the visual arts to explore issues such as gender, identity, beauty and the body.
By drawing together artists and architects whose work has not previously been exhibited together, or discussed within the same context, Shonky aims to allow for new ways of thinking that privilege shonkiness over other aesthetic forms that have dominated recent visual culture.
DCA's galleries will be transformed into a series of conceptual spaces in which Shonky will explore this aesthetic across a range of media including paintings, sculpture, video, architecture and performance.
Works include Andrew Logan's maximalist mirrored sculptures of pop culture icons such as Divine, Molly Parkin and Fenella Fielding;  a selection of paintings and lo-fi video work by pioneering artist and filmmaker Duggie Fields, and a series of small, totemic statues and works on paper by Niki de Saint Phalle.
The exhibition also offers audiences a rare chance to see a selection of major works by American artist Louise Fishman, whose large scale paintings feature abstract works of densely layered colour and texture.
Meanwhile, a series of photographs printed onto gauze depict the hotel and thermal baths of Rogner Spa, Blumau, Styria (1993–97), and the social housing block Hundertwasserhaus (1983-85) designed by Austrian artist and architect Friedensreich Hundertwasser.
Beth Bate, Director at DCA said: "I'm delighted that DCA is the first Scottish organisation to participate in the Hayward Gallery Touring's Curatorial Open, bringing a brilliantly dynamic and original exhibition to Dundee.
"The opportunity to work with colleagues in London, Belfast and Bury to select and develop this project has been a pleasure and we can't wait to share the results with our audiences."
Eoin Dara, Head of Exhibitions at DCA, said: "Developing guest-curated projects at DCA offers up exciting opportunities for us to bring fresh and dynamic curatorial voices into the building.
"It's even more exciting when the guest curator in question is an artist like John Walter.
"We're thrilled to be developing his corrupt, bent, shoddy and unreliable vision of Shonky in Dundee, enabling us to bring major international artists to Scotland for the first time to consider new ways of thinking about nationality, gender, sexuality, beauty and humour."
*Shonky: the Aesthetics of Awkwardness runs from Saturday March 10 to-Sunday May 27 in DCA Galleries, Dundee.