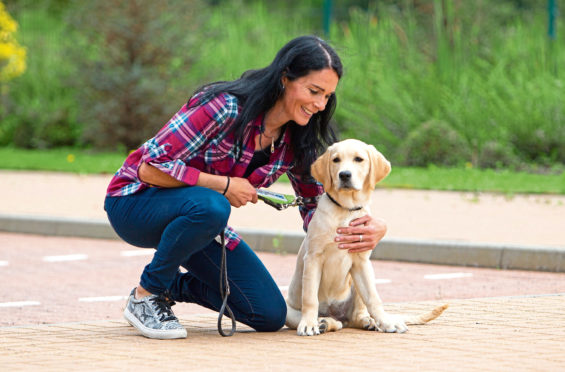 Ahead of Guide Dogs Scotland's annual fun day at the Forfar training centre on September 21, Gayle meets some of the cute canines and finds out more about the charity's work
An adorable, yellow ball of fluff with bright brown eyes and luscious lashes is wiggling and waggling its way towards me.
I've just arrived at the guide dogs centre in Forfar – aka heaven – and already I want to abduct the gorgeous puppy that's squiggled her way into my heart.
The last time I was here was in 2016 to do a story about fears around the charity's services potentially moving to the Central Belt.
Thankfully, that's not going to happen and the centre, the first in the UK to be purpose-built, looks set to stay for decades to come.
The focus of my trip today is to meet the people who are transforming the lives of those with sight loss, as well as the dogs (and puppies) themselves.
My first encounter is with puppy walking volunteer coordinator Maureen Turner and the aforementioned 17-week-old golden retriever-labrador.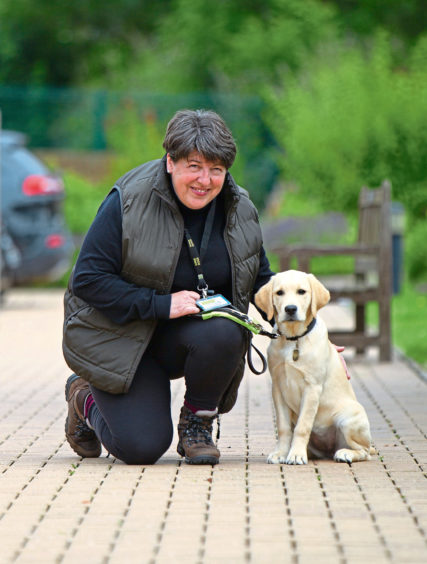 "We're always looking for puppy walkers but it's a big commitment," says Maureen, who has fostered more than 30 puppies.
"Walkers take them on public transport and visit supermarkets, restaurants, schools and shops – basically they expose them to things they'll encounter in everyday life. We want them to come into training as well-adjusted, well-mannered pups."
Walkers provide the full-time care and education of the puppies from six weeks until they're around 14 months old. They then return to the Forfar centre to begin formal training.
The charity screens people interested in becoming puppy walkers, and Maureen warns those with busy lifestyles and "hectic" households not to get too excited.
"You can't leave puppies on their own for long periods and my experience is that small children and guide dog puppies don't mix well," she says.
"There are so many rules the puppies have to stick to, such as not being given human food, not chasing balls or not being allowed on beds and sofas. It's not just a case of babysitting them."
If this all seems rather prescriptive, it needs to be. Think about it – if a guide dog chases a ball, goes berserk when he spots a stick or a body of water, or eats a treat which upsets his stomach, it's not going to end well for his visually-impaired owner!
"We've got a German shepherd who is keen on chasing cats so we need to teach him to ignore small furry things," smiles Maureen.
"It's about distraction training. You need time, massive amounts of patience and the drive to do all this for someone else – a blind person."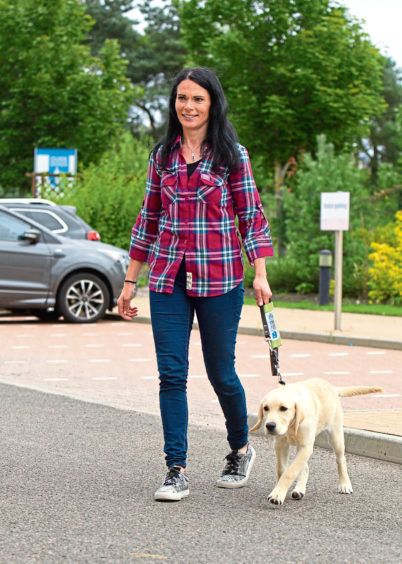 As a dog owner myself, I cannot fathom how anyone could possibly look after a puppy and then send it away. I'd be heartbroken!
How indeed do these saints part with a puppy, with which they surely must have bonded, I ask?
"You have to remember you're not doing it for yourself," says Maureen.
"Most puppy walkers cry when they hand the dogs back."
When puppies return to the centre, they're placed with a trainer.
At around 20 months, they're moved to a mobility instructor who matches them with a client depending on factors including breed, height, speed of dog, speed of client, workload and so on. They work for up to 12 years.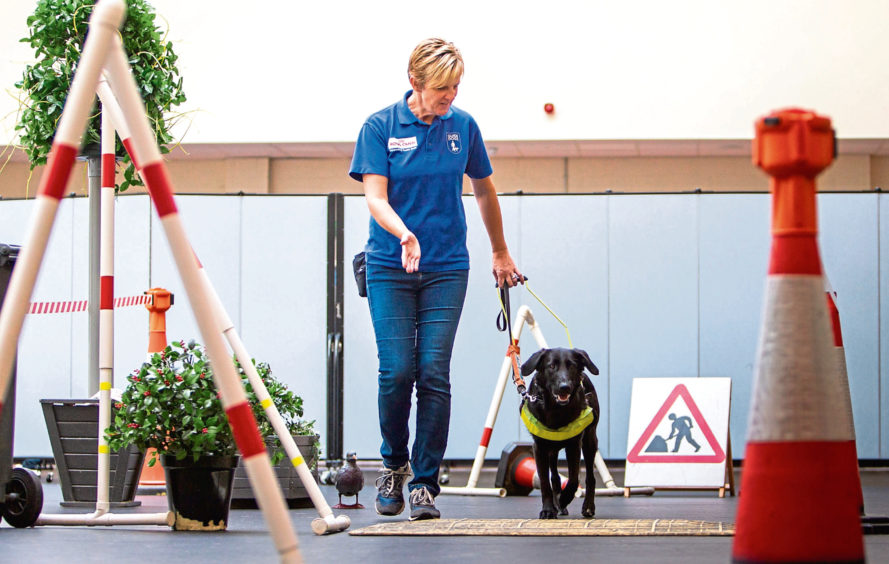 Inside the training arena, I watch as trainer Linda Brill tackles an obstacle course with golden retriever-cross-German shepherd, Nell.
Dogs are trained to walk in straight lines, avoid obstacles, stop at kerbs and stairs, and learn how to judge potential dangers before crossing the street.
They need to keep pace to the left and just ahead of the handler, responding to hand gestures and verbal commands.
Learning how to deal with tight spaces is difficult, but through reward and repetition, the trainer gradually demonstrates to the dog that it should never go through a space that is too narrow or too low (overhanging branches) for its handler.
Training is tough and, of course, not all dogs make the grade.
Mobility instructor Dawn Millar asks if I'd like to try a blindfolded walk with two-year-old black Labrador Jasmine.
Jasmine is happy to meet me but, unlike my own dog, doesn't leap up or sniff my pockets for treats.
It's slightly scary and a wee bit claustrophobic and I feel myself tense up as I put on the blindfold.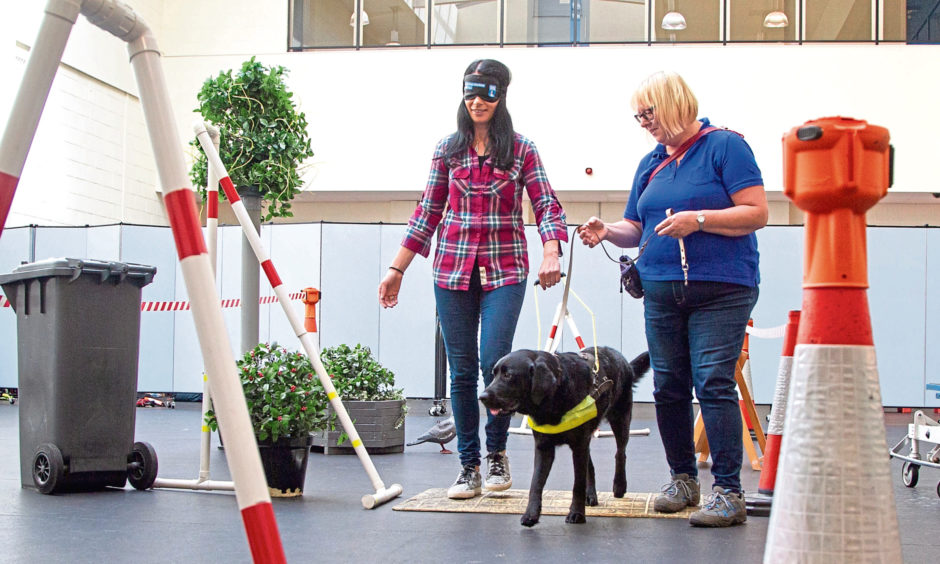 It's strange relying on just my hearing and sense of touch, and putting my faith in a dog I've only just met.
With Dawn by my side, I hold Jasmine's harness and ask her to walk forwards using a hand gesture.
I shuffle, rather than walk, as I'm terrified I'll trip or stand on Jasmine's foot.
We successfully navigate a series of bollards, a drain and speed bumps, and on our second circuit, I begin to relax and enjoy the sensation of trusting Jasmine to do everything she can to keep me safe.
She does exactly that.
The indoor training area also boasts several rows of bus seats – dogs are encouraged to lie under these so as not to trip up passengers – a pretend cafe and a pedestrian crossing. Other hazards include traffic cones, dustbins, plants and plastic pigeons.
"Food dropped on the ground, balls, sticks, toys – dogs have to learn to walk past these without being distracted," says Dawn.
Next up, I meet rehoming officer Leanne Kempton and 18-month-old black lab Pebbles, who's enjoying a free running session outdoors.
"This is her chance to let off steam, process her learning and be a dog!" says Leanne, as Pebbles tears across the grass, wide eyed and ears flapping.
"There's a climbing frame, a tyre, a tunnel for her to run through and a sand area."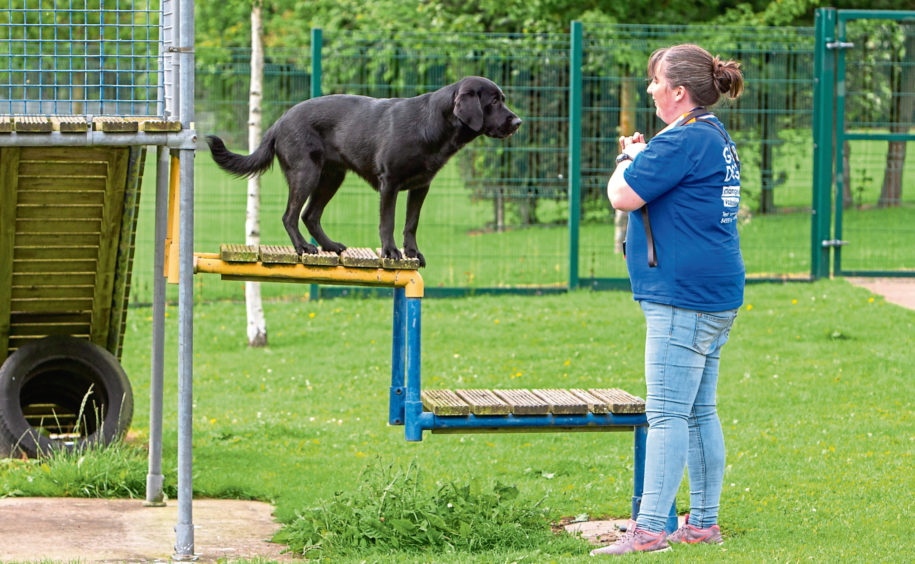 The outdoor training area is pretty impressive, too, with all sorts of "roadworks" and hazards for dogs to navigate.
The fun day is sure to be a lot of fun, but there's a serious message to remember too, as business support coordinator Audrey Thomson reminds me.
"A guide dog can be the sole companion for some people," she says.
"They can boost independence and help people reconnect to communities they may otherwise be isolated from.
"We simply couldn't provide our services for people with sight loss without them."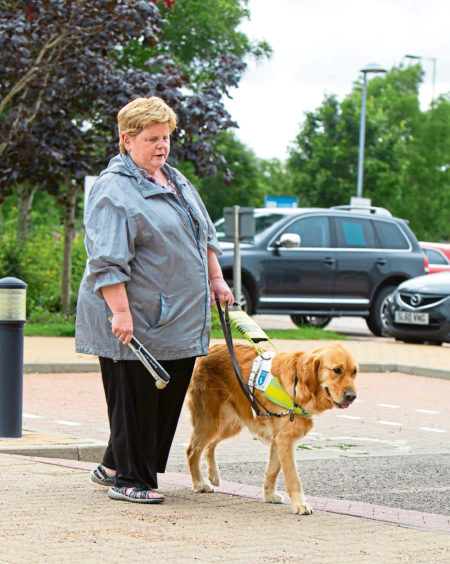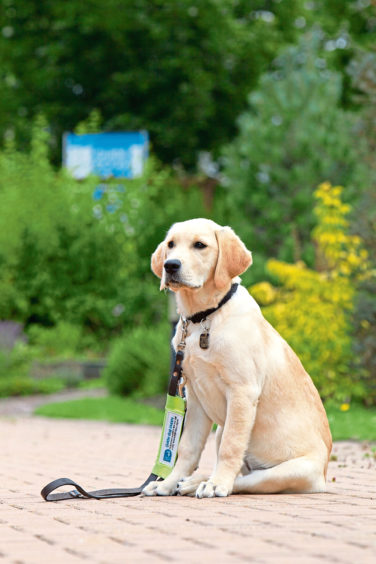 info
The Guide Dogs fun day runs at the Forfar centre from 11am to 4pm on September 21. See trainee guide dogs in action, take part in blindfold walks, kennel tours and competitions and visit craft and food stalls. The centre will also welcome Therapy Ponies Scotland, Mains of Fintry Pipe Band and Craig Cantwell Photography.
There's also a volunteer recruitment event on September 13 from 10am-noon. Those who wish to attend must register with Maureen Turner on 0118 983 8301, or via Maureen.Turner@guidedogs.org.uk
Bred at the National Breeding Centre in Leamington, dogs come to Scotland as puppies at about six weeks old, are puppy walked by volunteers and then go to training school.
Breeds are chosen for their intelligence and special guiding ability, such as golden retrievers, labrador retrievers, German shepherds and cross-breeds.
It costs more than £55,000 to train and support a guide dog partnership and Guide Dogs Scotland relies on donations to continue its life-changing work. guidedogs.org.uk