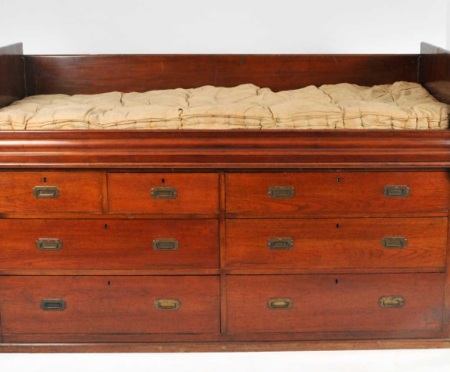 Perhaps the most evocative area of Discovery Point is the wardroom downstairs and the wood- panelled cabins of Scott, Shackleton and the other adventurers who took the Dundee-built research vessel to the Antarctic in 1901.
This is where they spent many cold dark, blowy winter nights, alone with their thoughts, perhaps wondering if they would ever reach home as they waited, 'nipped' in ice, for rescue.
Discovery came to mind when a rare 19th Century ship's cabin bed appeared at Hall's of Shrewsbury.
This impressive mahogany and teak bunk, with high back and side rails above a box base, was fitted with a sprung iron mattress base and seemingly original straw-filled mattress.
With a label for the retailer John Baker & Co, Ltd of London, the six-feet long bed had an alignment of short and long drawers with flush-fitting brass handles of the type often seen on campaign chests.
The bed came to auction by direct descent from Edward Beck (1803-1861), a watch-keeper on merchant sailing ships trading in the 1820s.
Beck served as an officer on many ships, going on some long voyages to North America and India. His diaries were later edited and published as The Sea Voyages of Edward Beck.
All sailors kept their goods and possessions in a sea chest of some sort, and for mates and officers it could be quite a large receptacle. When they changed ship, their chest was sent on ahead to the new posting.
A rare survivor – and one used by later generations of the Beck family as a bunk bed in student days – the cabin bed sold for £1700 against expectations of £600-£800.
Picture: Ship's cabin bed, £1700 (Hall's of Shrewsbury).