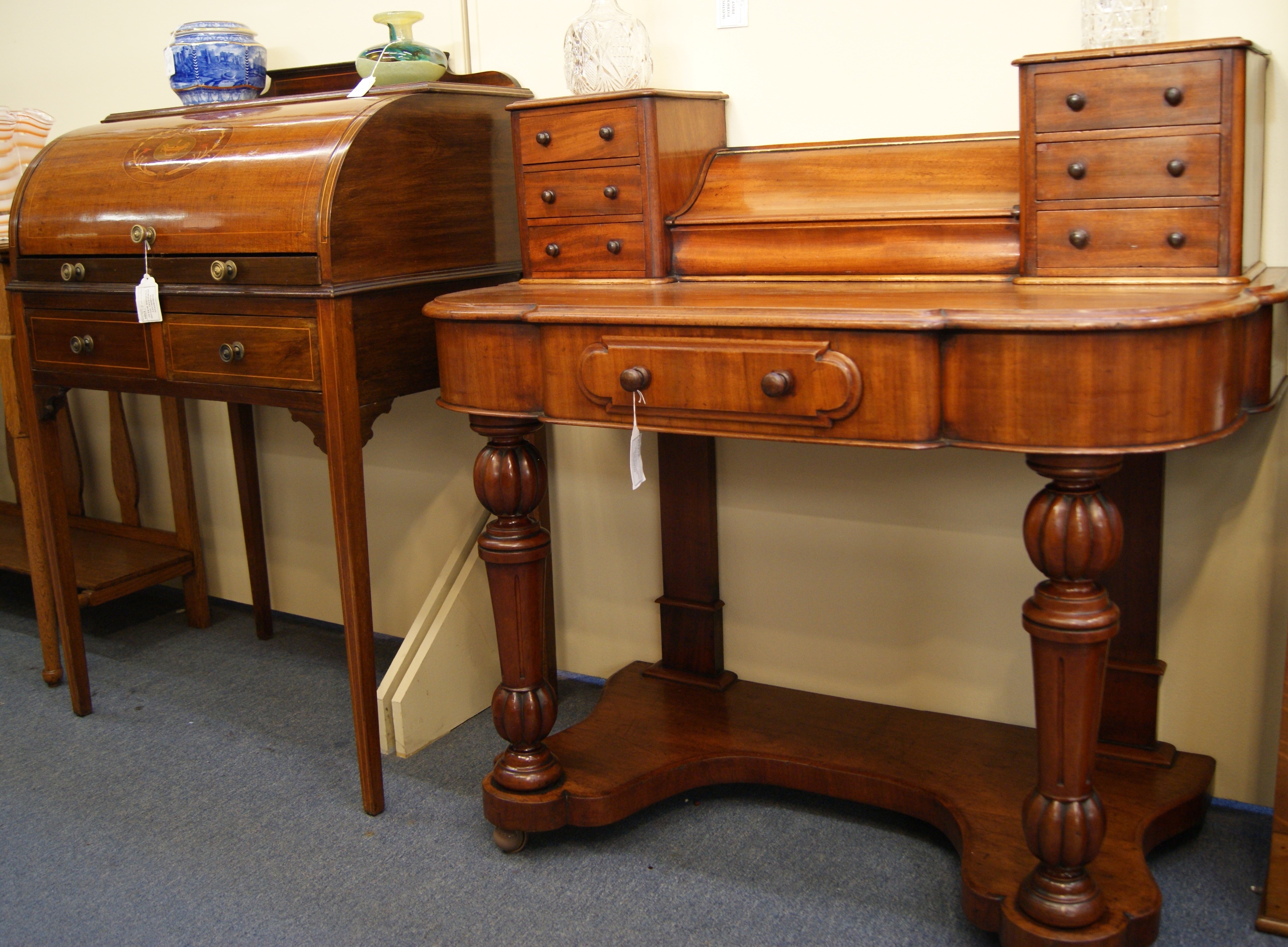 THE DESKS in my photograph were keeping each other company at the Scottish Antique & Arts Centre, Abernyte when I called a week or two back.
They were eye-catching examples of contrasting design, yet both were probably turned out in the quarter century either side of 1900 when cabinet-making covered the style spectrum from Georgian to Art Nouveau.
Let me introduce them. Nearest to my camera is a handsome mahogany writing table, with a lovely mellow colour. Late Victorian, it featured small drawers bookending a brass-hinged tamboured section, which opened to reveal pigeon holes for the bits and bobs of correspondence. Larger documents would have been accommodated in the pull-out drawer below.
Its iceberg-like undercarriage, with heavy turned, tapered and fluted front legs was so typical of late nineteenth century design, as were the turned-wood drawer knobs. Up above, however, its symmetrical superstructure borrowed from the classicism of Regency design of the 1830s.
Coincidentally, its neighbour on the left was an Edwardian mahogany marquetry inlaid cylinder bureau made around 1910, but whose style would not have looked out of place in the same 1830s. Confused? Me, too!
This desk was dominated by its cylinder top which opened to reveal a slide-out writing surface lined with leather, with a neat interior of drawers and cubby holes to cater for papers and writing equipment. Below was a pair of stationery drawers above square, tapering legs.
Such freestanding cylinder desks owed their origins to Georgian times, and in particular to Thomas Sheraton's book of drawings. Remaining popular across changing tastes and times, they were made throughout the nineteenth century and then presented no real challenge to those undersung, undervalued Edwardian furniture makers who deployed superb skills to copy earlier designs.
In a way, the two desks epitomise the period when furniture from a lady's boudoir and drawing room was far lighter and more decorative than that found in a gentleman's room. So I see the delicately-inlaid desk on the left perhaps belonging to a beloved sister, the more substantial Victorian desk in my own sitting room.
The desks appeared at the Forget Me Not retail unit at Abernyte. The revival cylinder desk was priced at £389, with the earlier mahogany writing table at £438.