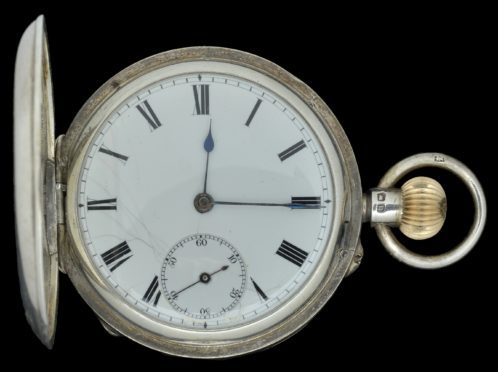 Many families keep grandad's silver pocket watch in a bottom drawer. Alas, having fallen out of fashion, these once-treasured heirlooms often face a fate of being melted for scrap.
But some come with a story, such as the watch, which appears in Dix Noonan Webb's sale in London.
Silver cased, its inner cover is inscribed, 'Presented by the Trustees of the Carnegie Hero Fund to PC Herbert Archer, Rosyth, Dunfermline, for Heroism in Saving Human Life, 22nd March 1916.'
The cover is engraved with the Carnegie Hero Fund Trust cypher and London hallmarks for 1914. The original citation states:
'At 5.20 am on 22nd March 1916, a boy aged 14 years residing in Rosyth slipped and fell into the water inside the caisson chamber [enclosed dock]. A companion shouted for help, and Constable Archer, a London Constable seconded to the Rosyth Dockyards, ran to the spot, but was unable to see the boy, as the water was some 10 feet below ground level, and it was dark at the time.
"The Constable threw off his greatcoat, and helmet, and lowered himself into the water, which was about 40 feet deep, and very cold. Having located the boy by the noise of the splashing, he caught hold of him, and shouted for a rope to be lowered. However, the person holding the rope found the weight of the Constable and the boy too great. The Constable then swam to the end of the caisson, and held onto the stonework until assisted out of the water by some workmen. The boy could not swim, and the rescue was effected in darkness on a wintery morning after the Constable had been on duty over seven hours."
The watch is estimated at £300-£360.