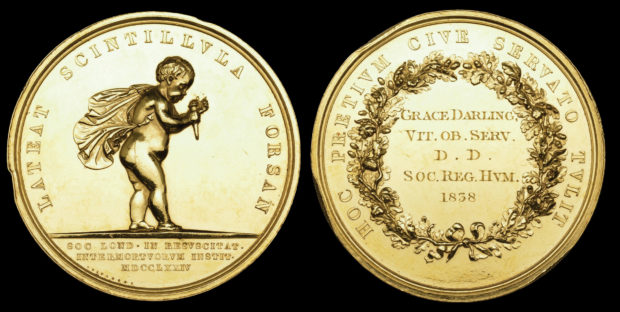 When Grace Darling helped to rescue men from the SS Forfarshire, which struck the Farne Islands in 1838 en route to Dundee, The Times newspaper gushed, 'Is there, in the whole field of history or of fiction, even one instance of female heroism to compare for one moment with this?'
The Dundee ship's stern was swept away, carrying the captain, his wife and the cabin passengers to their deaths. A passing ship later picked up nine men in a lifeboat. The forward half of the vessel remained jammed and 11 survivors clambered on to the rocks. Two children were to die in their mother's arms before Grace Darling and her lighthouse-keeper father William could reach the survivors by rowing out in the rough seas.
Seven of the nine saved by the Darlings were from Dundee. An unprecedented amount of publicity followed. Medals and money were gifted to her and artists queued to paint her. Tragedy followed tragedy. Grace Darling died of tuberculosis in 1842, just four years after the rescue. She was only 25.
Morton & Eden auctions in London have just sold the Royal Humane Society gold medal and other awards, including one from the people of Arbroath, presented to the young heroine.
The medal marked two historic firsts: it was the first Royal Humane Society gold award to a civilian for life-saving at sea, and the first official British gallantry medal awarded to a female recipient.
Included in the lot was a gold presentation locket with engraved inscription, 'To Miss Grace H. Darling, from a few Gentlemen of Arbroath, to mark their sense of her brave conduct on the 7th September, 1838.'
This rare and historically significant group took £32,000.
Picture: Grace Darling medal, £32,000 (Morton & Eden).