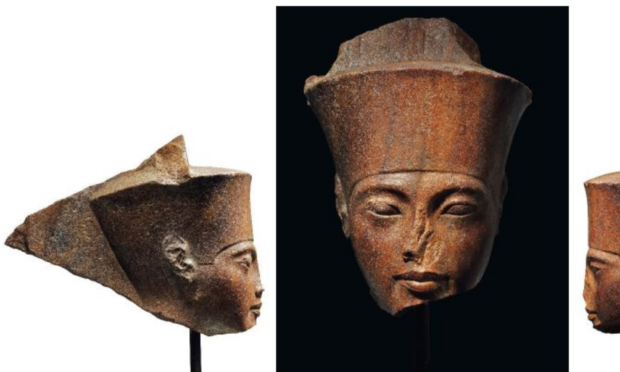 An Egyptian brown quartzite head of the God Amun, its features reminiscent of the Pharaoh Tutankhamen, a device used to align the ruling King with deities, will lead Christie's sale of exceptional treasures on Thursday.
The head was once part of a statue of the god Amun, the most important deity of the New Kingdom – and I hope it will inspire readers to visit the new Discovering Ancient Egypt exhibition at Montrose Museum (which runs to September 7 with free entry).
The head dates to the 18th dynasty, reign of Tutankhamen, circa 1333-1323 BC. Its distinctive crown, which would have been surmounted by tall double feathers, is part of the god's iconography. Over 3000 years old, this exceptional representation of the King, which is about a foot high, will be sold from the Resandro Collection, one of the world's most renowned private collections of Egyptian art, part of which was dispersed in 2016 by Christie's for over £3 million.
The facial features – the full mouth with slightly drooping lower lips, and almond-shaped, slanted eyes, with a deep depression between the eyes and eyebrows – are those of Tutankhamen. Similar representations of the God Amun also with facial features of the young king, were carved for the temple of Karnak in Upper Egypt.
Tutankhamen was nine years old when he became Pharaoh and reigned between 1333 and 1323BC. This period is considered the golden age of ancient Egypt, not only in terms of regional and cultural influence, but also because of the incomparable beauty and quality of the art produced then.
The head is expected to realise over £4 million when it goes under the hammer – so to speak – in London on Thursday.
Picture: Head of the god Amun (Christie's).