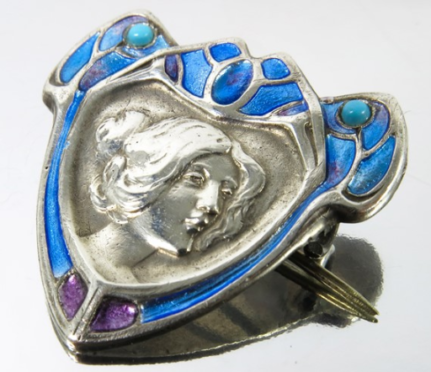 There seems no end to the public's love of Art Nouveau jewellery from the early years of the 20th Century. Sales are buoyant – yet some wonderful pieces can be secured for relatively modest sums.
Kingham and Orme's summer sale in Worcestershire dispersed a small collection of art nouveau items – including a lovely pair of Glasgow School door plates – as well as the beautiful Charles Horner brooch illustrated.
Horner (1837-1896) was an English jeweller and founder in the 1860s of Charles Horner of Halifax, a company which won a reputation for its fine silver jewellery. Among its better-known lines were enamelled Art Nouveau pendants, necklaces and brooches, and silver hatpins. A collection of Horner hatpins was shown on the BBC's Antiques Roadshow a while back.
He was also well known for his development of hardened silver thimbles in the Dorcas range, much used in north of England textile mills.
After his death in 1896, his two sons, James and Charles, continued the business, and an enlarged Halifax factory produced a range of stylish jewellery in the 20th century, together with other items like silverware, tableware and clocks.
Described by Kingham and Orme as Arts and Crafts, but delicately organic in the Art Nouveau style of the early 1900s, the brooch was hallmarked for Chester in 1903.
In shield form, the central portrait of a woman is bordered by a stylised tree cartouche with turquoise cabochon stones and blue and purple enamel.
It sold for a mid-estimate and affordable £250.
Picture: Charles Horner brooch, £250 (Kingham & Orme Auctions).