Forty years after the death of Elvis Presley, Michael Alexander speaks to some of the impersonators who keep 'The King's' memory alive.
He is regarded as one of the most significant cultural icons of the 20th century who has sold an estimated 600 million records worldwide.
But exactly 40 years after Elvis Presley suffered a heart attack and died aged 42, he still reigns as 'The King' of rock and roll for millions of fans – and for the impersonators who keep his spirit alive.
Elvis of course never visited Tayside or Fife.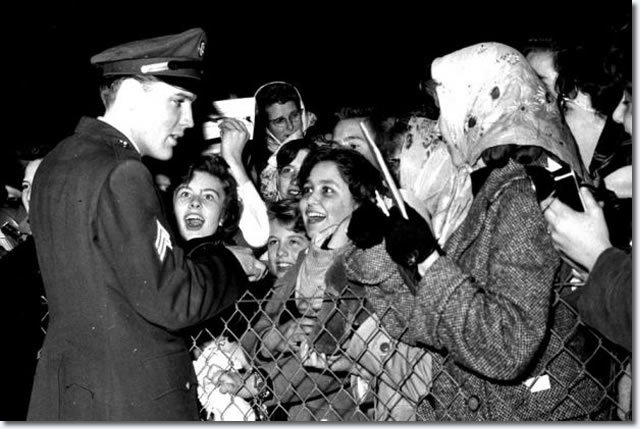 In fact the only time the Memphis-raised singer visited Scotland was that famous occasion on March 3, 1960 when, while finishing his US Army national service, his military flight touched down for refuelling at Prestwick airport in South Ayrshire and he took the opportunity to mix with a few dozen fans.
Yet in the four decades since his death on August 16, 1977, venues in Courier Country have hosted high profile Elvis impersonators who are inspired to dress up and perform passionately on stage like their hero, and the fans have kept on flocking.
Roy Evans, 45, has been touring as Elvis tribute act Lee Memphis King, for the past 11 years.
The former sales manager from Wrexham, North Wales, who describes himself as Europe's most successful Elvis Presley tribute artist, first became "obsessed" with the singer as a five-year-old and  recently brought his 'One Night of Elvis' show to the Rothes Halls in Glenrothes and the Whitehall Theatre in Dundee – accompanied throughout by an orchestra and backing singers.
Spotted by a promoter in his 30s after years of obscurity, he says he feels "a bit like an actor" when he puts on the black wig, side burns and chooses from a range of 10 authentic costumes specially made by Gene Doucette who created the costumes for the real Elvis and holds the copyright in the US.
But he claims that a lot of Elvis impersonators "just don't get it" and "miss the point" when they simply try to imitate The King.
"What motivates me is to feel the music and become the person," he says.
"When I step off stage, Roy Evans is actually quite a boring chap!
"But I wouldn't go and see a lot of the Elvis impersonators to be honest.  I think most tributes miss the point. Many don't get it. They simply try to imitate him but they don't become him.
"When I go on stage it's my perception of what I think Elvis would have been like and I try to project that to an audience. I certainly don't see it as a job."
Elvis tribute act Paul Thorpe from London has performed 1000s of shows for theatre, corporate, private events and weddings since appearing on ITV's Stars in Their Eyes in 1992 and also performed at the opening ceremony of the Manchester Commonwealth Games.
On a recent visit to Las Vegas, he was gobsmacked when on a visit to Graceland he was actually mobbed in the street by Elvis Presley fans asking for his autograph and insisting on having their photograph taken with him.
"I'm very lucky because I'm tall – I'm 6' 5" – I've got black hair, blue eyes, and that's always an advantage," says Paul, who has fond memories of playing Dundee and whose musical tastes were influenced by his Elvis fan parents from the age of three.
"I would agree there are so many bad tribute acts out there where people simply put on a sequined suit and think they are Elvis. There are only a handful of very good tribute acts out there. But for me, as an entertainer, when you step on stage you have to become the artist, to get into the mind frame, to look at the world through Elvis' eyes."
Paul, who was in Memphis for the 30th anniversary of Elvis' death, has noticed that audiences are getting younger.
And with the 40th anniversary upon us, he sees no prospect of Elvis' appeal dimming.
"The media now tends to be all positive stuff about Elvis' legacy so that keeps him up there," says Paul.
"He was an amazing singer, an amazing performer, with amazing songs.
"There's a lot of respect for Elvis and his music.  At the end of the day it's about a recreation of the 1970s."
Reading-born Ben Portsmouth, who grew up on a diet of Elvis songs and performed at the Dunfermline Alhambra last November, made history in August 2012 when he won the Elvis Presley Enterprises 'Ultimate Elvis Tribute Artist Contest" which took place in Memphis, crowning Ben as the 'Worldwide Ultimate Elvis Tribute Artist' – the only act from outside the USA to ever win this prestigious title.
Speaking from Memphis, Tennessee, where he is in town to perform at a number of Elvis anniversary events, he said there's a simple explanation for the longevity of Elvis' music.
He adds: "I think that it is because good songs never die and I find that is why people still love Elvis.
"He was a great entertainer and performer but the songs that he got to sing were great. They still sound great now.
"Will people still be listening to Rianna songs in 40 years? I doubt it.
"The problem with the music industry nowadays it's so throw-away. You'll have a hit for a week and then it's forgotten.Now to get a song for six weeks in the charts is never heard of."
Ben says there's "no fans like Elvis fans" and emotions are running high around Memphis where Elvis grew up.
Ben adds: "There's really no fan like an Elvis fan. No one has a following like that. He had everything – he was very good looking, different looking. He had the charisma, the voice and great music to play to. There was such a mixture.
"His voice really captivates you. It touches you. And the music he got to sing, although he didn't write his own songs, he made them his own. He would take a song like Bridge Over Troubled Water or Unchained Melody and do his own take on it. For me, it was better than the original.
"There was gospel, black music,country and then he did movies and the variations of ballads.
"People also loved Elvis because he was from a poor background and was very down to earth. Very loving and giving, especially on stage. That's why people love him and hold him in their hearts."
*Ben Portsmouth is in Scotland later this year when he plays Edinburgh's Usher Hall on November 9; Glasgow Concert Hall on November 10; Dunfermline Alhambra on November 11 and Aberdeen Music Hall on November 12.