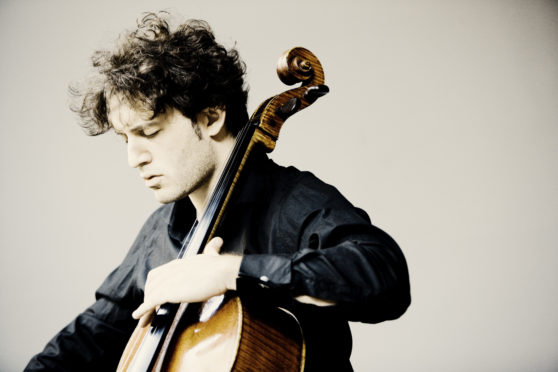 Wagner at his most romantic, Schumann at his melodic best and Beethoven up to his cheeky inventive self. What's not to like?
Perhaps Martin Suckling's Meditation, given its world premiere by the Scottish Chamber Orchestra in St Andrews' Younger Hall on Wednesday night, and the fourth work on the programme.
Commissioned by the SCO to mark the 1918 Armistice centenary, Suckling's use of bell-ringing – a compilation of over 100 recordings from across Scotland combined with a melancholy orchestral score – was certainly innovative and did capture the feelings of November 1918. However, I found the whole work rather drawn out, losing its way to a certain extent.
I had no such difficulty with the other works in the programme, Wagner's Siegfried Idyll, Schumann's cello concerto and Beethoven's eighth symphony. Three wonderful works, each absorbingly appealing in its own right.
The Schumann takes precedence, simply for the mesmerising performance of soloist/conductor Nicolas Altstaedt. This was a stunning display of virtuosic brilliance, agility and second-to-none interpretation. It's a three-movements-in-one work from an inspired Schumann, and if you add an inspired soloist, then the combination is utterly mouth-watering.
Altstaedt ruled the roost from start to finish, astutely taking note of the composer's many changes of moods, and flitting up and down the finger-board like a gazelle. This was a wonderful and memorable performance in every way possible, foot-stampingly brilliant.
For the Wagner, adding "ic" to the second word wouldn't have gone amiss, as it is totally enchanting. Operatic, yes, but the other side to the Gotterdammerung man, a serene and gentle birthday present for his wife. Unwrapping this gift, you come across sweet strings and mellow wind which combine to form an irresistible work of art.
Beethoven's eighth is just as compelling, but for a host of different reasons. It's a will he or won't he piece as he toys with tempi, mood and format. It's also bright, airy and full of vigour and musical tricks and while it's shorter that other symphonies it's certainly not short in terms of enjoyment.
All in all, another SCO night to remember.