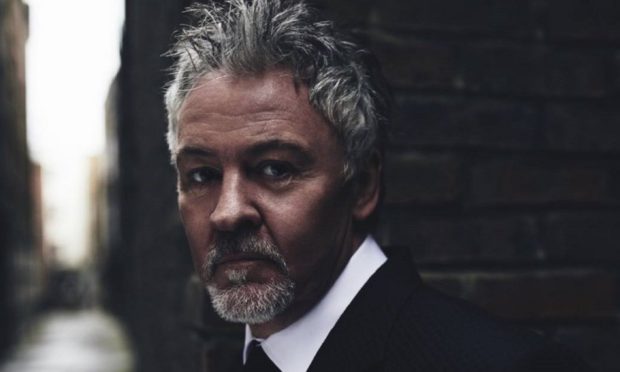 Soul crooner Paul Young heads the all-star line-up headed for Rewind Scotland at Scone Palace in July.
The Band Aid legend — whose 1983 album No Parlez shifted more than 900,000 copies — says he's "very chuffed" to be joining the likes of Bryan Ferry, Foreigner, Big Country and The Undertones at the Perthshire festival on July 20-21. "I've been wanting to get onto the Rewind circuit for a while but I think what pushed me back up there was the October tour of No Parlez I did last year," Paul, 63, tells Rocktalk.
"It gave me a chance to get a proper band around me. It's very difficult for musicians to earn money these days, the only way is doing it live and you have to make so many budget cuts to be able to come out with anything, so I decided to forego that to get the musicians I wanted and a proper light show.
"The tour was pretty crazy. Someone saw all the women down the front at one gig and hashtagged it 'Cougar Moshpit' on Twitter. It was very funny and I thought, 'Okay, I'll take that on board, I like that analogy'. There were plenty of girls at the front thinking it was 1983 again."
It'll be the first time Paul's played a solo set at Rewind, despite a cameo role on the retro event's 2009 debut at Henley-on-Thames, where he also enjoyed mixed fortunes last year with his Tex-Mex combo Los Pacaminos. "I did Rewind once when I was just a guest of Go West, I wasn't putting on my own show," he recalls.
"The other time I did it was with Los Pacaminos and we were plagued by gremlins. The PA went off while we were on and we didn't know. We were gaily carrying on thinking everything was alright and no one could hear us, so luck has got to be with me this time."
Also on the Scone Palace bill is Ultravox star Midge Ure, who Paul toured America with last year. "We're having email conversations now because we've been invited to go back over to that part of the world," he reveals.
"We're just looking at the budget and hoping we can make it happen. It'd be really nice to see him again. It's a nice little package and when we did it out there and I watched a bit of Midge's set I thought we kind of top and tail what the '80s was.
"All the stuff he did with Ultravox involved heavy use of technology — synthesisers, etcetera — and was slightly more over on the goth or new romantic side than mine, which was more of a mixture. I thought this was a pretty good way of summing up the breadth of music that was around in that era."
Best known for his huge hits Wherever I Lay My Hat, Love Of The Common People and Every Time You Go Away, Paul released his ninth solo album Good Thing in 2016 and performing both under his own name and with his Los Pacaminos mates has kept him busy.
After bouncing back from a bout of pneumonia, the Luton native starts a fresh run of dates with the Ry Cooder-influenced Pacaminos this weekend, with an ongoing project to catalogue his unreleased song collection also in his sights ahead of solo Euro gigs in April. "I feel like such a lucky guy," Paul says.
"I get to do the stuff that was my hits and I go out and do a Paul Young show, then I get together with a bunch of friends — and if I wasn't in the band it's still one of the best live bands in the country because of the talent they've got.
"I'm not getting bored. I'm very critical of what I do, and a lot of things I think are alright might not be quite right for a Paul Young album so I'm creating new music with a different band then going back and doing solo stuff again. It just keeps me happy."
Rewind Scotland is at Scone Palace, Perth, from July 19 to July 21.
*** R'n'B rockers The Sharpeez showcase new material at Kinross's Green Hotel tonight. Influenced by Rory Gallagher, Tom Petty and Free, the London four-piece's line-up includes ex-Sniff'n'The Tears guitarist Loz Netto. Tickets £10 via mundellmusic.com.
*** Beat Generator welcomes punk legends Sham 69 — including controversial frontman Jimmy Pursey — for a sold-out gig tomorrow.
*** Edinburgh fuzz rockers Mother Eat Moth play Conroy's Basement on Monday. Surf punks Secret Admirer and Heavy Duty Box Company support. Entry's £5.
*** Leading tribute band The Guns N Roses Experience are rocking the Green Hotel tomorrow. Tickets £20 from mundellmusic.com.
*** Number 57 has covers outfits Miami Vince tomorrow and Bedrock on Sunday.
*** Cherry Bombz play McDaniels tonight (9pm) and tomorrow (5pm) before Clarks (9.30pm), then the Kettledrum (Sunday).