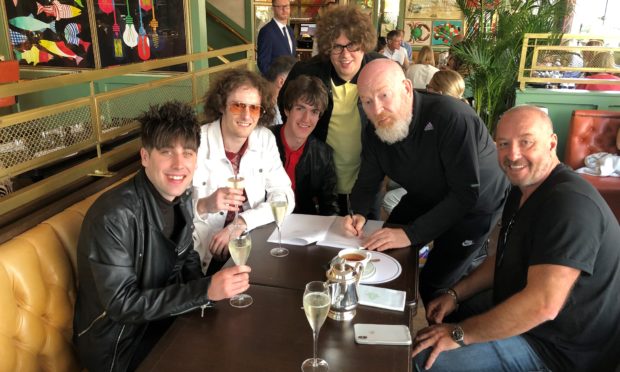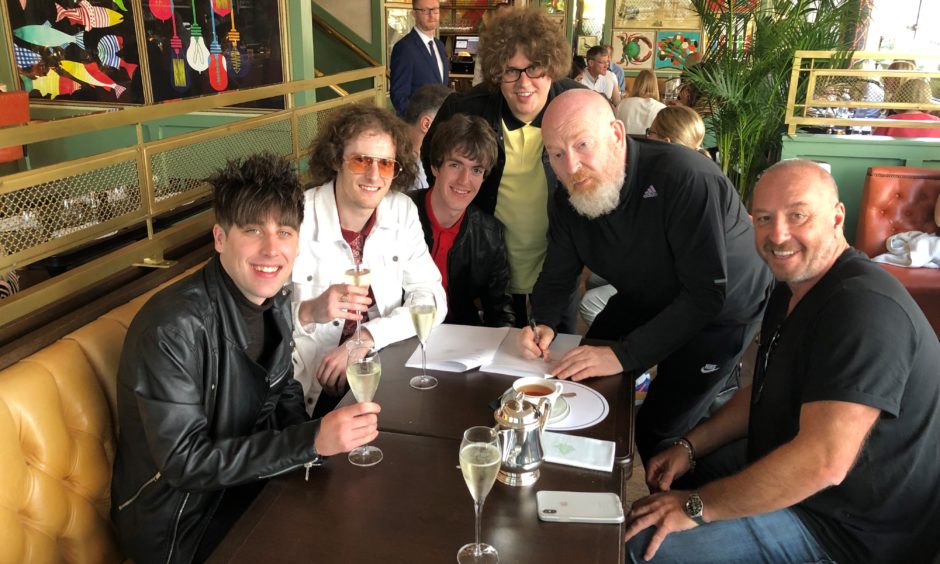 Hard work and dedication has paid off for up-and-coming Fife band Shambolics who have signed a record deal with infamous Scottish music mogul Alan McGee.
The Glasgow-based music executive, who famously signed the likes of Oasis, Primal Scream and Jesus & Marychain to his old label Creation Records, has signed the Kirkcaldy-raised indie-psychedelia four piece to his brand new vinyl release label Creation23.
The deal was signed in Edinburgh on Friday after the man with an irrefutable ear for talent was impressed by the band after seeing them live in the capital a few weeks ago.
Speaking about the signing, Mr McGee said: "Scottish indie music is having a renaissance at the moment and I was so glad I came up to Edinburgh to see the Shambolics live.
"After I saw them I just had to sign them. One of the best Scottish artists out there. A classic creation band. Big tunes and they look great!"
The band's bass player Jordan McHatton, 24, who is now considering giving up his day job as a painter and decorator, told The Courier the deal was "massive" and underlined the band's ambition to take on the world.
"It's good for someone of that magnitude to have a bit of faith in you," he said of Alan McGee's interest.
"You can gig as much as you want but sometimes you need somebody who's got that power to take you on to the next level, because that's what we've needed. This is the biggest thing. It's a pinnacle of a lot of hard work!"
With a line-up now comprising Lewis McDonald (vocals/guitar), Darren Forbes (vocals/guitar), Jordan McHatton (vocals/bass) and Jake Bain (vocals/drums), all 24, and with influences including The Beatles, Stone Roses, Oasis, The Smiths and The La's, Shambolics' emergence from the Fife music scene has been on the cards for a while.
Having quickly accrued a burgeoning and passionately devoted fanbase across wider Scotland, the band, who have until now self-published their own material in Dunfermline, scooped the 2017 Scottish Alternative Music Award for 'Best Rock/Alternative Act' and have continued on an upwards trajectory ever since.
Earning critical acclaim from the likes of BBC Scotland's Kingsbarns-raised DJ Vic Galloway and Virgin Radio's Anstruther-raised DJ Edith Bowman, and sharing huge stages with the likes of The Sherlocks and Dundee's The View, the band has also performed at some of the UK's biggest festivals including Isle of Wight Festival, Tramlines Festival and Reading & Leeds Festival.
Last year they supported 1990s Britpop band Cast at a gig in Leven and this year their ascent has continued with the band tallying-up in excess of 250,000 Spotify plays for infectious recent demo "When She Goes Home".
They also count recent sold out shows at some of Scotland's most legendary gig spaces including Glasgow's King Tuts and Edinburgh's Mash House among their greatest achievements.
*Shambolics play a series of festivals throughout the summer and tickets are selling fast for their gig at PJ Molloys, Dunfermline, on September 21.