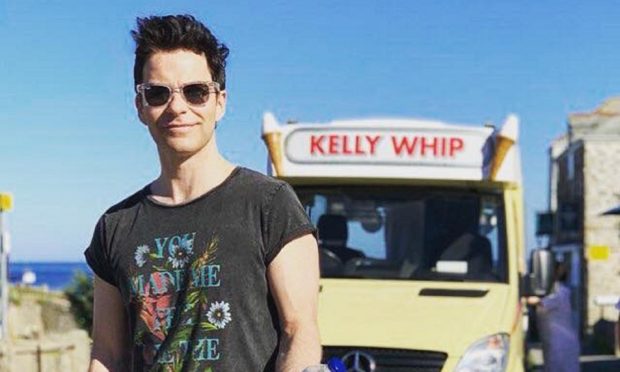 Stereophonics legend Kelly Jones plays Dundee's Caird Hall on Sunday – his only Scottish show as he winds down his latest tour.
It's a rare chance to witness intimate performances of classics from the Welsh wizard's 23-year career combined with storytelling.
Tracks from all 10 'Phonics albums are on Kelly's setlist, plus a few rarely performed touchstones, songs from his 2007 solo album Only The Names Have Been Changed and a clutch of brand new offerings.
The Dundee gig kicks off a fresh run of dates on the Maybe Tomorrow songsmith's Don't Let The Devil Take Another Day tour, which also saw him play a series of sold-out performances over the summer.
It comes as his band prepares to return next month with their stripped-back 11th studio album Kind.
"Our last gig of the world tour was September 2018 in Brooklyn," Kelly recalls.
"I was done, had written no songs, nothing new, I thought I felt like quitting for a while.
"Then, by November I had a load of songs that just came through me – lyrics just filling up pages, no crossings out, complete songs formed.
"They became a very open and, to be honest, a bunch of really vulnerable songs about things I hadn't quite worked out for myself. I didn't know or really mind if others wanted to hear them or like them, I just needed to get them out of me.
"So when it came to an album I wanted to capture honest performances of them and we recorded it in just 11 days."
Last seen in Dundee when Stereophonics played the Caird in August 2017, Kelly's being supported on Sunday by American duo The Wind And The Wave.
Tickets are £43.50 / £53.50 via dundeebox.co.uk
Meanwhile, it's live music day at Dunfermline's Outwith Festival tomorrow.
The multi-arts extravaganza is rolling out a host of alternative outfits at seven venues from 3pm until midnight, with veteran hit-makers Idlewild and the Stina Tweeddale-led Honeyblood topping the bill.
Also involved are William McCarthy, Siobhan Wilson, Avalanche Party, Meursault, Lucia, Man Of Moon, Foreignfox, The Van Ts, Dancing On Tables, Rebecca Vasmant, Oskar Braves, Shredd, Cryptic Street, Supa and Da Kryptonites, Moonlight Zoo, Goodnight Louisa, L-space, Amy Lou and The Monday Club, Posable Action Figures, Life Model, Beta Waves, The Youth and Young, Paris Street Rebels, Acrylic, Fauves, Scarlett Randle, Jonnie Common, Sunstinger, Beerjacket, Mt Doubt, Cheap Teeth, Super Inuit, Kapil Seshasayee, Theo Mizu and Banda, Swim School, Snash, Big Cloud, Between The Lines, The Plastic Mac and Wind Up Crows.
Tickets give access to all seven venues – PJ Molloys, Lourenzos, Royal British Legion Scotland, La Menta, Monty's Bar, Life and 1703.
It's £21 via uk.patronbase.com
Progsters Lifesigns play the Green Hotel in Kinross on Sunday.
The four-piece – John Young (keys / vocals), Frosty Beedle (drums), Jon Poole (bass) and Dave Bainbridge (guitars / keys) – are currently working on their third album, a follow-up to the band's 2013 self-titled debut and their sophomore offering Cardington (2017).
Former members of Lifesigns include ex-Kajagoogoo bassist Nick Beggs, and the prog legends who've guested on their releases to date include the likes of ex-Genesis guitarist Steve Hackett, King Crimson frontman Jakko Jakszyk, Focus pair Thijs Van Leer and Menno Gootjes, and Fish six-stringer Robin Boult.
Tickets £26.75 via Ticketweb.
Status Quo tribute Ma Kelly's Boys are at the Green Hotel tomorrow.
Formed in 2014, the four-piece specialise in material from Quo's golden period of 1970-76, taking in tracks from all the boogie rock legends' albums during that spell, including Piledriver and Blue For You.
Tickets £21.50 via Ticketweb.
There's a mini-metal fest at Conroy's Basement on Sunday.
Irish hardcore unit Bailer are being joined at Meadowside by Glasgow beatdown five-piece Slept On, Inverness hellraisers Below The Neck and local post-hardcore exponents Vena Amoris.
Tickets £6 via Pink Emo Promotions online.
Canadian prog outfit Moon Runners play Conroy's tomorrow, along with Manchester grunge-popsters Sunglo, live debutants Alldepends and synth noise outfit Do Or Die.
Admission's £5.
Church hosts breaking Ayrshire post-indie fuzz popsters Ranzas tonight.
Tickets £6 via
ti.to/gjpromotionsuk
Covers crew Cherry Bombz play Arbroath's Coast tomorrow and Downfield's Admiral Bar on Sunday.
It's Queen tribute Majesty at Church tomorrow.
Tickets £22 via Tickets Scotland.
Number 57 has Ringer tomorrow and Chain Gang on Sunday.
Kid Canaveral songsmith David MacGregor's playing Beat Generator tomorrow under his latest guise as Broken Chanter.
It's a full band show, with tickets £10.50 from Grouchos and Tickets Scotland.