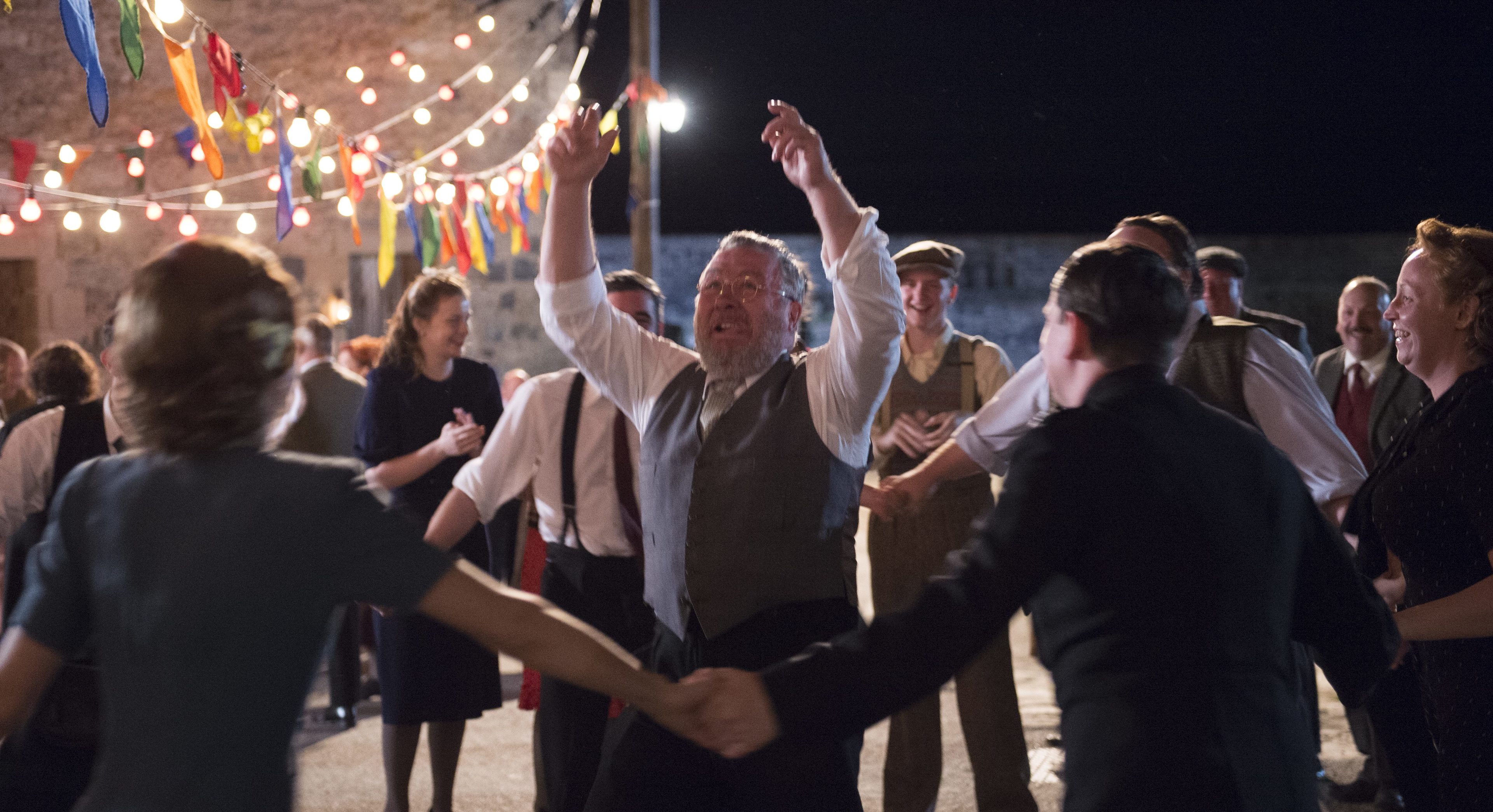 The 1949 Ealing Studios film Whisky Galore! has been remade.
Jack McKeown speaks to its stars, Eddie Izzard and Gregor Fisher,
and visits Barra, where the original movie was filmed.
A ship runs aground in the Outer Hebrides, disgorging 250,000 bottles of malt whisky – to the delight of the islanders, who have seen supplies dry up during rationing and immediately row out to pilfer the stricken vessel.
It's one of the most fantastical of Scottish tales, made all the better for being a true story.
When the S.S. Politician – bound for Jamaica and New Orleans – was caught between Eriskay and South Uist in February 1941, locals staged a series of well organised and illegal salvage operations before weather broke up the vessel and took the remaining bottles to Davy Jones' locker.
The episode formed the basis of Compton Mackenzie's 1947 novel Whisky Galore and two years later the story was made into the classic Ealing comedy Whisky Galore! starring Basil Radford, Wylie Watson and James Robertson Justice.
Shot on Barra during the summer of 1948, it showcased the island's unparalleled scenery as the plot followed the attempts of pompous and ineffectual English commander of the local Home Guard, Captain Waggett, in his attempts to prevent the islanders – led by wily shopkeeper Macroon – from raiding the stricken ship's cargo.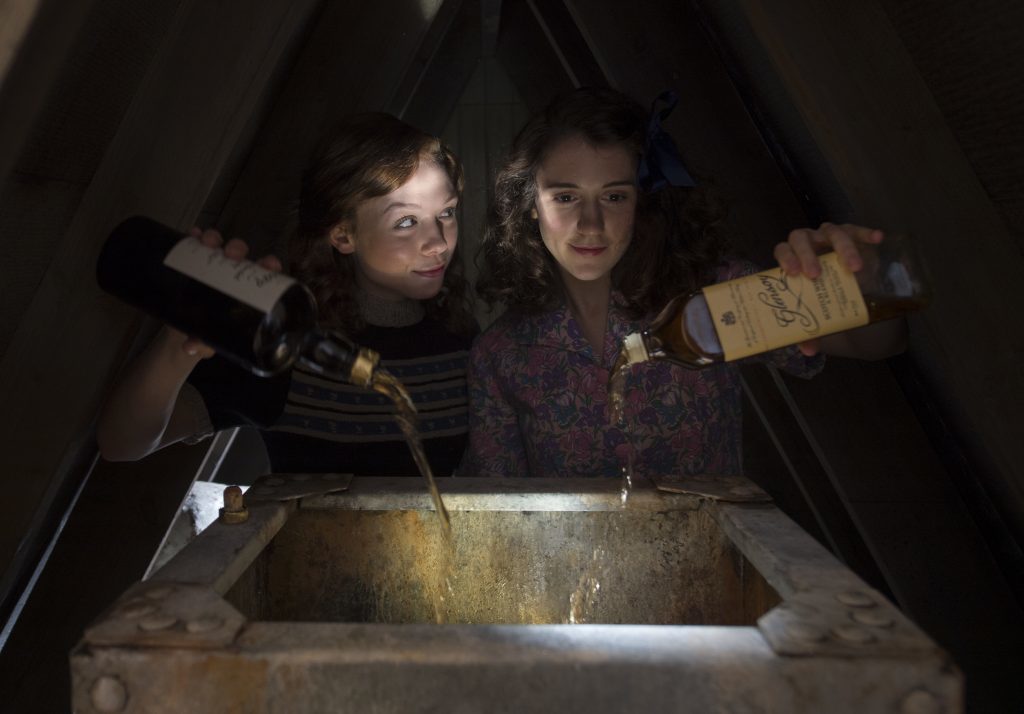 Audiences lapped up the cat and mouse game, which saw canny islanders stashing their haul in a cave and finding ever-more ingenious hiding places for bottles – including gutters, beneath a pie crust, a baby's crib and even a cistern.
Now, more than 65 years after the original was released, Whisky Galore! has been given the remake treatment.
The 2016 version, directed by Glasgow-born Gillies MacKinnon, didn't have the easiest of gestations. Indeed, many fine single malts have spent less time maturing than the 14 years it has taken to get off the ground.
Comedian Eddie Izzard takes on the role of the hapless Captain Waggett but when I meet him in Edinburgh ahead of the Whisky Galore! premiere he's not exactly looking soldierly.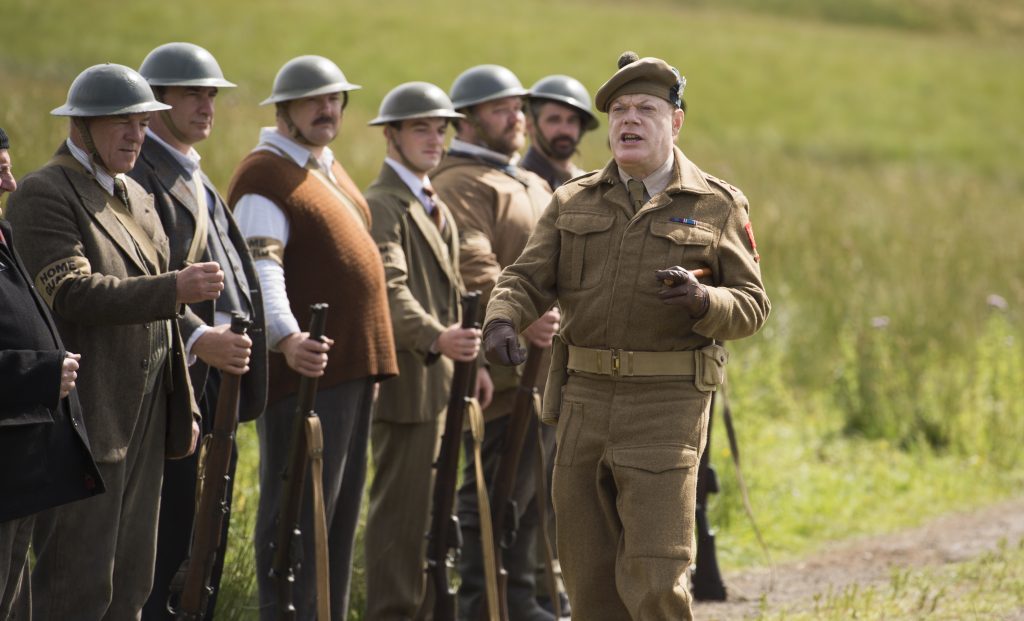 The 54-year-old cross-dresser is wearing tight jeans, a suit jacket with glittery trim, blouse, necklace and heels. It's only a couple of days after the Brexit vote and several of his fingernails have the EU flag painted on them.
The high-profile Remain campaigner bats away questions about politics, insisting he's here to talk about the film. Like many fans, Izzard saw the original as a child but admits he wasn't aware it was a true story until he became involved in the new version.
"It's a beautiful folk story that sounds like it's come from someone's imagination but it's actually true," he says. "It's not a goofy comedy, it's a folk tale comedy, a dramatic comedy."
Izzard was offered the role after starring as Robert Watson-Watt in Gillies MacKinnon's Castles in the Sky.
That film saw him play a Scottish character and he considered reprising the accent for Whisky Galore!
Instead, he concludes: "It's not the fact that he's English that's the problem, it's the fact he's a pain in the a**e.
"So I considered making him Scottish but in the end we kept him Captain Waggett. After my mother died I went to boarding school so I put on the poshest voice I heard there.
"I could have gone even more plummy but I think what I've done suits the character. What I really wanted was to find the truth in him because in the original, he's a little bit two-dimensional. I wanted to add a third dimension.
"Whether I've succeeded, you'll be the judge."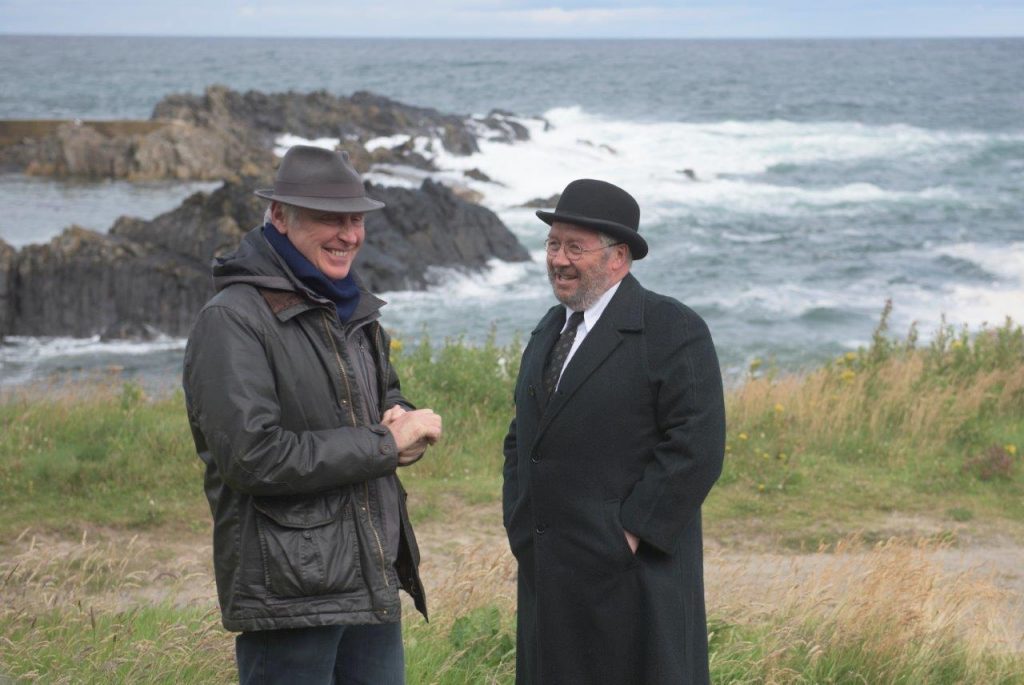 Regarded as one of the best British comedians of modern times, Izzard is also a fine actor. As well as Whisky Galore! and Castles in the Sky he has chalked up notable roles in Ocean's Twelve and Ocean's Thirteen, Mystery Men and Valkyrie.
Something of a polymath, he became competent in French and German and learned some Spanish, Arabic, Russian and Italian so he could reach a wider audience.
In 2009, despite never having done any distance running before, he completed 43 marathons in 51 days for Sport Relief. Earlier this year he ran 27 marathons in 27 days – including a double marathon on the final day – in tribute to Nelson Mandela.
He smiles when I ask if he ran to Edinburgh for the premiere: "No but I'll be running forever. It's a good, healthy thing – all wild animals are fit. I plan to run at least a marathon a week forever."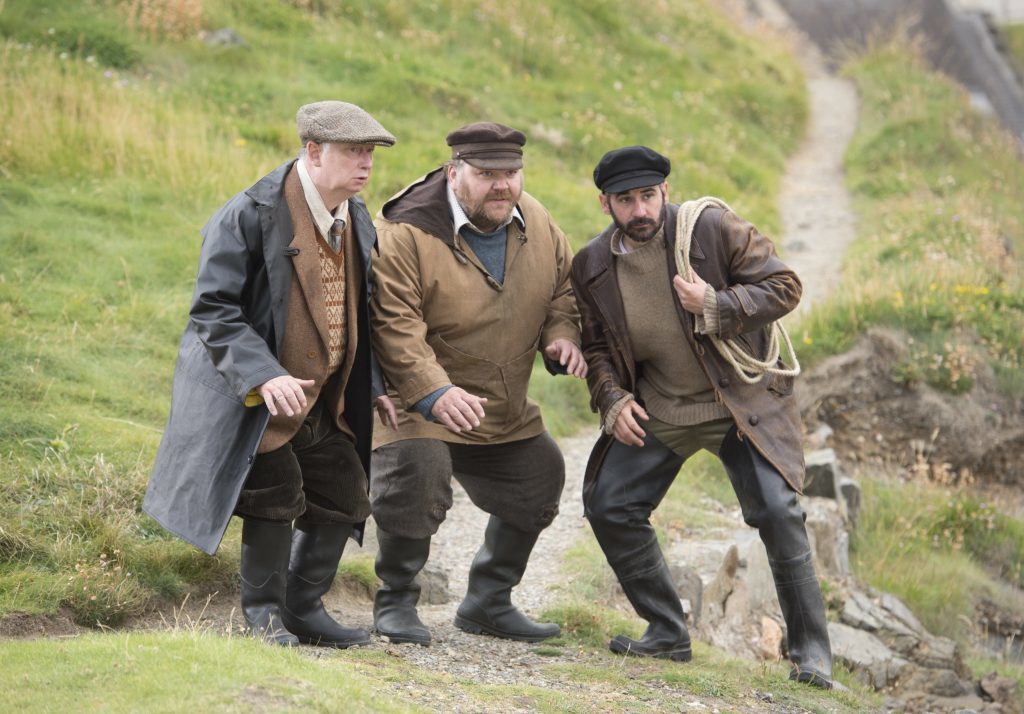 So if a ship carrying 50,000 of something were to run aground close to Izzard's home, what would he want to find on board?
He chuckles delightedly: "That's a good question. I think I'd still want some whisky to be on there. Whisky, makeup and running shoes would be perfect. Everything the action transvestite needs!"
Whisky Galore!'s 68-year-old Glaswegian director, Gillies MacKinnon, is best known for his 1996 movie Small Faces, about Glasgow gangs, as well as Castles in the Sky.
One advantage of the new movie is that it's shot in colour, allowing the rugged landscape to have its full impact.
Gillies says the crew wanted to make the 2016 version of Whisky Galore! on Barra but didn't have a big enough budget.
"Nobody put any money into the film – not Creative Scotland, not the BBC, we didn't get a penny of arts funding," he says.
"We eventually managed to get a private financier but with a budget of around £5 million, it became obvious we couldn't afford to film in the Outer Hebrides."
Instead, shooting took place in Aberdeenshire, Fife and Glasgow, with the north-east village of Portsoy forming the film's main visual identity.
The bulk of screen time happens in Aberdeenshire but St Monans Parish Church in Fife also plays a key role.
Where the original Whisky Galore! was filmed during one of Barra's wettest and stormiest summers, the makers of the 2016 movie could not have asked for better conditions.
"The weather was extraordinary," Gillies exclaims. "We were shooting in the Highlands in the summertime and we got light rain for two hours on one day. We were worried the actors would get too suntanned to be believable."
The film premiered at the end of June, bringing the curtain down on the 2016 Edinburgh International Film Festival.
It received positive reviews (I was at the premiere and can confirm it's a thoroughly enjoyable and picturesque caper) although it has still to receive a release date.
It retains the heart of the 1949 production but with elements updated for a 21st Century audience.
"Some aspects of the original film you just can't get away with any more," Gillies admits.
"You can't have Macroon's daughters locked up in the Post Office for the entire film. They need to get out a bit – so we have one of the sisters rowing out to the ship itself.
"We've also tried to add more depth to some of the characters, such as Macroon and Captain Waggett's wife."
In the original, Mrs Waggett is a dull and subservient character but Gillies' interpretation has given her a wicked sense of humour. When Waggett exclaims that there's more to him than meets the eye, she gives a knowing smile and responds: "So I've often heard you say, dear."
The role of Macroon, the island's sly Post Office manager who engineers the extraction and stashing away of the whisky, is picked up by Gregor Fisher.
The 62-year-old former Rab C. Nesbitt actor describes his role: "He is a widower with two daughters. His daughters are thinking of getting hitched up and he's not keen on it because he'll be left on his own.
"That's intertwined with him getting involved in getting the whisky off the boat under the nose of Mr Waggett."
Fisher says: "I remember Whisky Galore! along with The 39 Steps from my youth. I have great fondness for all these films.
"It was fun working with Eddie Izzard. He's always fun. In fact, there wasn't one minus about this entire escapade. I've been in this game 40 years and this was one of the most enjoyable, stress-free jobs I've ever had. Even the people whose locations we were using were great. We were taking over an entire town and usually someone's annoyed about it but we were welcomed with open arms."
A few days before Whisky Galore!'s premiere I travelled to Barra where the original was filmed.
Although the S.S. Politician (changed to the S.S. Cabinet Minister in the movie) ran aground off neighbouring Eriskay, Compton MacKenzie lived on Barra and it provided the location for the classic comedy.
The pretty street of its only village, Castlebay and its breathtakingly beautiful coastline make the film a visual feast, even in black and white.
I travelled to see the channel where the remains of the S.S. Politician still lie under the surface – along with as many bottles of whisky as have survived the pilfering of the locals and ravages of the years.
I also enjoyed a pint at the Politician pub, where I held one of the original bottles from the ship. Now more than 70 years old, the angels have stolen almost half its contents.
A dram was out of the question anyway – a bottle is worth around £12,000.
Later, I met Donald Currie, one of the last living people to have featured in the original film. Aged four or five (he can't remember exactly) he played the shocked little boy standing in the window watching as the storm that runs the S.S. Cabinet Minister on to the rocks sweeps in.
Undeterred by that vessel's fate, the 73-year-old went on to serve a 40-year career in the Merchant Navy, working on whaling boats in the Antarctic.
Aside from his time at sea, Barra has been home for his entire life.
So what does he think of Eddie Izzard and Gregor Fisher taking over the roles of Waggett and Macroon?
"I have to say," he starts, before pausing to think some more. "I don't know who either of them are."
»» Whisky Galore! premiered at the 2016 Edinburgh International Film Festival. A general release date is still to be set.