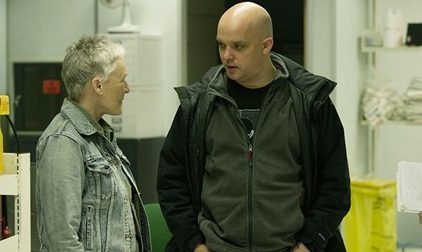 The Courier caught up with the rising Scottish director to talk about his new sci-fi thriller, influencing Peaky Blinders and how he'll recreate Superman's home world.
A diverse television director of some renown, you've probably already seen Colm McCarthy's work on such prime time BBC shows as Sherlock and Doctor Who in recent years.
In 2014 McCarthy raised his game, helming the highly acclaimed second series of period-gangster drama Peaky Blinders.
His latest feature, survival thriller The Girl with All The Gifts, is set for a premiere on home soil at Kirkcaldy Film Festival.
Based on a story by prolific comic book writer Mike Carey, The Girl with All the Gifts stars Hollywood royalty Glenn Close alongside latter-day stalwarts Gemma Arterton, Paddy Considine and newcomer Sennia Nanua. The four respectively portray a scientist, a teacher, a soldier and the eponymous gifted young girl, struggling to survive in a future overrun by 'hungries'.
It would be remiss to assume this is just another in a long line of zombie flicks; McCarthy deviates from the classic George A Romero school of the relentless, unthinking undead to paint a more emotional story with his cast.
Filmed in and around Birmingham, vistas of Chernobyl shot by drone cameras were woven in to create a convincing dystopia on a relatively modest $4m budget.
We spoke to Mr McCarthy about all of this and his next project as he hurtled around London on a casting mission for forthcoming TV pilot Krypton, an ambitious new saga where the life and times of Superman's ancestors will be explored. First, he related back to his own ties in the 'Lang Toun' and those early steps as a film-maker.
---
You're an Edinburgh man with history in Kirkcaldy; what does it mean for your latest film to premiere there?
"It's really cool from a family point of view; my granddad was from Kirkcaldy and we had family there from generations back before him. He would bark at us any time we simply called it 'Fife.' He'd be like, 'you mean the Kingdom of Fife!?'
"So it has always been an important place for the family and the festival is good timing for the film, which has a dual Scottish connection. There's me and Angus Lamont ['71], who is one of the producers. So it's nice for it to have this kind of screening up there. Also, my first cat was from Kirkcaldy."
The festival is celebrating a century of cinema – a hefty undertaking. It must be a thrill to have your film put out there to represent the present day in that context…
"It's very flattering. We've had a really good reaction to the film in general so far and keep getting nice surprises like that. I'm on my way to Toronto tomorrow, where we're having our big North American premiere.
"I can't make it to the Kirkcaldy preview unfortunately because of my commitments on Krypton. I'm doing this pilot at the moment with David S. Goyer [Blade, The Dark Knight trilogy], which is about Superman's grandfather and the house of El on Krypton, 200 years before the events that set off Superman."
That must have been a pipe dream not so long ago. How did you first get into the industry?
"I got into the business in Ireland. I was living in Dublin and playing in punk rock bands, leading what I would say is a messy existence for a number of years. When I was about 26 I had this moment of awakening where I was like: 'if I'm going to do anything with my life, I'd better do it now.'
"I'd always wanted to be a film director. When I was a wee boy, all the Spielberg movies were coming out. I grew up on Star Wars first of all, but then the Raiders movie, E.T., Close Encounters of the Third Kind and Jaws were all the big films of my childhood. I had this idea of film-making being a romantic, adventurous sort of thing."
At what point did it start to look like a realistic career path?
"I went down to the set of The General in Dublin, the John Boorman film. I got my ticket signed and managed to get into the union as a runner and trainee assistant director. I got my first job about six months later, based on the shape of my head. I went to a union meeting and a Second Assistant Director came up and said 'what height are you?' I said 'I'm not quite six foot… about 5'11" and a half.' He said 'I was just looking at the shape of your head; we need a stand-in starting on Monday. Can you do it?' I said yeah, and I quit my job that night. I didn't even know what a stand-in was!
"All I knew was that I had two weeks work. I turned up and found out that a stand-in is the guy who – when they're lighting – will stand where the actor stands in the scene, so the director of photography has a human being there to light.
"From then on, I've always worked in the business. For the first while I was borrowing gear, going out on weekends; trying to shoot my own shorts and make music videos. Eventually a short film I made wound up being good and it won some awards. Off the back of that I started getting work in television drama. That's most of what I've done, up until Outcast which I made with my brother Tom. That was my first film. And now there's The Girl with All the Gifts, which is a film that I developed with the writer Mike Carey and producer Camille Gatin."
What attracted you to the project and where did you want to take Carey's source material?
"For me, what was exciting was the idea of telling this story about a little girl, where there's a sequence of surprises around her character that make you question what you're rooting for and why, throughout the story. In a way that's hopefully a good, fun, challenge for the audience. From the responses we've had so far I think the scary bits work, but what's really pleasing is that people are responding to the characters on an emotional level. Hopefully they're having a thrilling time as well as a bit of an emotional journey."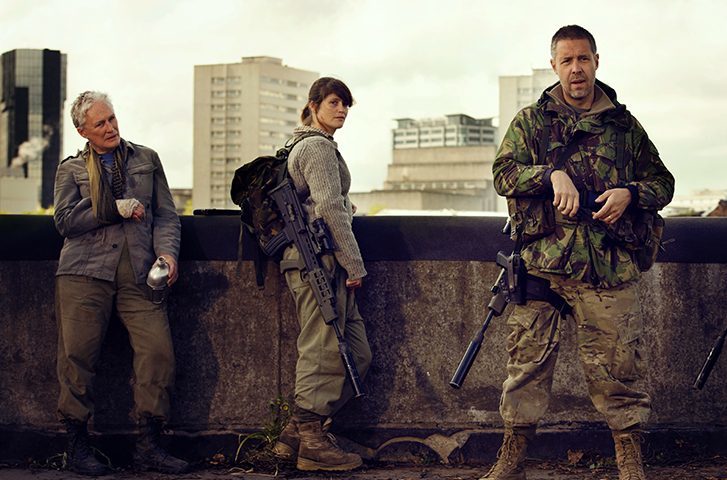 In the middle of this story you have a really unique cast: Gemma Arterton, Paddy Considine and Glenn Close, who all come from very different places in cinema. Was that the idea, to effectively pit them against one another from the start?
"On one level, we just wanted really good actors. Although the three of them are from different backgrounds and have different methods, they all represent different facets of the adult world. The film is centred on the performance of a girl who was essentially a non-actor beforehand, because she's a kid who hasn't really worked professionally yet.
"What I wanted was to cast different people around her who would define that world and who in a way would help me elicit the performance from her that was going to be central to it all. They all did an amazing job, in different ways, of helping Sennia bring Melanie to life, which was the main task of the film."
TV viewers will have most recently seen your work on the second series of Peaky Blinders, which you've left a huge impression on. Have you kept any hand in the production since?
"There will always be a part of my heart in Watery Lane and in the Peaky Blinders HQ. One of the things that I hope was a good legacy from my time was the idea of a director doing an entire series. I chatted to Tim [Mielants] who directed the third series a bit and tried to be helpful in offering peer support, giving him a heads up on the different personalities to be working with. I think everybody felt it important that he made his own mark on it and told the third series with his voice.
"I still chat to some of the execs and Cillian [Murphy, the show's lead] and I know that their intention on the fourth series is to do the same again and bring one director in on the whole thing. I've got too much going on for it to realistically be me, but I did get into a conversation with the producers about what they're doing so I know series four is going to be a really, really exciting one in terms of some of the stuff they've got planned."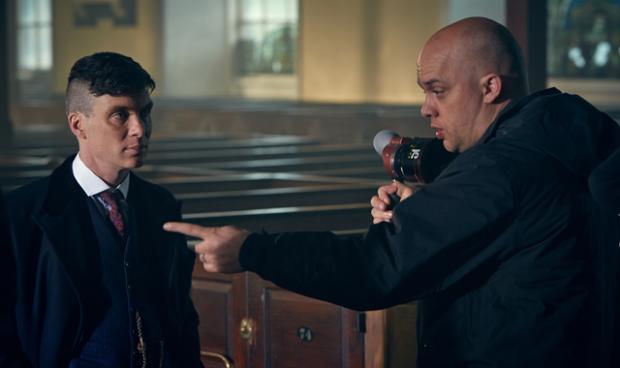 Besides the drama on screen, the soundtrack was a big talking point, where you had unique contributions from PJ Harvey and Nick Cave helping steer the tone. Was the score a similar priority on this film?
"Music's the most important related discipline to the photographic one in film-making. It's interesting that before we had dialogue, we had a man or a woman in the cinema with a piano or an organ playing music to go with the images, because the way we understand the emotional context of the world, the atmosphere and mood… a good chunk of that is through music. I always find it strange when people talk about not using music or music being a crutch. To me, it's an integral part of the film-making. A lot of my favourite moments in cinema have been defined by music; whether it's Vangelis in the opening of Bladerunner, or the theme from Jaws. I think the music is essential.
"On this film I had a fantastic experience collaborating with Cristobal Tapia de Veer, who did the music for Utopia and The Crimson Petal and the White. I'm a massive fan of his work on those shows. It's tricky because on the one hand this film's quite an emotional journey and on the other it's got to do this kind of horror movie job. Then there's this whole world-building thing where we see, especially for the budget level of the film, quite surprising vistas of a new world.
"All of those different facets have to be drawn together by the music, which is also trying to do the job of presenting all of that through the eyes of an 11-year-old girl. Working with Cristo on this was amazing.
"Working with PJ Harvey on Peaky, we did an unusual thing. As well as getting a hold of all these cool tracks, we designed the scoring around that source music, which took what had been done on the first series a step further."
"Flood [pioneering British producer with a staggering CV] and Paul Hartnoll from Orbital were involved in it. They were, I guess, the composing team. We knew that we were going to be using Down By the Water by PJ Harvey as a key track within the series, as part of Tommy's theme. We got access to the multi-track sessions for that song and stripped it down. Paul composed around that and we ended up stripping a lot of Polly's track back out and having Paul's score, inspired by it. The goal was for everything to have this cohesive sense of belonging together. I think we pulled it off.
"The other thing that was amazing was sitting in a room with Polly Harvey, doing her cover version of Red Right Hand, recorded bespoke for us. I remember being a kid in clubs in Edinburgh when Sheela-Na-Gig, Polly's first single came out. I've been a massive fan of hers since then."
Speaking of world-building, tell us more about the new origin story of Superman's home planet you're developing. How is the scope of that sinking in?
"It's really big. There's a lot of visual effects to think about. But it's quite a lot of fun when you're playing with a world that on the one hand is sort of familiar to people, because everyone has a relationship with Superman. Either with Man of Steel, the recent film that Goyer wrote, or with Donner's Superman films of the 70s and 80s, which are the ones that I grew up with. So they have an idea and Krypton is very much a known name. But what Krypton is as a planet means very different things to different people. Our job with DC is to work with the representations in the comics first; they're presented in a really diverse array of ways, which is exciting because it means that creatively the world-building was very much an open assignment.
What sort of story do you want it to tell?
"We've been thinking about every aspect of Kryptonian life. How did these people eat? What do they work as? How do they dress? What's the environment of the city? I can't say too much about it but I think it will be a really exciting and unique journey for people."
"It's a really corny Hollywood thing, but I remember hearing somebody say 'your job as a storyteller is to take people somewhere they've never been before and show them something they already know.' I think there's an element of truth in that; people like to go and have an experience where there investigating a surprising, different world, yet the human experience resonates. I think that's at the heart of storytelling."
You've been scouting for locations and we've caught you in the middle of casting, what more can you tell us?
"Mostly, we've got giant sets and then there's a lot of special effects work. The world will be created with photographic elements but it's going to be a completely bespoke universe. Mind-alteringly different to anything people have seen before on telly. It's a lot of fun; the pilot is double the budget of the film I just made, for 40 minutes of TV. It's all just applying the same approach of: What do you want to say? What's the world like? How do you make the thing feel real and also feel epic? Whether you're doing Peaky Blinders, The Girl With All the Gifts or Krypton, it's all the same basic principle."
• The Girl with All the Gifts debuts at Kirkcaldy Film Festival on Sunday 18 September. The film goes on general release on 23 September.