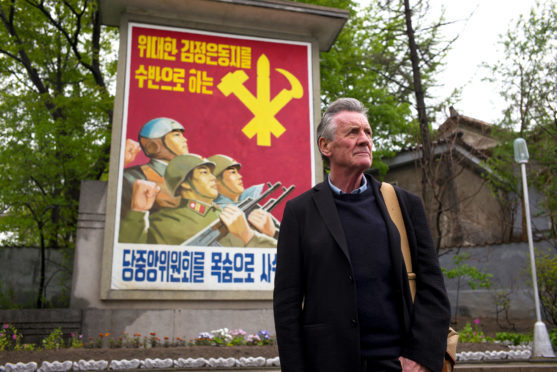 Any Western journalist attempting to fully document the 'real' North Korea is on a hiding to nothing. Nevertheless, MICHAEL PALIN IN NORTH KOREA delivered some fascinating and unprecedented insight into this highly secretive Communist nation.
As far as Kim Jong-un's regime is concerned, this series is a public relations exercise organised with the intent of improving modern NK's international image. They're fully aware of their reputation as a trigger-happy, crackpot liability and an oppressive cult-of-personality dictatorship in which brainwashed citizens endure a terrible quality of life. This is their attempt to show the wider world that – hey! – we're actually alright. That's understandable.
They presumably did their research when it came to vetting the ideal host. That nice Michael Palin is an unthreatening presence, he's not going to make things difficult for them (I do like the idea of Kim Jong-un nodding his approval while watching Around the World in 80 Days).
However, Palin's politesse, humour and humanity worked in the programme's favour. His open-minded friendliness encouraged guarded people to converse as naturally as possible. He's no lightweight, he's a stellar travel journalist. In episode one, he depicted ordinary NK citizens as what they are: human beings getting on with their lives as opposed to faceless symbols of autocratic rule.
Inevitably, his investigation is heavily stage-managed – shadowed by friendly minders, Palin and his crew are under constant surveillance – but he still succeeded in quietly peeling back the layers of NK's stereotyped image.
In the concluding episode, he visited the demilitarised zone on the North/South Korean border, where he endured an awkward encounter with a lieutenant who parroted the official line about the Korean War (NK won, apparently). He did, however, agree with our winningly diplomatic host that world peace is a good idea.
Palin also visited a beach town that could potentially play a key role in revitalising NK's economy. Though his citizens are only allowed 15 days off work per year, Kim Jong-un wants to turn this luxury resort/airport into an international holiday destination. Opening itself up to Western influence seems almost inevitable. Palin noted that he was glad to have experienced this country before it looks just like everywhere else.
Despite Kim's dreams, will anyone of any sound conscience want to visit a nation notorious for poverty and human rights violations? Satire alert: Britain and America seem to be doing okay.
Palin's visit to a rural farm highlighted its debilitating food shortages. Aid agencies have estimated that more than a million people starved to death during a 1990s drought. When Palin asked a farmer if things had improved, she replied in the affirmative through gritted teeth.
The most revealing moment arose during a conversation between Palin and his female minder. When he asked why NK citizens never criticise their leaders, she nervously replied that they represent the nation: "Criticising our leaders is like criticising ourselves too."
This remarkable series provided as rounded a portrait of NK as possible under the circumstances. It offered thoughtful and conflicted insight by examining telling surface details while hinting between the lines at issues it couldn't tackle head-on.
In episode one of MANSON: THE LOST TAPES, rare footage of the notorious cult leader's gun-toting acolytes was made public for the first time. Filmed mere days after Manson and three of his followers were charged with the brutal slaying of actress Sharon Tate and friends, the matter-of-fact interviews proved utterly chilling.
How did Manson brainwash these young hippies towards wanton acts of carnage? We'll never understand for sure – how could we? – but this grim excavation did at least illustrate the horrific results of fragile human psyches being sabotaged by insane, charismatic manipulators.
TV HIGHLIGHTS of THE WEEK
DROWNING IN PLASTIC
Monday, BBC One, 8:30pm
Earth's ecosystem and its marine life are facing a potentially catastrophic threat from trillions of pieces of discarded plastic. In this important 90-minute report, wildlife biologist Liz Bonnin joins forces with scientists and campaigners in search of a solution. It makes for sobering viewing.
TRUST
Wednesday, BBC Two, 9pm
In the latest gripping episode of this truth-is-stranger-than-fiction crime drama, Little Paul Getty forms a curious bond with his kidnappers. Meanwhile, wayward gang leader Primo opens a channel of communication with Paul's fraught mother, Gail.
PRESS
Thursday, BBC One, 9pm
Mike 'Doctor Foster' Bartlett's sombre media satire is nothing if not topical. This week, the investigation into a high-profile entrepreneur's sexual misconduct gathers apace. Meanwhile, the government tells The Daily Mail – sorry, The Post – that they're no longer a vital ally.
THE BIG AUDITION
Friday, STV, 10:45pm
This new series follows various showbiz hopefuls as they strive towards landing their dream job. Episode one focuses on characters from three very different spheres: a dog model, a shopping channel presenter and a Henry VIII lookalike. Ah, Bonkers Britain.
FILM of THE WEEK
EDWARD SCISSORHANDS
Monday, Film4, 6:55pm
Before descending into tired self-parody, director Tim Burton and frequent collaborator Johnny Depp were capable of producing bewitching fables such as this. Depp is perfect as the gentle, innocent Frankenstein's monster surrogate with sharp shears where his hands should be (his benign creator, played by Vincent Price, died before completing his creation). How can he ever find love when he can't even hold the girl of his dreams? It's a sweet, smart, imaginative study of alienation wreathed in Gothic fairy-tale warmth and witty suburban satire. A romantic classic for the ages.