A Perth conservation project which has unearthed long-hidden secrets of an ancient Egyptian mummy has been nominated for an international award.
Experts are carrying out a painstaking assessment of a 3,000-year-old priestess known as Ta-Kr-Hb – pronounced Taherheb – at Perth Museum and Art Gallery.
It is hope she will one day be a star attraction at the planned Perth City Hall museum.
Now the project, which is currently part of a public exhibition at the George Street venue, is in the running for a highly prestigious accolade.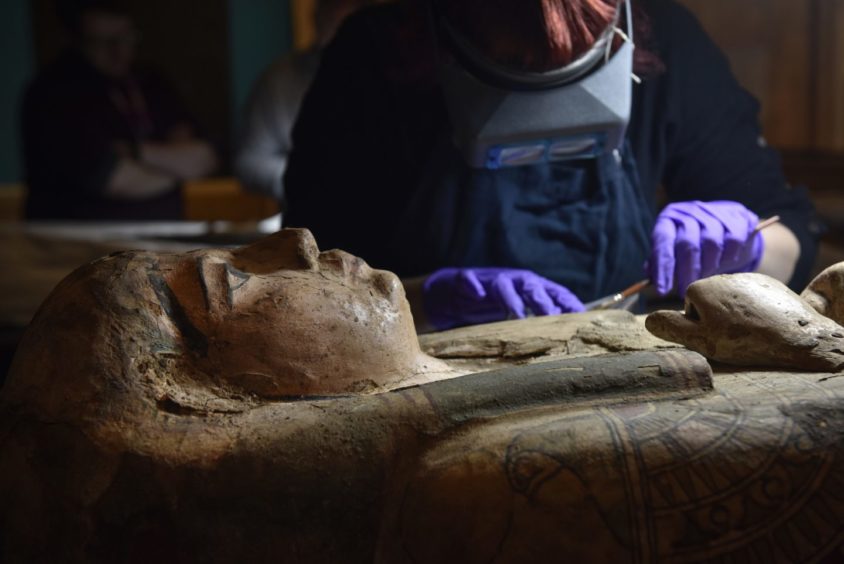 It has been nominated for the International Institute for Conservation of Historic and Artistic Works' biennial Keck Award.
Established in 1994, the title is granted to organisations which have promoted public engagement and understanding of conservation, an activity which often takes place behind closed doors.
Ancient Egyptian mummy reveals her secrets to Perth conservation team
Previous winners include the Natural History Museum's work on a 25 metre, four-and-a-half tonne blue whale skeleton, and a long-standing scheme to preserve a 18th century alter at St Nicholas' Church in Tallinn.
Ta-Kr-Hb has been a source of fascination since she arrived at the Perth museum in the 1930s.
In March, conservationists found that the lower part of her coffin is a forensically rich environment featuring soil, plants and insects. Perhaps the most exciting discovery so far is a series of painting figures on the internal and external bases of the trough.
It is hoped that the finds will go some way to better explaining the ancient mummification process.
Anna Zwagerman, conservation officer at Culture Perth and Kinross said: "Conservation exhibitions are very rare, and live conservation treatments few and far between.
"It is a once in a lifetime opportunity for a conservator to be involved in developing an exhibition that not only shows conservation in action, but also focuses on conservation as a vital part of the museum profession.
"I am glad we are able to share this with our visitors."
She said encouraging dialogue has been central to the project.
Culture Perth and Kinross chairman Charles Kinnoull said he was delighted with the nomination. "We have always been proud of the excellent work of our curatorial and conservation colleagues and are delighted to receive recognition for this work from such a prestigious institution."
The winner will be announced at the ICC Congress in Edinburgh in November.