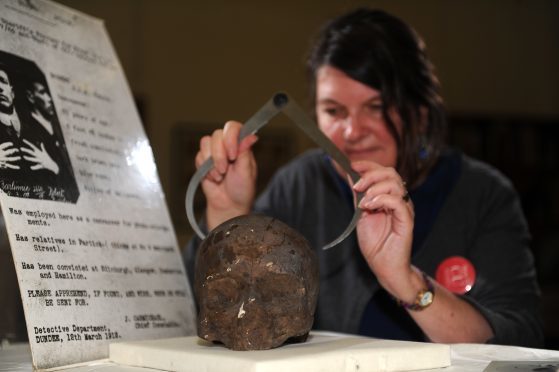 Skull-measuring parties, begging badges and anti-resurrection grave covers – these were just some of the curiosities of Dundee life in centuries gone-by.
This week, history enthusiasts had a rare opportunity to see the McManus museum collections not normally on public display.
A special tour through the collections unit on Barrack Street laid bare the details of long-forgotten traditions, practices and pseudo-sciences.
One such "science" was phrenology, a discipline based on the belief that personality, thoughts and emotions were located in specific parts of the brain, meaning they could be determined by measuring different parts of the skull.
Christina Donald, curator of early history at the McManus, said: "Phrenology originated in Germany in the early 19th century, and was so popular that people used to have parties where the bumps on their heads would be measured.
"There was also interest in measuring the skulls of criminals, as it was thought that their behaviour could be analysed and understood in this way.
"One such person was David Balfour, a Dundee sailor who killed his wife by stabbing her, after coming home from sea to find that she was living with another man.
"Apart from this incident, he had been a quiet and mild-mannered man."
A plaster model of David's head, as well as those of various other criminals and colourful local characters, have been preserved in the McManus collections.
Phrenology dwindled in popularity after 1830, with the advancement of modern medicine.
The tour, called Crime and Punishment, also shone a light on practices such as body-snatching from graves, churches giving out begging licences and police measuring suspects' legs, arms and ears.
Christina added: "There were many practices that were common in the past, but would seem very strange now.
"For example before finger-printing, police had to record very detailed measurements about people, such as the size of their legs, arms, and even ears in order to identify them.
"Meanwhile, medical students had a shortage of bodies to dissect – people were very religious and believed that to have an after-life, they had to be buried intact.
"The only bodies that could be dissected were those of executed criminals, and there weren't always many of them.
"Students often dug up graves or paid someone to do it for them. This was common in the Howff cemetery in Dundee.
"So families resorted to putting down anti-resurrection grave covers – these were heavy metal frames fitted on top of coffins to stop them being lifted out."
Going further back in history to the 16th century, Dundee had begging licences allowing "worthy" poor people to beg on the city streets undisturbed.
These were metal badges given out by the church and later the local authorities to people who were ill or elderly, while those found begging without a badge were run out of the city.
With the advent of poor houses, the badges were phased out and the infirm had to work to support themselves.
Although Crime and Punishment was a one-off tour, many of the artefacts and stories will feature in the torchlit Halloween event at the McManus on October 26, starting at 6pm.