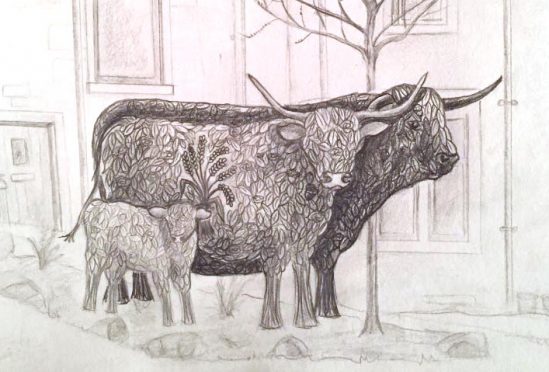 Crieff's drovers' heritage is to be celebrated with a new sculpture.
Locals want to raise £30,000 to install three hand-crafted highland cows on the town's Burrell Square.
The metal sculpture would replace a single wicker cow installed in the spot to celebrate the Ryder Cup in 2014.
Crieff in Leaf has enlisted the help of Edinburgh-based blacksmith ArtFe to craft the family unit and is crowdfunding to see the dream become a reality.
The organisation's chairwoman, Juliet Hughes, said the wicker statue had begun to show its age.
She said: "On the same site we had a wicker sculpture of a cow that was put up at the time of the Ryder Cup to celebrate Crieff as a drovers' town.
"It didn't last that long because it attracted people that wanted to sit on it. We had it two or three years before it was put out to pasture.
"We want something a bit more permanent so we started looking at a metal sculpture and found ArtFe, an artisan smiddy in Ratho."
Donors can get involved for as little as £5.
Juliet said: "We are trying to make it a real community project. The high school are going to research the story of the drovers  for an information board that will go beside the sculpture.
"We plan to have a family of life-sized cows made of metal leaves. One way of raising funds is to ask people to sponsor a leaf.
"It costs £5 and your name will be written on a paper leaf. These will be drawn and ten lucky winners will get their name engraved on one of the metal leaves. For a donation of £250 or more,  your name will definitely go on a leaf.
"Ideally we want to raise enough and have it installed by the Drovers' Tryst walking festival this time next year.
A spokeswoman for ArtFe said: "We are first of all delighted to be chosen by Crieff in Leaf to work on this project.
"We are full of admiration for people who give up their own time in an effort to make their home towns a more beautiful and interesting place to live.
"All of us here at ArtFe, are very much looking forward to creating Crieff's wee family of Highland Coos, which we are confident will be much admired by visitors and residents alike."