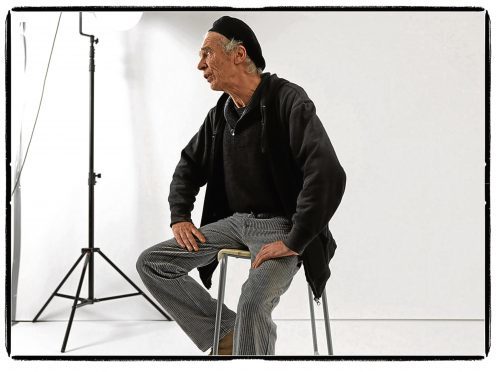 The Crumleys, like the Marras, were a Lochee tribe. It's just possible that Michael and I threw snowballs at each other when some lads from St Mary's primary (the Mary's) came up the hill to Ancrum Road primary (the Anky) to mix it up a bit whenever winter obliged with a decent snowfall.
We had the advantage of the high ground, of course, but I don't remember honour ever being satisfied one way or the other before the bell tolled for all of us.
Without doubt, we passed each other in the street times without number or in what he'd cry the lehbray.
Such notions, which have occurred often over the years, surfaced again at the Bonar Hall the other night during the launch of James Robertson's biography of Michael, Michael Marra – Arrest This Moment. It was an evening notable for sustained gales of laughter, a fairly unusual sound at literary festival events. But, then, that was Michael Marra for you: if you went to one of his gigs or spent time in his company, and no matter what mood you arrived in, he made you feel better about yourself, about the human species, and about the planet, by the time you left.
The thing that I love in music – in all the arts, for that matter – is original voices, people who have paid their dues in a particular artistic endeavour, but then they take it to somewhere it has never been before. That, too, was Michael Marra.
The book launch was, inevitably, a very Dundee occasion. Michael may have emigrated to Newtyle, but Dundee remained the epicentre of his art, the driving force of his muse. No matter that he could snatch ingredients and influences from a vast range of sources, and countries, for that matter.
Here, for example, is James Robertson on Michael's song, Chain Up the Swings, a song that had emerged from time spent with young songwriters on South Uist: "Chain Up the Swings is a searing critique of Christianity as practised in parts of the Western Isles… In the mid-1980s Michael made a demo of a piece written for Abdullah Ibrahim, the South African jazz pianist and composer who influenced Michael's own piano style. This was possibly around the time that Ibrahim played Dundee's Bonar Hall in February 1984. The sketch went on to become the basis for Chain Up the Swings. That a song about religion in the Hebrides should be part-rooted in Cape jazz is testimony to the astonishing range of Michael's musical explorations."
But, of course, Dundee has travelled the world through its seafaring people forever, and brought the world back to Dundee. It was, as Michael observed in a radio interview, a good place from which to look out at the world. It still is.
And as the stories and the readings and the laughter and the songs (If Dundee was Africa live from his daughter, Alice, Ulysses S. Grant's Visit to Dundee from himself on film at the end of the evening) transported that lucky audience to a better place, it was never more obvious that Dundee was the seedbed for the unique internationalist reach of his art.
James Robertson reveals that Michael's instincts were roused early: "Michael first publicly articulated his long-term ambition while still at St Mary's Primary School in Lochee. A group of boys in his class were discussing what they wanted to be when they grew up, and he said he wanted to be a songwriter. As the others mostly intended to have glittering football careers, this was not a popular option – in fact, he expected derision – but then another boy, John Duncan, chipped in, 'My uncle's a songwriter.' This assertion too was met with a degree of scepticism. 'Oh aye. And who is he?' 'Stephen Sondheim'. It turned out John Duncan was telling the truth.
A couple of years ago, I met James Robertson and his wife, Marianne, at a book festival in Fife, and we swapped pedigrees over a dinner that had been arranged for all the authors. Michael's name came up. Later, on what was a balmy summer evening in St Andrews, a group of us went for a walk down to the harbour before turning in and, as we walked, Michael Marra was the main topic of conversation. He would have been bemused, not least because he never had that much time for Fife.
I didn't know that Arrest This Moment was in James's in-tray at the time but I am gratified that such a fine writer took on the task. It is a great service he has done for Michael's legacy, for Dundee and therefore, by definition, for the world at large.
I am never happy about leaving Dundee whenever I spend time there. Leaving it that night was harder than usual. I drove west to the sound of Michael Marra with Mr McFall's Chamber on the car CD player, nearly lost it somewhere near Perth when meh e'en bleared at Happed in Mist.