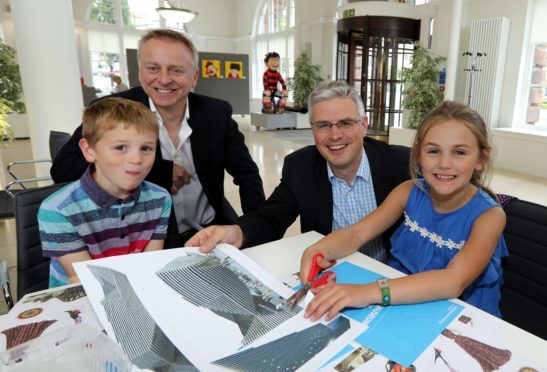 A learning suite in Dundee's V&A has been named the Thomson Learning Centre, in recognition of the support DC Thomson has given the new museum.
DC Thomson and The Northwood Charitable Trust, the Thomson family's charitable arm, have gifted significant funds towards the development of V&A Dundee, which will open on September 15.
The learning centre, which sits on the upper floor of the museum near the gallery spaces, is a creative hub which will be the centre of the museum's day-to-day activities.
Andrew Thomson, chairman of DC Thomson, said: "We are very proud to support V&A Dundee and incredibly pleased that our contribution is being recognised with the creation of the Thomson Learning Centre.
"Creativity and design are integral to our business and we are passionate about developing the creative talent of people of all ages in Dundee and beyond.
"We hope that many, many people will enjoy and benefit from the world-class facilities and inspired programme of events at the Thomson Learning Centre in the months and years ahead."
A special event for families was held at the Counting House in DC Thomson's Meadowside headquarters, where children made V&A pop-up books featuring artefacts that will be on display at the museum.
The event was organised to celebrate the naming of the learning suite and to give families a preview of some of the activities that will be on offer for children.
The suite comprises two fully equipped studios to deliver practical design workshops, an auditorium space for more than 150 people and a design residency studio connecting visitors to exciting contemporary designers.
The activities on offer will be inspired and influenced by the Scottish Design Galleries and exhibitions as well as the architecture of V&A Dundee, the first UK building designed by Japanese architect Kengo Kuma.
The Thomson Learning Centre will be the home of the museum's schools programme, co-designed by teachers and delivered by practising designers.
Philip Long, director of V&A Dundee, said: "We are delighted to announce that V&A Dundee's suite of learning studios will be known as the Thomson Learning Centre, paying tribute to the substantial support the Thomson family has given V&A Dundee.
"The new museum has been made possible thanks to the generosity of funders, and we are extremely grateful for their continued support and commitment to inspiring creativity through design."