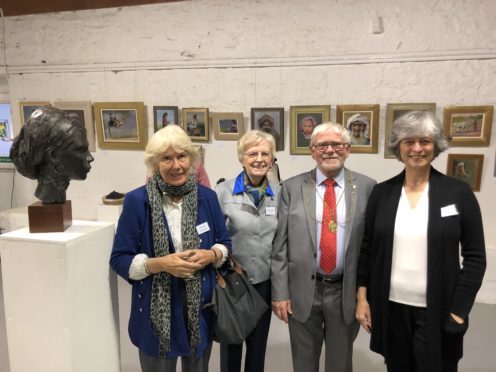 An exhibition showcasing the work of more than 100 artists from Perth and Kinross has opened to the public.
Thousands of visitors are expected to view the work displayed in studios and galleries across the region as part of the 11th Perthshire Open Studios (POS) celebration of home-grown talent.
The work of around 100 artists was shown at the event's launch night on Friday at The Barn Gallery at the Bield, Blackruthven.
More work will be displayed at various locations from September 1, until the festival ends on September 9, giving art lovers the chance to venture into artists' homes and workplaces to get a first-hand glimpse of their wares.
A free brochure and the POS website both feature a directory of all artists and route maps, showing where exhibitions and open studios can be found.
Around 18,000 visitors have descended on Perthshire for the event in previous years.
Glenys Andrews, president of Perthshire Open Studios, said: "The Bield is a wonderful venue for the showcase exhibition, which is a chance to see art and craft work of some of the finest artists in Perthshire.
"It includes colourful paintings, ceramics, glass, jewellery, wood craft and much more and is a great way to help decide which studios you want to visit during the main event."
Among the featured contributors this year is Lucy Poett, an artist and sculptor who is exhibiting more than 20 oil paintings inspired by travels to far flung countries such as India, Morocco and Afghanistan.
Lucy has had previous commissions for sculptures of The Duke of Atholl, Sir Alec Guinness and Virginia McKenna.
The launch event was opened by Perth and Kinross Provost Dennis Melloy, who highlighted the involvement of communities such as Blairgowrie, where an art trail has been launched, and Strathearn, which is celebrating the Year of Young People with an exhibition of art by local young people.
"The exhibition gives a taster of the wealth of talent that we have on our doorstep, with 122 venues and 178 artists taking part this year," said Mr Melloy.