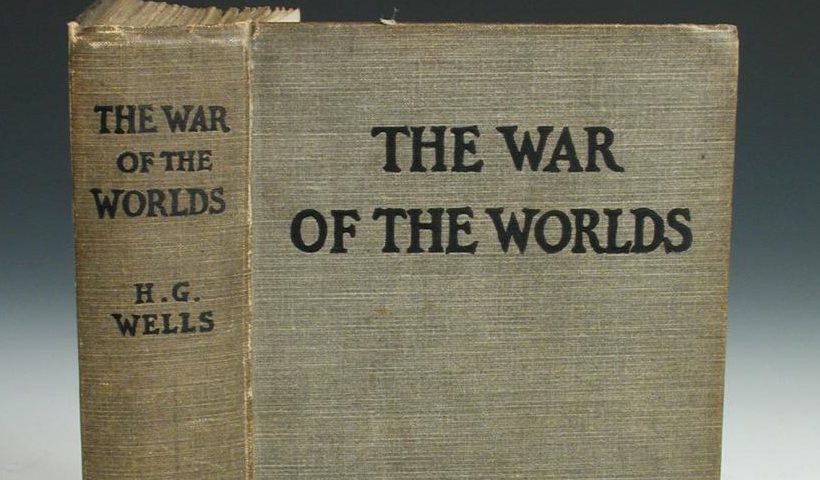 SOLD BY Cambridge-based Cheffins on July 12 was a rare copy of one of the most remarkable books of the 20th Century – The War of the Worlds.
As many will know, The War of the Worlds was a science fiction novel written by English author H. G. Wells between 1895 and 1897. It was one of the earliest stories to detail a conflict between mankind and an extraterrestrial race. In short, it warned of the coming of the Martians!
It was published as a serial in 1897 by Pearson's Magazine, then issued in hardcover the following year by William Heinemann.
For over 100 years it has been one of the most famous works in the science fiction canon, and has never been out of print.
It has spawned half a dozen films, as well as radio dramas, various comic book adaptations, a television series and sequels or parallel stories by other authors.
And, of course, it has been claimed that mass panic and hysteria swept America on October 30, 1938, when a 62-minute radio dramatisation of The War of the Worlds was read by Orson Welles (who pepped it up by describing Martians advancing on New York!). This has been dismissed in recent times as a myth.
Few firsts of The War of the Worlds come to auction, so a signed edition of the 1898 Heinemann issue was always going to attract admirers.
The Cheffins' example benefited from an inscription by the author to E. J. Sullivan, with a signed angelic caricature by Wells below. Edmund Joseph Sullivan (1869-1933) was a British book illustrator who worked in a style similar to Aubrey Beardsley. His most famous work is possibly the illustrated edition of Thomas Carlyle's Sartor Resartus, published in 1898.
Sullivan would have known Wells, and in fact he illustrated A Modern Utopia by Wells, published by Chapman & Hall in 1905.
Consigned by the Sullivan family, with text slightly foxed, and with its original cloth covers lightly stained and rubbed along the hinges, the copy still managed to leave pre-sale hopes of £3000-£5000 trailing.
It was knocked down for a handsome £11,000.
As for aliens, the last time I was in Lochee… (only teasing!)