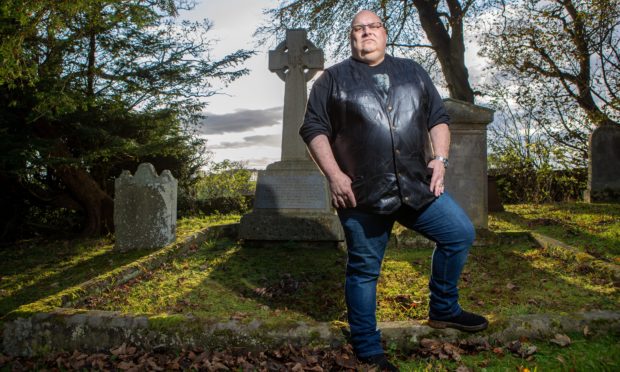 Fife witch expert Lenny Low tells Michael Alexander how he came to receive new information about the fate of an 18th century East Neuk man tortured to death after being wrongly accused of 'witchcraft'.
When Fife author and witch historian Lenny Low wrote his 2006 book The Weem Witch, he painted a gruesome picture of Scotland's infamous witch hunts when around 1400 innocent people accused of witchcraft were tortured, tied to poles with tar barrels and burned at the stake.
It's a sobering thought that between 1593 and 1705, the trials of 110 'witches' took place from the Kirkcaldy coastline to St Andrews alone, with Lenny's book concentrating on five infamous Pittenweem witch trials and the 16 local people found 'guilty' by fire including Janet Loquhour (St Andrews, 1593), Margaret Horseburgh (Pittenweem, 1643) and Margaret Balfour (Pittenweem, 1644).
But 13 years after his book was first published, the 52-year-old former film-set builder and East Fife FC supporter of Largo has revealed some recently discovered information which may explain the final resting place of an old man 'witch' who was tortured and died in Pittenweem's Tollbooth tower.
"At the 1704/5 trials in Pittenweem involving nine arrested for witchcraft, the results of a year-long  witch hunt had one old man Thomas Brown beaten and starved to death in the Tollbooth tower rooms and another Janet Cornfoot murdered and mutilated by an angry mob," he said.
"Both were given topsoil burials next to each other on the Western Braes area of the town with the expectation that permission to terminate the other 'witches' held in custody would leave the parish an easy job of pulling out the two dead bodies and adding them to the flames consuming the other witches when the time came.
"However, the permission the parish sought never came because parliament released the accused to the fury of the Pittenweem minister.
"What history tells us is that the elderly body of Thomas Brown was exhumed from his makeshift grave.
"His son- in- law, with several friends, took the body and interred it in secret, giving it a Christian burial."
Lenny, a father-of-two, explained how this year, with The Weem Witch 13-years-old and about to go to a third reprint,  he got a call from Johnny Proven, a retired forester and custodian of the Balcaskie Estate, near Pittenweem, who had just read the book. He had some "interesting news".
"In 1967 a storm had uprooted a huge 250-year-old ash tree on the estate boundaries," continued Lenny.
"It was the forester's job to deal with the problem. The tree had sprouted from one of the far corners of the Abercrombie Church cemetery, which rests many a generation of the Anstruther family.
"What was discovered was a full human skeleton embedded into the ash trees roots.
"The bones were of an elderly man! Elderly as the back teeth were worn very flat, as if constantly chewing down on a clay pipe or such like items.
"The body wasn't buried very deep, and its position was never an official burial judging by its location tight to the wall.
"The forester judged this body could be the remains of the 'witch' Thomas Brown – buried hastily in consecrated ground, not a mile from his topsoil burial in 1704. It does all makes sense."
Lenny said the remains were collected and reburied in a wooden box only known to the custodian and now himself – the "last resting place of Thomas Brown".
Lenny has also written about witches in other books including Largo's Untold Stories and St Andrews Untold Stories.
And in all his writings he is at pains to highlight the persecution of innocents during the witch trials – the acts often fuelled, he said, by the church of the time to secure the victim's property and to leave parishes terrified at what the then power of the church could do to them.
One of the most infamous stories he concentrates on is the story of Janet Cornfoot.
In 1705, as a result of some wild stories told by a 16 year old boy, three people died and others were cruelly tortured. Cornfoot was one of them.
She fled from her torturers only to return home and be re-captured. She was caught by a mob in Pittenweem on January 30 1705 and beaten and dragged by her heels to the seafront.
There she was swung from a rope tied between a ship and the shore, stoned, beaten severely, and finally crushed to death under a door piled high with rocks. To make absolutely certain that she was dead, a man drove his horse and cart over her body several times. Refused a Christian burial, her body was thrown into a communal grave at the spot known as "Witches Corner".
But this is just one of many stories which Lenny finds fascinating.
He told The Courier previously: "In Largo where I'm from, the poor head teacher Mr Thomas Wilson was in 1653 in trouble for not praying loud enough. Maggie Morgan in St Monans supposedly took the shape of a rabbit at will. She burned in 1651 for it.
"Alison Peirson in St Andrews used her herbal skills to treat the incurable Archbishop in 1588 and when cured was accused by him of using witchcraft to do so. She burned. The list of murdered victims and the reasons why reads like comedy.
"My favourite is the Orkney Witch Bessie Millar who sold wind to the fishing fleet captains, taking payment to fart into their hands. The lucky captains treasuring the sacred aroma in their hands as they carried it to the harbour to throw at the sails of his boat giving it the wind it needed.
"Witches were indeed real. Real as in branded and named to a crime many couldn't defend against.
"I leave your thoughts to a woman from Ayr in 1658. Janet Saers' last words were taken down by the parish clerk. She said: "Sir I am shortly to appear before the judge of all earth, and a lie may dam my soul to hell. I am clear of witchcraft for which I am presently to suffer, and so with a seeming willingness submitted myself to death.
"The people in this country are more set against witchcraft than any other wickedness. Once a person has that name and comes upon an assize court, it's hard to get off."