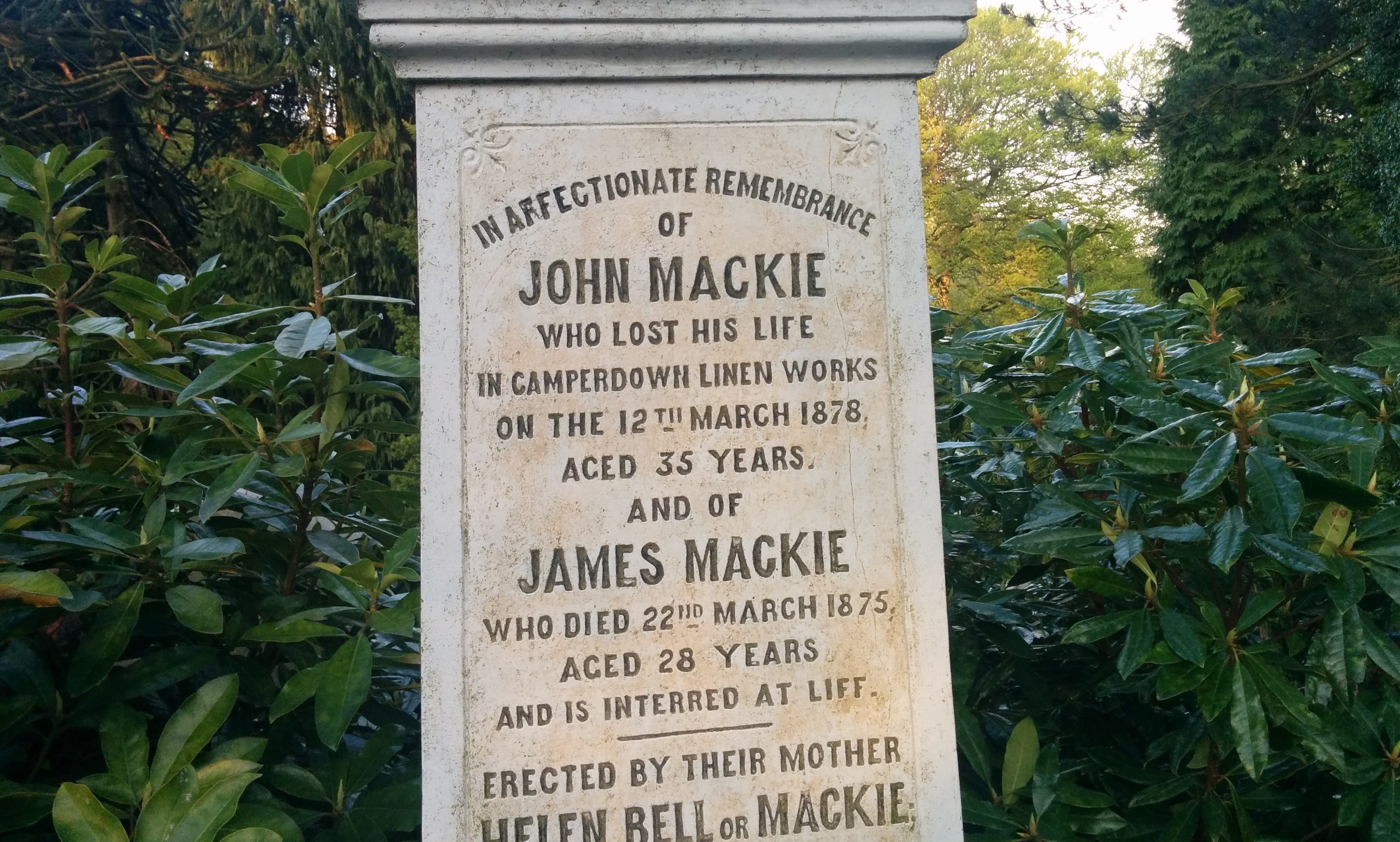 "In affectionate remembrance of John Mackie, who lost his life in Camperdown Linen Works on the 12th March 1878…"
I must confess I'm rather fond of a walk through a graveyard. Don't worry though: rather than a fascination with death such behaviour might suggest, for me it's much more about the fascination of life — all those people, all those stories lost to the mists of time.
Except, sometimes these stories aren't lost. They just need to be rediscovered.
On a recent stroll through Balgay Cemetery in Dundee one grave in particular caught my attention. It was not the biggest of headstones — there are plenty of more flamboyant memorials at Balgay — but its still crisp inscription made me stop and wonder what fate had befallen poor Mr Mackie.
It also made me decide to put The Courier to the test. Our newspaper has been covering the city's affairs for 200 years — might it have reported on this tragedy, just one randomly selected from one graveyard in Dundee and one probably all too common in those pre-health and safety days?
The answer is yes. Thanks to the British Newspaper Archive's brilliant work in bringing the country's historic newspapers back into use, I was able to search the basic details and find that our Courier forebears had indeed reported the sad death of John Mackie.
There, wedged between accounts of "the Eastern Crisis" in Constantinople and a pit explosion in Bolton, our edition of March 13 1878 reported "TERRIBLE ACCIDENT AT CAMPERDOWN LINEN WORKS".
It went on:
"Yesterday afternoon an accident occurred in the mechanical department of Camperdown Linen Works, resulting in serious injuries being sustained by two men, one of whom died shortly afterwards.
"It appears that a new patent grindstone had just been fitted up in the mechanic shop, and shortly after three o'clock in the afternoon it was set in operation, Mr James McKenzie, foreman of the iron-turning department, superintending.
"About a quarter past four o'clock the stone suddenly broke into pieces, the fragments flying in different directions.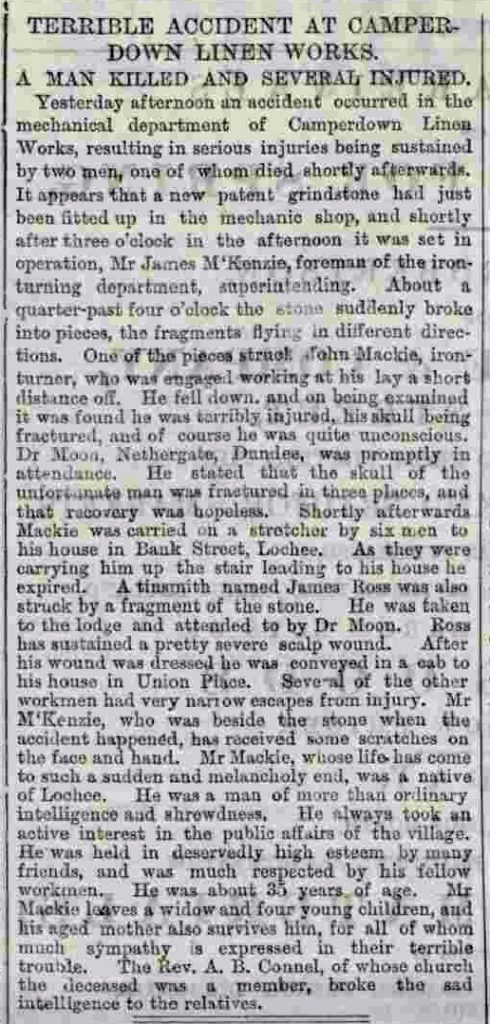 "One of the pieces struck John Mackie, iron-turner, who was engaged working at his lay a short distance off. He fell down, and on being examined it was found he was terribly injured, his skull being fractured, and of course he was quite unconscious.
"Dr Moon, Nethergate, Dundee, was promptly in attendance. He stated that the skull of the unfortunate man was fractured in three places, and that recovery was hopeless.
"Shortly afterwards Mackie was carried on a stretcher by six men to his house in Bank Street, Lochee. As they were carrying him up the stair leading to his house he expired."
The report continues:
"Mr Mackie, whose life has come to such a sudden and melancholy end, was a native of Lochee. He was a man of more than ordinary intelligence and shrewdness.
"He always took an active interest in the public affairs of the village. He was held in deservedly high esteem by many friends, and was much respected by his fellow workmen.
"He was about 35 years of age. Mr Mackie leaves a widow and four young children, and his aged mother also survives him, for all of whom much sympathy is expressed in their terrible trouble."
One further curiosity: I hadn't realised it, but Camperdown Linen Works was the building later converted into housing at Methven Walk in Dundee — and it is where I was staying when I started my career at The Courier.
So many stories. So many hidden connections. They're all just waiting to be found in the British Newspaper Archives.