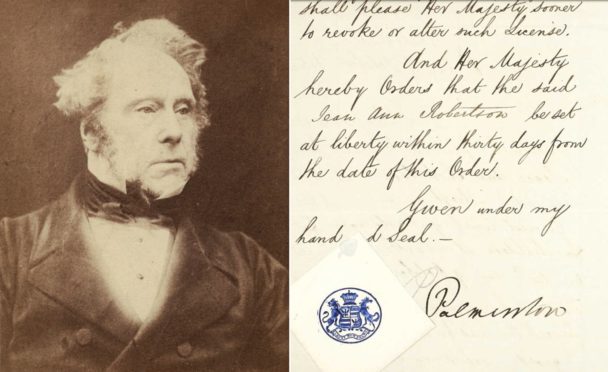 One figure stood out among the parade of rogues, rapists and robbers who trooped into the dock at Perth circuit court in October 1851.
It was Jean Ann Robertson, a child of 12 who could pass for nine and, at 4ft 3in, could not see over the court bar.
She was there to face a sheriff and jury accused of stealing a halfpenny, handkerchiefs and a gown from Commercial Inn in South Street, Perth, the previous June.
To help the jury in its deliberations, jurors were told Jean was already a thief of repute who had done time. There was to be little doubt about the outcome – and there wasn't.
In double-quick time the jury came back with a guilty verdict and the sheriff handed down his sentence.
He took into account the child's previous convictions and ordered her to be transported beyond the seas for a period of seven years.
The sheriff expressed the compassionate hope that Jean would find rehabilitation in the penal colony of Australia.
I came across Jean's story when browsing an 1851 copy of The Courier. Her case occupied no more than a paragraph in a lengthy report from the autumn assize.
Dozens were sentenced to transportation but Jean's case stood out because of her age, her diminutive stature and the severity of her punishment.
She got the same sentence as a brute who raped a child of five.
It made me wonder if archives and records could reveal more about the troubled life of this child.
I began by searching for her in the 1851 census and found her in the county prison in Perth.
She was the youngest of about 100 inmates. The only other child of similar age was Helen B. Farquharson, 7, who was related to a senior staff member and lived in a house on site.
Other newspaper reports revealed Jean had been sent there in late 1849 aged about 10 to serve a 15-month spell for theft.
The census described her as a vagrant girl. The only other clue was that she was born in England.
Next I trawled through criminal records and discovered what happened to Jean after she was sentenced at Perth.
She was taken back to the county prison at Perth where a detailed description of her appearance was recorded by governor William Hutchison.
Jean was described as aged 12, single with no children and she could read and write a little.
Her occupation was given as a seamstress and she lodged with a Mrs Anderson in Hospital Street, Perth.
The document said she had a fresh complexion, brown hair, hazel eyes and a slightly pock-pitted round face.
Jean's health was said to be excellent and Church of Scotland was listed as her faith. She was held in prison in Perth for more than 20 days while preparations were made to transfer her to the national penitentiary at Millbank in London.
This giant six-wing prison was built in 1816 and was used as a holding facility for prisoners awaiting deportation.
We do not know how she travelled south but the journey took two days and she was admitted on November 13, 1851.
All did not go well for Jean at Millbank. While her character and conduct in Perth were described as good, in Millbank she was given the label "bad".
She was held there for two years, six months and 13 years and then transferred to Brixton prison on May 26, 1854. So far she had avoided the dreadful journey to Australia in the company of adult criminals.
There is no record of how she behaved in Brixton. The next we hear of Jean is from a letter written on October 6, 1854.
It was written in the hand of the Home Secretary, Henry John Temple, 3rd Viscount Palmerston, who was in office from 1852 to 1855. Lord Palmerston later served two terms as prime minister.
We cannot mistake the importance of the letter. It is headed Whitehall, signed by Palmerston and includes his seal. It reads: "Her Majesty is graciously pleased to grant to Jean Ann Robertson, who was convicted of theft at the circuit court of justiciary at Perth on the 14th day of October 1851 and was then sentenced to be transported beyond the seas for the term of seven years and is now confined in the convict prison of Brixton, the royal licence to be at large in the United Kingdom."
Palmerston ordered her release within 30 days. A number of other young female thieves sentenced to transportation were paroled after three years so this could have been an attempt at short, sharp shock treatment, although three years for stealing a halfpenny cannot be judged as short.
One of the surprising facts about Jean is the rarity of her name. There have been plenty of Jean Robertsons throughout history but very few Jean Ann Robertsons. She occupied a footnote in one issue of The Courier 167 years ago but if you put the name Jean Ann Robertson into Google you may be surprised by the result.
There, on page one, is our vagrant girl. Thousands of Jean Robertsons, must have lived, achieved success and fame since 1851 but it is this waif who is near the top of search results for parole licence number 33 held by the National Archives.
After her time in prison Jean becomes elusive.
There is a woman called Jane Ann Robertson born in the same year admitted to a London workhouse in 1865. Jean and Jane were often interchangeable.
Probate registers record a Jean Ann Robertson, living in Glencarse, dying on a trip to Liverpool in 1931. There is no firm evidence it is our vagrant but if it is she left an estate of £1,500.
---
10 years for theft of sacks
The circuit court that day started with formalities that continued until recent times.
John Anderson , minister at East Church, Perth, led prayers.
Anyone visiting a high court even within the last decade or two would recognise the ceremonies.
Until the late 1970s or early 1980s, trumpeters heralded a judge's arrival on the bench at the start of a high court sitting.
This eventually gave way to a recorded fanfare and of course, prayers, usually led by the local presbytery moderator.
After Mr Anderson prayed for discernment and wisdom to be bestowed on Lord Wood, the Perth circuit court was off.
First up was William Blair who admitted stealing a blanket from a hedge at Auchtertool. He received a stiff sentence of seven years' transportation.
Next was John Yeoman who admitted stealing the stockings of Margaret Airth, East High Street, Forfar. Again it was Down Under for seven years.
Another Angus case followed. Ann Stirling admitted stealing 13 empty sacks from Forfar railway station goods yard. Such was her crime she was given 10 years' transportation.
Just before Jean Ann Robertson's appearance, James Thomson of St Andrews was led to the dock charged with raping a child of five. He was given seven years' transportation and Lord Wood expressed the hope this might be commuted to imprisonment.
Lord Wood judged a later case more harshly. He had before him Janet Adams accused of stealing a cotton wrapper from Mary Ann Lowden of Peter's Court, Dundee. She was found guilty and sentenced to 10 years' transportation.
The only variation from sentences of transportation in the sitting were two disposals of outlawing.
Michael Keenan was indicted for assaulting a girl of 10 with intent to rape at a castle near Doune.
He was outlawed, as was James Campbell who had assaulted two men, William Barnet David Forrester, in Blairgowrie on July 13 1851.